Why Liverpool has struggled in EPL
Can Liverpool convert on its chances and win the FA Cup?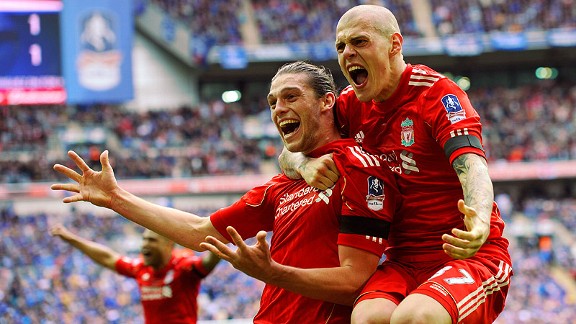 AP Photo/Tom HeveziAndy Carroll, center, needs to play a solid game if Liverpool is going to win the FA Cup.
There is a common theme across team sports when it comes to offense: The closer you can get the ball to where you need to go, the more successful you will be. In basketball it means getting shots near the hoop. In football it means starting your possessions in good field position. In hockey it means getting the puck close to the net. And so on.
In soccer, it's no different. The teams that set themselves up with the most opportunities close to their opponent's goal will almost always be more successful than those that don't. This seems simple in theory, but in practice it's quite difficult. Obviously opponents will not just allow a team to set up shop inside their penalty area and hope for the best. It wouldn't be much of a game if they did.
It requires a certain amount of teamwork to penetrate a defense, but more importantly, it necessitates quality athletes and decision-makers on the pitch. Once you make it to as high a level as the Premier League, it becomes less about the X's and the O's and more about the Jimmys and Joes. This is seen clearly in the correlation between spending and winning in the EPL, which is higher than in any of the major American sports leagues.
Then, of course, there are always teams that buck the trend.
Liverpool entered the season having spent most of the $80 million it received from Chelsea via the Fernando Torres transfer on a potpourri of new players. In came Stewart Downing, Jordan Henderson and Charlie Adam, joining Andrew Carroll and Luis Suarez, who were signed less than a year ago. Off the field, the Reds were doing everything necessary to win.
But in an unpredictable manner, Liverpool has endured arguably its most forgettable season on the field as a member of the Premier League.
To read the full story about Liverpool, plus get all of ESPN Insider's soccer content, sign up and become an Insider.
Insider
ESPN Insider
Albert Larcada is an Analytics Specialist in ESPN's Stats & Information group. Among other analytics projects, he maintains, advances and writes about ESPN's Soccer Power Index (SPI) algorithm.
Insider Soccer Content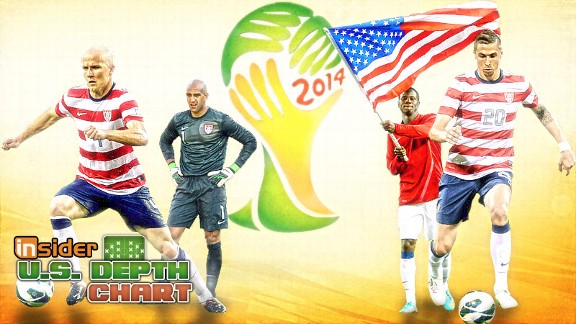 Latest content
Feb. 1:
USMNT: January transfer impact
Jan. 31:
USMNT: Shea's big chance at Stoke
Jan. 31:
El Tri: Youth report card from friendly
Jan. 30:
USMNT: How U.S. can fix its defense
Jan. 29:
El Tri: Who should be Mexico's keeper?
Jan. 28:
USMNT: Projecting U.S. WC lineup
Jan. 25:
USMNT: Josh Gatt's promising future
Jan. 24:
USMNT: Omar Gonzalez's big chance
Jan. 24:
El Tri: Carlos Vela's murky El Tri future
Jan. 23:
El Tri: Depth Chart 1.0
Jan. 23:
USMNT: Nick Rimando's important role
Jan. 22:
El Tri: Jorge Enriquez on Mexico future
Jan. 21:
Latham: Top 25 U.S. U-21 prospects
Jan. 21:
USMNT: Jozy Altidore on the rise
Jan. 18:
USMNT: Jones on his U.S. future
Jan. 17:
USMNT: Depth Chart 1.0
Jan. 17:
USMNT: Breakout players for 2013
Jan. 16:
USMNT: Where does Holden fit in?
Jan. 14:
USMNT: Hot List: Agudelo's big chance
Jan. 9:
USMNT: Can Wondolowski produce?
Jan. 8:
El Tri: WC chances for four veterans
Jan. 7:
USMNT: Stock watch
Jan. 6:
USMNT: Jan. camp surprises
Jan. 3:
El Tri: A wish list for 2013
Jan. 2:
USMNT: A wish list for 2013
Dec. 31:
USMNT: 2012 USMNT awards
Dec. 28:
USMNT: Top 5 moments of 2012
Dec. 27:
El Tri: Top moments of 2012
Dec. 26:
USMNT: Top transfer rumors
Dec. 21:
USMNT: Players who missed Top 25
Dec. 20:
El Tri: 2012 year-end awards
Dec. 19:
Top 25 American players
Dec. 19:
USMNT: Bradley is Yanks' best player
Dec. 18:
El Tri: Players who may transfer to Europe
Dec. 13:
Larcada: Projecting the UCL draw
Dec. 11:
El Tri: Top 25 U-21 prospects
Dec. 10:
USMNT: Young prospects on the rise
Dec. 5:
USMNT: Matt Besler's chances
Dec. 4:
El Tri: Players who struggled in Liga MX
Dec. 3:
USMNT: U-17s impressive in Nike Friendlies
Nov. 28:
USMNT: Would Aron Johannsson help?
Nov. 27:
El Tri: Standouts in Liga MX
Nov. 26:
USMNT: MLS' development problem
Nov. 21:
USMNT: Things to be thankful for
Nov. 20:
El Tri: Mexico's tough '13 schedule
Nov. 15:
El Tri: Brazil Board 2.0
Nov. 14:
USMNT: Russia friendly takeaways
Nov. 13:
El Tri: U-17s retain lofy status
Nov. 8:
Larcada: Ranking Europe's top teams
Nov. 6:
El Tri: High hopes for U-20s
Nov. 5:
USMNT: Qualifying challenges for U-20s
Oct. 30:
How would Mexico fare in CONMEBOL?
Oct. 29:
USMNT: Potential solutions at winger
Oct. 25:
Projecting U.S. 2014 World Cup roster
Oct. 24:
USMNT: Ranking CONCACAF Hex teams
Oct. 24:
El Tri: Mexico is top Hexagonal team
Oct. 23:
What USMNT looks like minus Donovan
ESSENTIAL LINKS
MOST SENT STORIES ON ESPN.COM