EPL 2nd-half breakout candidates
Daniel Sturridge, Edin Dzeko among four players primed for big second halves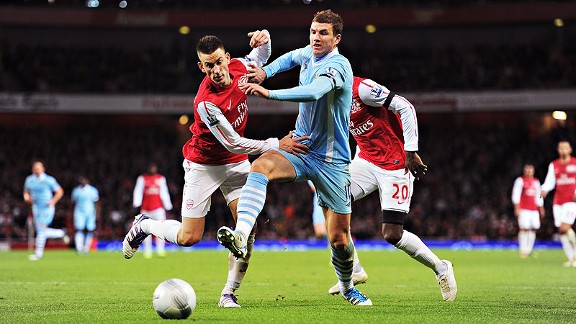 Michael Regan/Getty ImagesEdin Dzeko, who has scored 10 goals for Manchester City this season, has been on a tear as of late.
Recovering from injury, moving to a new club or simply just regaining their mojo. Those are a few of the reasons why certain EPL players turn their seasons around, acting as catalysts for their clubs' resurgence in the process.
The second half of the 2012-13 EPL season is underway after a busy festive period, with several sides hoping for a marked improvement on the results they gained over the first half.
Now they need a game-changing player, be it a lightning-quick striker, creative midfielder, powerhouse forward or a steady influence in front of the back four. Luckily for Liverpool, Manchester City, West Ham and Manchester United, they seem to have some stars in those positions beginning to shine.
Here are are four EPL players who are set to take the second half of the season by storm.
Liverpool boss Brendan Rodgers piled the pressure onto Sturridge following his $18 million move from Chelsea at the beginning of the January transfer window.
To read the full story on the top EPL second-half breakout candidates, and to get all of ESPN Insider's soccer content, sign up and become an Insider.
Insider
ESPN Insider
Joe Prince-Wright is a freelance writer based in Edinburgh, Scotland. He is a former college soccer player and now plays for Arbroath FC in the Scottish Second Division. He's covered the English Premier League, Serie A, Major League Soccer and the U.S. national team for several years.
Insider Soccer Content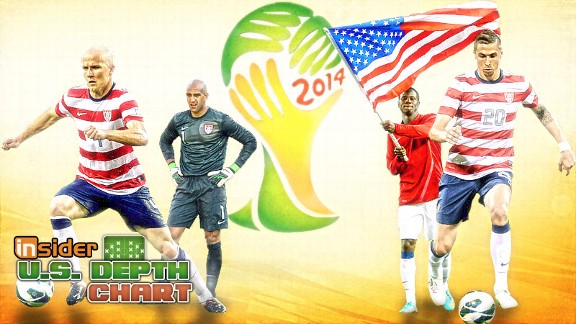 Latest content
Feb. 1:
USMNT: January transfer impact
Jan. 31:
USMNT: Shea's big chance at Stoke
Jan. 31:
El Tri: Youth report card from friendly
Jan. 30:
USMNT: How U.S. can fix its defense
Jan. 29:
El Tri: Who should be Mexico's keeper?
Jan. 28:
USMNT: Projecting U.S. WC lineup
Jan. 25:
USMNT: Josh Gatt's promising future
Jan. 24:
USMNT: Omar Gonzalez's big chance
Jan. 24:
El Tri: Carlos Vela's murky El Tri future
Jan. 23:
El Tri: Depth Chart 1.0
Jan. 23:
USMNT: Nick Rimando's important role
Jan. 22:
El Tri: Jorge Enriquez on Mexico future
Jan. 21:
Latham: Top 25 U.S. U-21 prospects
Jan. 21:
USMNT: Jozy Altidore on the rise
Jan. 18:
USMNT: Jones on his U.S. future
Jan. 17:
USMNT: Depth Chart 1.0
Jan. 17:
USMNT: Breakout players for 2013
Jan. 16:
USMNT: Where does Holden fit in?
Jan. 14:
USMNT: Hot List: Agudelo's big chance
Jan. 9:
USMNT: Can Wondolowski produce?
Jan. 8:
El Tri: WC chances for four veterans
Jan. 7:
USMNT: Stock watch
Jan. 6:
USMNT: Jan. camp surprises
Jan. 3:
El Tri: A wish list for 2013
Jan. 2:
USMNT: A wish list for 2013
Dec. 31:
USMNT: 2012 USMNT awards
Dec. 28:
USMNT: Top 5 moments of 2012
Dec. 27:
El Tri: Top moments of 2012
Dec. 26:
USMNT: Top transfer rumors
Dec. 21:
USMNT: Players who missed Top 25
Dec. 20:
El Tri: 2012 year-end awards
Dec. 19:
Top 25 American players
Dec. 19:
USMNT: Bradley is Yanks' best player
Dec. 18:
El Tri: Players who may transfer to Europe
Dec. 13:
Larcada: Projecting the UCL draw
Dec. 11:
El Tri: Top 25 U-21 prospects
Dec. 10:
USMNT: Young prospects on the rise
Dec. 5:
USMNT: Matt Besler's chances
Dec. 4:
El Tri: Players who struggled in Liga MX
Dec. 3:
USMNT: U-17s impressive in Nike Friendlies
Nov. 28:
USMNT: Would Aron Johannsson help?
Nov. 27:
El Tri: Standouts in Liga MX
Nov. 26:
USMNT: MLS' development problem
Nov. 21:
USMNT: Things to be thankful for
Nov. 20:
El Tri: Mexico's tough '13 schedule
Nov. 15:
El Tri: Brazil Board 2.0
Nov. 14:
USMNT: Russia friendly takeaways
Nov. 13:
El Tri: U-17s retain lofy status
Nov. 8:
Larcada: Ranking Europe's top teams
Nov. 6:
El Tri: High hopes for U-20s
Nov. 5:
USMNT: Qualifying challenges for U-20s
Oct. 30:
How would Mexico fare in CONMEBOL?
Oct. 29:
USMNT: Potential solutions at winger
Oct. 25:
Projecting U.S. 2014 World Cup roster
Oct. 24:
USMNT: Ranking CONCACAF Hex teams
Oct. 24:
El Tri: Mexico is top Hexagonal team
Oct. 23:
What USMNT looks like minus Donovan
ESSENTIAL LINKS
MOST SENT STORIES ON ESPN.COM