Top 25 American soccer players
Michael Bradley leads list of top U.S. national team-eligible players right now
Originally Published:
December 19, 2012
By
Doug McIntyre
| ESPN Insider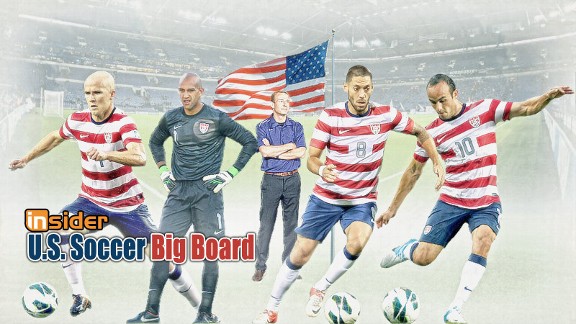 ESPN.com IllustrationMichael Bradley, left, has had a terrific year and leads Insider's rankings of the top U.S. players.
The debate has picked up considerably over the last year: Who's the best American soccer player? Is it still Landon Donovan, the U.S. national team's all-time leader in goals, assists and starts -- and the face of the national team for a decade? Is it Clint Dempsey, U.S. Soccer's recently crowned player of 2012 who parlayed a Premier League season for the ages in 2011-12 into a high-profile transfer to Tottenham Hotspur? Or is it someone else?
Back in May, we gave you our verdict, but much has changed over the last seven months. Donovan still isn't sure when, or if, he'll play his next game. Dempsey, while claiming a starting spot with Spurs, still occupies a supporting role with his new team.
So it's hardly a stretch to say that Michael Bradley, who headlines Insider's first ranking of the Top 25 U.S. national team-eligible players, has surpassed them both. Since joining AS Roma from Chievo Verona last July, Bradley has not only cemented his place in Roma's lineup, he has become a key cog and an on-field leader for one of Italy's most storied clubs -- something no American had ever accomplished.
The argument is still somewhat subjective, of course, and the same can be said for the rest of these rankings. Still, the main criterion here is as straightforward as possible: Who is the best American player right now?
It's tricky, nonetheless. How do we rate MLS players who have been out of season for more than a month? And what makes one player "better" than another, anyway? Lots of factors have to be considered, including (but not limited to, and in no particular order) talent, production, leadership, experience and strength of competition.
That said, this list doesn't require a Brazil Board-like gaze into the future. We're not trying to project what will happen years from now; this is a real-time look at the current pecking order within the U.S. player pool.
Feel free to debate, and to disagree. (We know you will.) But don't bother bookmarking the page -- things change way too quickly for that.
Here is the initial list of the Top 25 U.S. national team-eligible players:

1
CLUB (COUNTRY)
AS Roma (Italy)
When Bradley landed at Roma over the summer, U.S. fans worried that playing time would be hard to come by in the Giallorossi's stacked midfield. Instead, Bradley has been a mainstay, while Roma legend (and Italian national team star) Daniele de Rossi -- long considered Francesco Totti's heir apparent as the club's captain -- has had a hard time getting off the bench.
To see the full list of the top 25 U.S. soccer players right now, plus get all of ESPN Insider's soccer content, sign up and become an Insider.
Insider
Doug McIntyre is a staff writer for ESPN The Magazine. He has covered American and international soccer since 2002.
Insider Soccer Content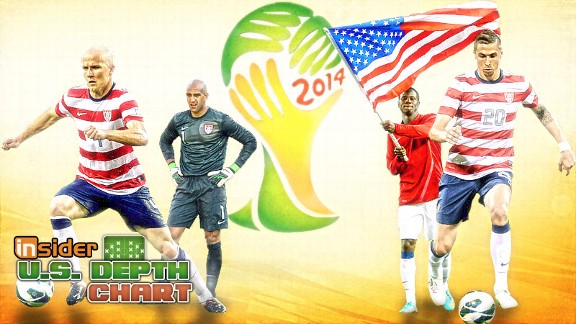 Latest content
Feb. 1:
USMNT: January transfer impact
Jan. 31:
USMNT: Shea's big chance at Stoke
Jan. 31:
El Tri: Youth report card from friendly
Jan. 30:
USMNT: How U.S. can fix its defense
Jan. 29:
El Tri: Who should be Mexico's keeper?
Jan. 28:
USMNT: Projecting U.S. WC lineup
Jan. 25:
USMNT: Josh Gatt's promising future
Jan. 24:
USMNT: Omar Gonzalez's big chance
Jan. 24:
El Tri: Carlos Vela's murky El Tri future
Jan. 23:
El Tri: Depth Chart 1.0
Jan. 23:
USMNT: Nick Rimando's important role
Jan. 22:
El Tri: Jorge Enriquez on Mexico future
Jan. 21:
Latham: Top 25 U.S. U-21 prospects
Jan. 21:
USMNT: Jozy Altidore on the rise
Jan. 18:
USMNT: Jones on his U.S. future
Jan. 17:
USMNT: Depth Chart 1.0
Jan. 17:
USMNT: Breakout players for 2013
Jan. 16:
USMNT: Where does Holden fit in?
Jan. 14:
USMNT: Hot List: Agudelo's big chance
Jan. 9:
USMNT: Can Wondolowski produce?
Jan. 8:
El Tri: WC chances for four veterans
Jan. 7:
USMNT: Stock watch
Jan. 6:
USMNT: Jan. camp surprises
Jan. 3:
El Tri: A wish list for 2013
Jan. 2:
USMNT: A wish list for 2013
Dec. 31:
USMNT: 2012 USMNT awards
Dec. 28:
USMNT: Top 5 moments of 2012
Dec. 27:
El Tri: Top moments of 2012
Dec. 26:
USMNT: Top transfer rumors
Dec. 21:
USMNT: Players who missed Top 25
Dec. 20:
El Tri: 2012 year-end awards
Dec. 19:
Top 25 American players
Dec. 19:
USMNT: Bradley is Yanks' best player
Dec. 18:
El Tri: Players who may transfer to Europe
Dec. 13:
Larcada: Projecting the UCL draw
Dec. 11:
El Tri: Top 25 U-21 prospects
Dec. 10:
USMNT: Young prospects on the rise
Dec. 5:
USMNT: Matt Besler's chances
Dec. 4:
El Tri: Players who struggled in Liga MX
Dec. 3:
USMNT: U-17s impressive in Nike Friendlies
Nov. 28:
USMNT: Would Aron Johannsson help?
Nov. 27:
El Tri: Standouts in Liga MX
Nov. 26:
USMNT: MLS' development problem
Nov. 21:
USMNT: Things to be thankful for
Nov. 20:
El Tri: Mexico's tough '13 schedule
Nov. 15:
El Tri: Brazil Board 2.0
Nov. 14:
USMNT: Russia friendly takeaways
Nov. 13:
El Tri: U-17s retain lofy status
Nov. 8:
Larcada: Ranking Europe's top teams
Nov. 6:
El Tri: High hopes for U-20s
Nov. 5:
USMNT: Qualifying challenges for U-20s
Oct. 30:
How would Mexico fare in CONMEBOL?
Oct. 29:
USMNT: Potential solutions at winger
Oct. 25:
Projecting U.S. 2014 World Cup roster
Oct. 24:
USMNT: Ranking CONCACAF Hex teams
Oct. 24:
El Tri: Mexico is top Hexagonal team
Oct. 23:
What USMNT looks like minus Donovan
ESSENTIAL LINKS
MOST SENT STORIES ON ESPN.COM