Weaknesses for EPL's top teams
Where do Man U, Man City, Chelsea and Tottenham need to improve?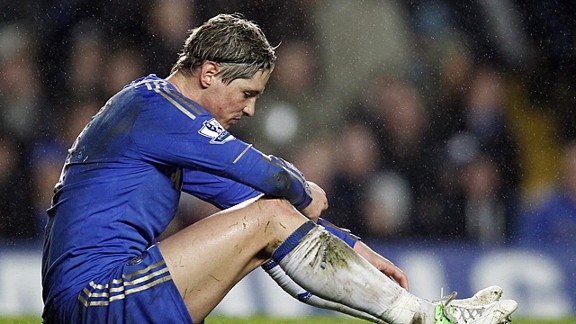 Ian Kington/AFP/Getty ImagesFernando Torres has had a disappointing season for Chelsea.
As the midway point of the season approaches, there's no runaway leader in the English Premier League title race.
Just when one team looks to be pulling away at the summit, it falters. Manchester United, Manchester City and Chelsea have all been guilty of that so far.
Their weaknesses -- highlighted with alarming regularity and on the biggest of stages -- have left managers and fans scratching their heads in frustration. How can some of the greatest teams in the EPL make such glaring mistakes on a regular basis?
Let's take a deeper look at some of the problems riddling the top four teams of the EPL table.
Manchester United: Conceding early goals
Over the years, Manchester United has been known as the team that never gives up, the side that salvages late winners or equalizers. But this season, Man U has taken it to another level.
In seven of United's 15 league games this campaign, they've won from losing positions. Time and time again they've looked down and out, and only because of their offensive prowess have they been able to capture a win from the jaws of defeat. Defensively, United has been all over the place, conceding 21 goals (only Spurs have a worse defensive record among the top 10). Across all competitions, United has conceded the first goal 14 times, coming back to win on 10 occasions.
But United will go only so far without sorting out its defense. Going into this Sunday's top-of-the-table clash with Manchester City, Sir Alex Ferguson knows his side has to stop the steady stream of goals flowing into the United net.
"It's a worry," the manager said. "I cannot ever remember us conceding so many goals before Christmas. So it is a concern, there's no question about that. I think we're getting punished for every ball that goes in the box at the moment, but saying that, we should still be defending far better."
To read the full story on the biggest weaknesses for the top four EPL teams, and to get all of ESPN Insider's soccer content, sign up and become an Insider.
Insider
ESPN Insider
Joe Prince-Wright is a freelance writer based in Edinburgh, Scotland. He is a former college soccer player and now plays for Arbroath FC in the Scottish Second Division. He's covered the English Premier League, Serie A, Major League Soccer and the U.S. national team for several years.
Insider Soccer Content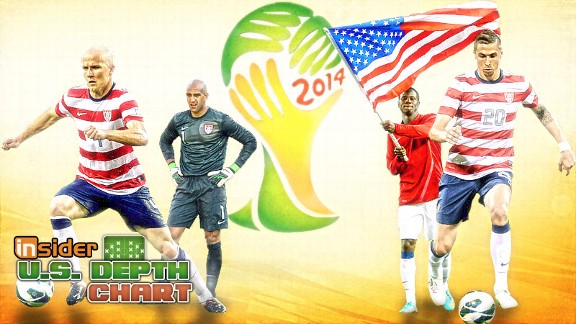 Latest content
Feb. 1:
USMNT: January transfer impact
Jan. 31:
USMNT: Shea's big chance at Stoke
Jan. 31:
El Tri: Youth report card from friendly
Jan. 30:
USMNT: How U.S. can fix its defense
Jan. 29:
El Tri: Who should be Mexico's keeper?
Jan. 28:
USMNT: Projecting U.S. WC lineup
Jan. 25:
USMNT: Josh Gatt's promising future
Jan. 24:
USMNT: Omar Gonzalez's big chance
Jan. 24:
El Tri: Carlos Vela's murky El Tri future
Jan. 23:
El Tri: Depth Chart 1.0
Jan. 23:
USMNT: Nick Rimando's important role
Jan. 22:
El Tri: Jorge Enriquez on Mexico future
Jan. 21:
Latham: Top 25 U.S. U-21 prospects
Jan. 21:
USMNT: Jozy Altidore on the rise
Jan. 18:
USMNT: Jones on his U.S. future
Jan. 17:
USMNT: Depth Chart 1.0
Jan. 17:
USMNT: Breakout players for 2013
Jan. 16:
USMNT: Where does Holden fit in?
Jan. 14:
USMNT: Hot List: Agudelo's big chance
Jan. 9:
USMNT: Can Wondolowski produce?
Jan. 8:
El Tri: WC chances for four veterans
Jan. 7:
USMNT: Stock watch
Jan. 6:
USMNT: Jan. camp surprises
Jan. 3:
El Tri: A wish list for 2013
Jan. 2:
USMNT: A wish list for 2013
Dec. 31:
USMNT: 2012 USMNT awards
Dec. 28:
USMNT: Top 5 moments of 2012
Dec. 27:
El Tri: Top moments of 2012
Dec. 26:
USMNT: Top transfer rumors
Dec. 21:
USMNT: Players who missed Top 25
Dec. 20:
El Tri: 2012 year-end awards
Dec. 19:
Top 25 American players
Dec. 19:
USMNT: Bradley is Yanks' best player
Dec. 18:
El Tri: Players who may transfer to Europe
Dec. 13:
Larcada: Projecting the UCL draw
Dec. 11:
El Tri: Top 25 U-21 prospects
Dec. 10:
USMNT: Young prospects on the rise
Dec. 5:
USMNT: Matt Besler's chances
Dec. 4:
El Tri: Players who struggled in Liga MX
Dec. 3:
USMNT: U-17s impressive in Nike Friendlies
Nov. 28:
USMNT: Would Aron Johannsson help?
Nov. 27:
El Tri: Standouts in Liga MX
Nov. 26:
USMNT: MLS' development problem
Nov. 21:
USMNT: Things to be thankful for
Nov. 20:
El Tri: Mexico's tough '13 schedule
Nov. 15:
El Tri: Brazil Board 2.0
Nov. 14:
USMNT: Russia friendly takeaways
Nov. 13:
El Tri: U-17s retain lofy status
Nov. 8:
Larcada: Ranking Europe's top teams
Nov. 6:
El Tri: High hopes for U-20s
Nov. 5:
USMNT: Qualifying challenges for U-20s
Oct. 30:
How would Mexico fare in CONMEBOL?
Oct. 29:
USMNT: Potential solutions at winger
Oct. 25:
Projecting U.S. 2014 World Cup roster
Oct. 24:
USMNT: Ranking CONCACAF Hex teams
Oct. 24:
El Tri: Mexico is top Hexagonal team
Oct. 23:
What USMNT looks like minus Donovan
ESSENTIAL LINKS
MOST SENT STORIES ON ESPN.COM