Ranking EPL's six new managers
How have Steve Clarke, Brendan Rodgers and others fared so far?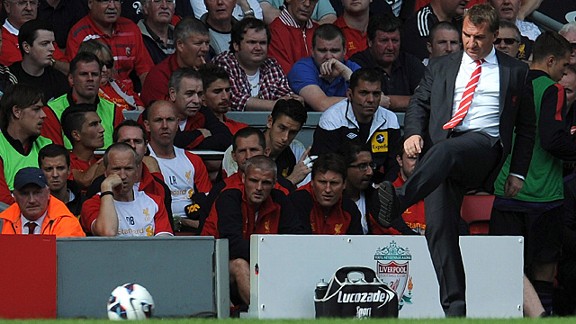 Andrew Powell/Liverpool FC via Getty ImagesBrendan Rodgers' Liverpool squad has struggled so far this EPL season.
As we're now a third of the way into the English Premier League season, it's a good time to judge the new managers at the helm of some of the most famous clubs across the land. With new philosophies clashing and playing styles altered by fear of failure and the need for results, it certainly hasn't been easy for the six new managers who took charge over the summer.
While some have fared better than others, amazingly all six still have jobs, as the infamous "sack race" has yet to yield a victim. Don't hold your breath though.
In the past, the financial cash cow of the EPL has caused trigger-happy chairmen to fire managers extremely early in campaigns. And with the threat of relegation to the Championship bigger than ever this season -- due to the EPL television rights money doubling for next season -- some of these new managers might not be around much longer.
But let's put that negativity aside; here's how the EPL's six new managers have fared so far:
1. Steve Clarke, West Bromwich Albion
West Bromwich Albion has been the surprise team of the EPL, and in his first head-coaching role, Clarke has excelled. The Scotsman is stamping his own style on the Baggies, with a blend of steely defense and lightning-quick, counterattacking soccer.
Romelu Lukaku, on loan from Chelsea, is pivotal to West Brom's game plan. The towering Belgian teenager is charged with holding the ball up and relieving the pressure the Baggies soak up. When Lukaku does that, his teammates come alive. Penetrating runs from midfielders arrive to support, with a successful quick transition game responsible for West Brom currently sitting fifth in the table.
To read the full story about how the six new managers in the EPL have done this season, plus get all of ESPN Insider's soccer content, sign up and become an Insider.
Insider
ESPN Insider
Joe Prince-Wright is a freelance writer based in Edinburgh, Scotland. He is a former college soccer player and now plays for Arbroath FC in the Scottish Second Division. He's covered the English Premier League, Serie A, Major League Soccer and the U.S. national team for several years.
Insider Soccer Content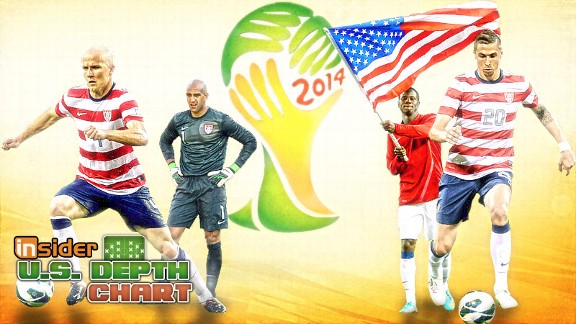 Latest content
Feb. 1:
USMNT: January transfer impact
Jan. 31:
USMNT: Shea's big chance at Stoke
Jan. 31:
El Tri: Youth report card from friendly
Jan. 30:
USMNT: How U.S. can fix its defense
Jan. 29:
El Tri: Who should be Mexico's keeper?
Jan. 28:
USMNT: Projecting U.S. WC lineup
Jan. 25:
USMNT: Josh Gatt's promising future
Jan. 24:
USMNT: Omar Gonzalez's big chance
Jan. 24:
El Tri: Carlos Vela's murky El Tri future
Jan. 23:
El Tri: Depth Chart 1.0
Jan. 23:
USMNT: Nick Rimando's important role
Jan. 22:
El Tri: Jorge Enriquez on Mexico future
Jan. 21:
Latham: Top 25 U.S. U-21 prospects
Jan. 21:
USMNT: Jozy Altidore on the rise
Jan. 18:
USMNT: Jones on his U.S. future
Jan. 17:
USMNT: Depth Chart 1.0
Jan. 17:
USMNT: Breakout players for 2013
Jan. 16:
USMNT: Where does Holden fit in?
Jan. 14:
USMNT: Hot List: Agudelo's big chance
Jan. 9:
USMNT: Can Wondolowski produce?
Jan. 8:
El Tri: WC chances for four veterans
Jan. 7:
USMNT: Stock watch
Jan. 6:
USMNT: Jan. camp surprises
Jan. 3:
El Tri: A wish list for 2013
Jan. 2:
USMNT: A wish list for 2013
Dec. 31:
USMNT: 2012 USMNT awards
Dec. 28:
USMNT: Top 5 moments of 2012
Dec. 27:
El Tri: Top moments of 2012
Dec. 26:
USMNT: Top transfer rumors
Dec. 21:
USMNT: Players who missed Top 25
Dec. 20:
El Tri: 2012 year-end awards
Dec. 19:
Top 25 American players
Dec. 19:
USMNT: Bradley is Yanks' best player
Dec. 18:
El Tri: Players who may transfer to Europe
Dec. 13:
Larcada: Projecting the UCL draw
Dec. 11:
El Tri: Top 25 U-21 prospects
Dec. 10:
USMNT: Young prospects on the rise
Dec. 5:
USMNT: Matt Besler's chances
Dec. 4:
El Tri: Players who struggled in Liga MX
Dec. 3:
USMNT: U-17s impressive in Nike Friendlies
Nov. 28:
USMNT: Would Aron Johannsson help?
Nov. 27:
El Tri: Standouts in Liga MX
Nov. 26:
USMNT: MLS' development problem
Nov. 21:
USMNT: Things to be thankful for
Nov. 20:
El Tri: Mexico's tough '13 schedule
Nov. 15:
El Tri: Brazil Board 2.0
Nov. 14:
USMNT: Russia friendly takeaways
Nov. 13:
El Tri: U-17s retain lofy status
Nov. 8:
Larcada: Ranking Europe's top teams
Nov. 6:
El Tri: High hopes for U-20s
Nov. 5:
USMNT: Qualifying challenges for U-20s
Oct. 30:
How would Mexico fare in CONMEBOL?
Oct. 29:
USMNT: Potential solutions at winger
Oct. 25:
Projecting U.S. 2014 World Cup roster
Oct. 24:
USMNT: Ranking CONCACAF Hex teams
Oct. 24:
El Tri: Mexico is top Hexagonal team
Oct. 23:
What USMNT looks like minus Donovan
ESSENTIAL LINKS
MOST SENT STORIES ON ESPN.COM