Top 25 U.S. U-21 prospects
Terrence Boyd leads America's next group of potential USMNT contributors
Originally Published:
October 16, 2012
By
Brent Latham
| ESPN Insider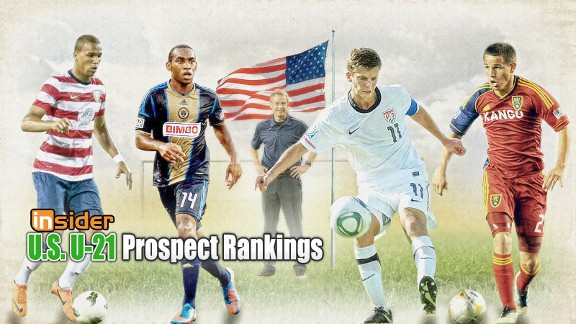 ESPN.com IllustrationThe future looks bright for the U.S. with prospects like Terrence Boyd (left) and Luis Gil (right).
Putting together a ranking of young, unproven prospects is never going to be an easy -- or unanimous -- undertaking. By definition, prospects are players who have yet to reach their full potential.
Determining the ceiling of that potential is a task at which even the highest-paid scouts and coaches frequently fail. In the U.S., in this day and age, the task is complicated further by a youth talent pool spread widely across the continents, as well as several age groups and divisions.
But none of that will stop us here at Insider from bringing you our first-ever American youth rankings of the Top 25 under-21 players. The main criterion is simple: Players with a birth date in 1991 or more recent are eligible. Twenty-one marks an age at which youth players generally should have completed the transition to the professional game. The ranking is based on our perception of the current potential of the player to make an impact for club and country, more than current status or past achievement.
The omission of youth national team regulars like Gale Agbossoumonde and Greg Garza is evidence that this is no easy team to make. While those players excelled in youth World Cups in recent years, and have been pros for several seasons, there's no room for them in this elite group. In fact, they are two of five notable prospects who just missed the cut.
Like the careers of youth prospects, this ranking is fluid, as the status of young players at their clubs changes constantly. Expect some shake-ups in future rankings in the coming months.
Here are the Top 25 U-21 U.S. prospects:

1
CLUB (COUNTRY)
Rapid Vienna (Austria)
No young American has seen his stock climb as quickly over the past year as Boyd, who has gone from the fringes of the failed 2011 U-20 qualifying process to a regular in Jurgen Klinsmann's plans. That national team progress has come along with a club career suddenly in overdrive, as Boyd has gone on an Austrian and Europa League scoring spree in his first few professional matches with Rapid Vienna.
To see the full list of the Top 25 U.S. prospects under 21 years of age, plus get all of ESPN Insider's soccer content, sign up and become an Insider.
Insider
ESPN Insider
Brent Latham is a soccer commentator who covers the youth national teams for ESPN.com. Based in Guatemala, he has attended youth World Cups from Peru to Egypt, and places in between.
SPONSORED HEADLINES
MORE SPORTS HEADLINES
MOST SENT STORIES ON ESPN.COM
Insider Soccer Content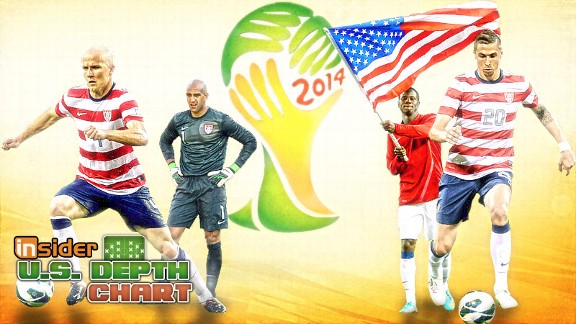 Latest content
Feb. 1:
USMNT: January transfer impact
Jan. 31:
USMNT: Shea's big chance at Stoke
Jan. 31:
El Tri: Youth report card from friendly
Jan. 30:
USMNT: How U.S. can fix its defense
Jan. 29:
El Tri: Who should be Mexico's keeper?
Jan. 28:
USMNT: Projecting U.S. WC lineup
Jan. 25:
USMNT: Josh Gatt's promising future
Jan. 24:
USMNT: Omar Gonzalez's big chance
Jan. 24:
El Tri: Carlos Vela's murky El Tri future
Jan. 23:
El Tri: Depth Chart 1.0
Jan. 23:
USMNT: Nick Rimando's important role
Jan. 22:
El Tri: Jorge Enriquez on Mexico future
Jan. 21:
Latham: Top 25 U.S. U-21 prospects
Jan. 21:
USMNT: Jozy Altidore on the rise
Jan. 18:
USMNT: Jones on his U.S. future
Jan. 17:
USMNT: Depth Chart 1.0
Jan. 17:
USMNT: Breakout players for 2013
Jan. 16:
USMNT: Where does Holden fit in?
Jan. 14:
USMNT: Hot List: Agudelo's big chance
Jan. 9:
USMNT: Can Wondolowski produce?
Jan. 8:
El Tri: WC chances for four veterans
Jan. 7:
USMNT: Stock watch
Jan. 6:
USMNT: Jan. camp surprises
Jan. 3:
El Tri: A wish list for 2013
Jan. 2:
USMNT: A wish list for 2013
Dec. 31:
USMNT: 2012 USMNT awards
Dec. 28:
USMNT: Top 5 moments of 2012
Dec. 27:
El Tri: Top moments of 2012
Dec. 26:
USMNT: Top transfer rumors
Dec. 21:
USMNT: Players who missed Top 25
Dec. 20:
El Tri: 2012 year-end awards
Dec. 19:
Top 25 American players
Dec. 19:
USMNT: Bradley is Yanks' best player
Dec. 18:
El Tri: Players who may transfer to Europe
Dec. 13:
Larcada: Projecting the UCL draw
Dec. 11:
El Tri: Top 25 U-21 prospects
Dec. 10:
USMNT: Young prospects on the rise
Dec. 5:
USMNT: Matt Besler's chances
Dec. 4:
El Tri: Players who struggled in Liga MX
Dec. 3:
USMNT: U-17s impressive in Nike Friendlies
Nov. 28:
USMNT: Would Aron Johannsson help?
Nov. 27:
El Tri: Standouts in Liga MX
Nov. 26:
USMNT: MLS' development problem
Nov. 21:
USMNT: Things to be thankful for
Nov. 20:
El Tri: Mexico's tough '13 schedule
Nov. 15:
El Tri: Brazil Board 2.0
Nov. 14:
USMNT: Russia friendly takeaways
Nov. 13:
El Tri: U-17s retain lofy status
Nov. 8:
Larcada: Ranking Europe's top teams
Nov. 6:
El Tri: High hopes for U-20s
Nov. 5:
USMNT: Qualifying challenges for U-20s
Oct. 30:
How would Mexico fare in CONMEBOL?
Oct. 29:
USMNT: Potential solutions at winger
Oct. 25:
Projecting U.S. 2014 World Cup roster
Oct. 24:
USMNT: Ranking CONCACAF Hex teams
Oct. 24:
El Tri: Mexico is top Hexagonal team
Oct. 23:
What USMNT looks like minus Donovan
ESSENTIAL LINKS