Ranking the EPL's top keepers
Joe Hart, Petr Cech among Premier League's best goalkeepers
Originally Published:
August 16, 2012
By
Albert Larcada
| ESPN Insider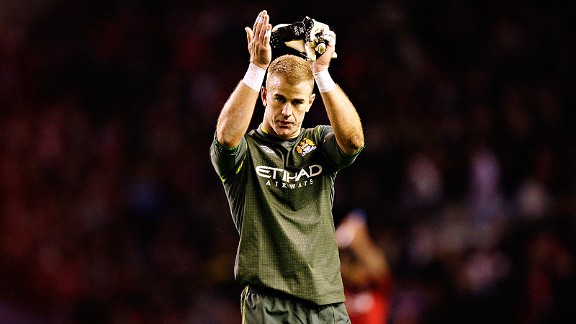 AP Photo/Jon SuperJoe Hart helped lead Manchester City to its first EPL title in 2011-12.
Goalkeepers, much like quarterbacks in the NFL, are the leaders of their team's organization defensively (offensively in the quarterback's case). On set pieces, they are the ones making the calls, setting up the wall and ultimately taking responsibility for the positioning of their teammates.
However, like kickers or punters in the NFL, goalkeepers have a different skill set than their teammates. Besides the physical differences like the use of their hands, goalkeepers require a different mental makeup. Most have a well-earned reputation for being a bit off their rocker. As Arsenal's Wojciech Szczesny told Arsenal TV Online in 2010, "You need to be crazy [to become a goalkeeper]."
Here are the top five EPL goalies for 2012-13:
1. Joe Hart, Manchester City
City's No. 1 had arguably his best season to date in 2011-12. While leading City to its first Premier League title, Hart established himself as England's top goalkeeper, both by reputation and performance.
Swansea's Michel Vorm had the best save percentage on shots from 12 yards and in, but if you filter that down to only shots where the score differential was within one -- that is, the goalkeeper's team up by one goal, down by goal or tied -- then Hart is the clear crunch-time choice.
Not including penalty shots, he saved 70.4 percent such shots for City, nearly 4 percentage points higher than any other keeper. (The league average was 56 percent.) This shot chart shows just how active Hart had to be in tight quarters.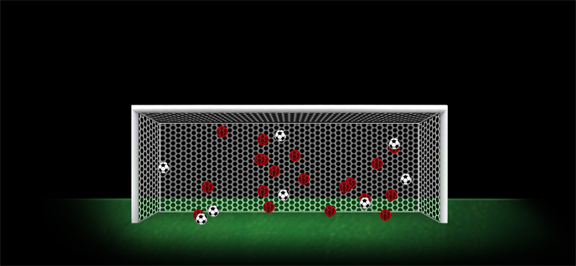 ESPN Stats & InformationShot chart for Joe Hart on shots from 12 yards and in during the 2011-12 EPL season. Red targets represent misses, while soccer balls represent goals.
To see the rest of the EPL keeper rankings for 2012-13, plus to get access to all of Insider's soccer coverage, you must be an ESPN Insider.
Insider
ESPN Insider
Albert Larcada is an Analytics Specialist in ESPN's Stats & Information group. Among other analytics projects, he maintains, advances and writes about ESPN's Soccer Power Index (SPI) algorithm.
Insider Soccer Content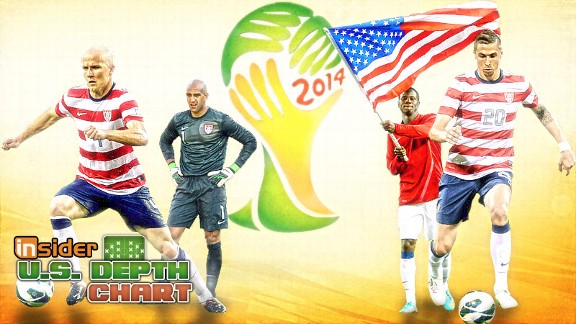 Latest content
Feb. 1:
USMNT: January transfer impact
Jan. 31:
USMNT: Shea's big chance at Stoke
Jan. 31:
El Tri: Youth report card from friendly
Jan. 30:
USMNT: How U.S. can fix its defense
Jan. 29:
El Tri: Who should be Mexico's keeper?
Jan. 28:
USMNT: Projecting U.S. WC lineup
Jan. 25:
USMNT: Josh Gatt's promising future
Jan. 24:
USMNT: Omar Gonzalez's big chance
Jan. 24:
El Tri: Carlos Vela's murky El Tri future
Jan. 23:
El Tri: Depth Chart 1.0
Jan. 23:
USMNT: Nick Rimando's important role
Jan. 22:
El Tri: Jorge Enriquez on Mexico future
Jan. 21:
Latham: Top 25 U.S. U-21 prospects
Jan. 21:
USMNT: Jozy Altidore on the rise
Jan. 18:
USMNT: Jones on his U.S. future
Jan. 17:
USMNT: Depth Chart 1.0
Jan. 17:
USMNT: Breakout players for 2013
Jan. 16:
USMNT: Where does Holden fit in?
Jan. 14:
USMNT: Hot List: Agudelo's big chance
Jan. 9:
USMNT: Can Wondolowski produce?
Jan. 8:
El Tri: WC chances for four veterans
Jan. 7:
USMNT: Stock watch
Jan. 6:
USMNT: Jan. camp surprises
Jan. 3:
El Tri: A wish list for 2013
Jan. 2:
USMNT: A wish list for 2013
Dec. 31:
USMNT: 2012 USMNT awards
Dec. 28:
USMNT: Top 5 moments of 2012
Dec. 27:
El Tri: Top moments of 2012
Dec. 26:
USMNT: Top transfer rumors
Dec. 21:
USMNT: Players who missed Top 25
Dec. 20:
El Tri: 2012 year-end awards
Dec. 19:
Top 25 American players
Dec. 19:
USMNT: Bradley is Yanks' best player
Dec. 18:
El Tri: Players who may transfer to Europe
Dec. 13:
Larcada: Projecting the UCL draw
Dec. 11:
El Tri: Top 25 U-21 prospects
Dec. 10:
USMNT: Young prospects on the rise
Dec. 5:
USMNT: Matt Besler's chances
Dec. 4:
El Tri: Players who struggled in Liga MX
Dec. 3:
USMNT: U-17s impressive in Nike Friendlies
Nov. 28:
USMNT: Would Aron Johannsson help?
Nov. 27:
El Tri: Standouts in Liga MX
Nov. 26:
USMNT: MLS' development problem
Nov. 21:
USMNT: Things to be thankful for
Nov. 20:
El Tri: Mexico's tough '13 schedule
Nov. 15:
El Tri: Brazil Board 2.0
Nov. 14:
USMNT: Russia friendly takeaways
Nov. 13:
El Tri: U-17s retain lofy status
Nov. 8:
Larcada: Ranking Europe's top teams
Nov. 6:
El Tri: High hopes for U-20s
Nov. 5:
USMNT: Qualifying challenges for U-20s
Oct. 30:
How would Mexico fare in CONMEBOL?
Oct. 29:
USMNT: Potential solutions at winger
Oct. 25:
Projecting U.S. 2014 World Cup roster
Oct. 24:
USMNT: Ranking CONCACAF Hex teams
Oct. 24:
El Tri: Mexico is top Hexagonal team
Oct. 23:
What USMNT looks like minus Donovan
ESSENTIAL LINKS
MOST SENT STORIES ON ESPN.COM