Ranking the EPL's top forwards
Robin van Persie, Wayne Rooney among the EPL's best forwards
Originally Published:
August 16, 2012
By
Albert Larcada
| ESPN Insider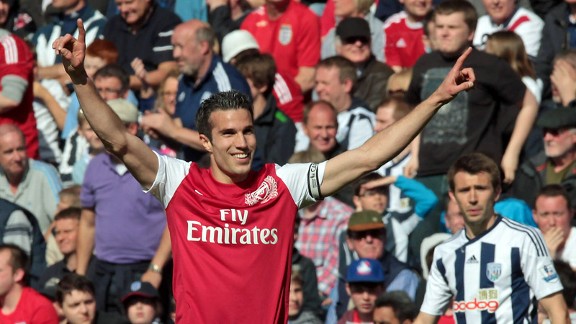 Ross Kinnaird/Getty ImagesRobin van Persie should greatly improve Manchester United's attacking prowess.
Of all the positions in soccer, forward may be the least polarizing. Without any contemplation, a top-five list of strikers for any team, season, league, etc., is easy to do with such a convenient stat at hand: goals scored. But with a little introspection, it can be easily realized that goals scored alone is a flawed stat.
First of all, goals are a counting stat, not a rate one. So by definition, players who shoot more are likely going to score more goals. Just like quarterbacks who throw more passes are usually going to have more touchdowns. Or shooting guards who take more shots are probably going to score more points. Not to name any names, but if you had a certain English striker from, say, Liverpool who has 17 league goals on 181 shots in the past two seasons, would you say he has played better than a player who may play for the first player's old team and has only 13 goals in 39 shots? I think most would choose Papiss Cisse over Andy Carroll.
Goals scored also give no context for where the original shot came from. As you might imagine, all shots become less likely to go in the further away from goal they are taken. So if two players had the same amount of goals, but one was getting his shots from 5 yards away and the other from 20, we would be more impressed with the player getting his from 20.
Finally, you have the style of shot taken: Was the shot with the head or with the foot? Your intuition probably tells you that you don't want strikers taking a bunch of headed shots 15 yards away from goal. And it turns out the data supports that inkling. Only 2 percent of headed shots from 14-18 yards turn into goals, while 14 percent of footed shots do.
One way to take the context of a shot into account is to use a model to find the probability of all shots going in the net. We can use these probabilities to rate the best goal scorers in the league.
For example, based on historical data, we can say with certainty that a non-headed shot from 25 yards away has about a 5 percent chance of turning into a goal. If a player takes that shot and scores, he will essentially have increased his team's expected goal total by 0.95 goals. This is because there was a 0.05 chance that an average player would score from that situation. So we give him plus-0.95 GAA (goals above average). Conversely, if he didn't score on the shot we give him a minus-0.05 since he "cost" his team that 0.05 goals. Aggregate these numbers up over a long period of time and you start to see some interesting trends among forwards.
Of course, goal scoring isn't the only objective for strikers. They must do well to set up their teammates for goals, as well.
So using GAA, along with chances created data, let's look at the top five forwards entering this season's English Premier League campaign.
1. Robin van Persie, Manchester United (pending physical)
+11.4 GAA (first among forwards in past two seasons), 136 chances created (most among forwards in past two seasons)
To see the rest of the EPL forward rankings for 2012-13, plus get access to all of Insider's soccer coverage, you must be an ESPN Insider
Insider
ESPN Insider
Albert Larcada is an Analytics Specialist in ESPN's Stats & Information group. Among other analytics projects, he maintains, advances and writes about ESPN's Soccer Power Index (SPI) algorithm.
Insider Soccer Content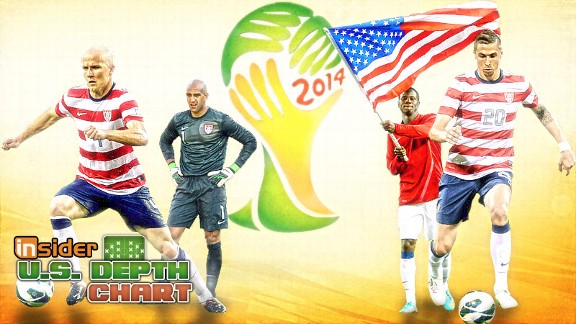 Latest content
Feb. 1:
USMNT: January transfer impact
Jan. 31:
USMNT: Shea's big chance at Stoke
Jan. 31:
El Tri: Youth report card from friendly
Jan. 30:
USMNT: How U.S. can fix its defense
Jan. 29:
El Tri: Who should be Mexico's keeper?
Jan. 28:
USMNT: Projecting U.S. WC lineup
Jan. 25:
USMNT: Josh Gatt's promising future
Jan. 24:
USMNT: Omar Gonzalez's big chance
Jan. 24:
El Tri: Carlos Vela's murky El Tri future
Jan. 23:
El Tri: Depth Chart 1.0
Jan. 23:
USMNT: Nick Rimando's important role
Jan. 22:
El Tri: Jorge Enriquez on Mexico future
Jan. 21:
Latham: Top 25 U.S. U-21 prospects
Jan. 21:
USMNT: Jozy Altidore on the rise
Jan. 18:
USMNT: Jones on his U.S. future
Jan. 17:
USMNT: Depth Chart 1.0
Jan. 17:
USMNT: Breakout players for 2013
Jan. 16:
USMNT: Where does Holden fit in?
Jan. 14:
USMNT: Hot List: Agudelo's big chance
Jan. 9:
USMNT: Can Wondolowski produce?
Jan. 8:
El Tri: WC chances for four veterans
Jan. 7:
USMNT: Stock watch
Jan. 6:
USMNT: Jan. camp surprises
Jan. 3:
El Tri: A wish list for 2013
Jan. 2:
USMNT: A wish list for 2013
Dec. 31:
USMNT: 2012 USMNT awards
Dec. 28:
USMNT: Top 5 moments of 2012
Dec. 27:
El Tri: Top moments of 2012
Dec. 26:
USMNT: Top transfer rumors
Dec. 21:
USMNT: Players who missed Top 25
Dec. 20:
El Tri: 2012 year-end awards
Dec. 19:
Top 25 American players
Dec. 19:
USMNT: Bradley is Yanks' best player
Dec. 18:
El Tri: Players who may transfer to Europe
Dec. 13:
Larcada: Projecting the UCL draw
Dec. 11:
El Tri: Top 25 U-21 prospects
Dec. 10:
USMNT: Young prospects on the rise
Dec. 5:
USMNT: Matt Besler's chances
Dec. 4:
El Tri: Players who struggled in Liga MX
Dec. 3:
USMNT: U-17s impressive in Nike Friendlies
Nov. 28:
USMNT: Would Aron Johannsson help?
Nov. 27:
El Tri: Standouts in Liga MX
Nov. 26:
USMNT: MLS' development problem
Nov. 21:
USMNT: Things to be thankful for
Nov. 20:
El Tri: Mexico's tough '13 schedule
Nov. 15:
El Tri: Brazil Board 2.0
Nov. 14:
USMNT: Russia friendly takeaways
Nov. 13:
El Tri: U-17s retain lofy status
Nov. 8:
Larcada: Ranking Europe's top teams
Nov. 6:
El Tri: High hopes for U-20s
Nov. 5:
USMNT: Qualifying challenges for U-20s
Oct. 30:
How would Mexico fare in CONMEBOL?
Oct. 29:
USMNT: Potential solutions at winger
Oct. 25:
Projecting U.S. 2014 World Cup roster
Oct. 24:
USMNT: Ranking CONCACAF Hex teams
Oct. 24:
El Tri: Mexico is top Hexagonal team
Oct. 23:
What USMNT looks like minus Donovan
ESSENTIAL LINKS
MOST SENT STORIES ON ESPN.COM