Ranking the EPL's top midfielders
Gareth Bale, Scott Parker and Nani among EPL's best midfielders
Originally Published:
August 16, 2012
By
Albert Larcada
| ESPN Insider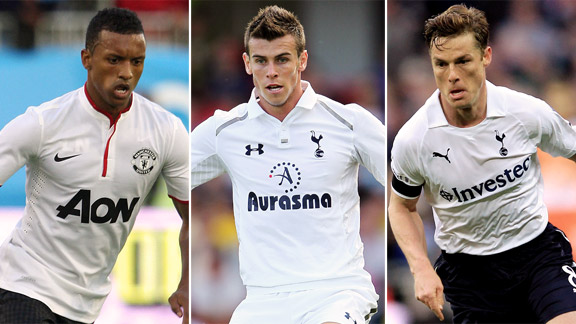 Getty Images, AP Photo, Getty ImagesNani, Gareth Bale and Scott Parker are three of the top midfielders in the EPL.
Unlike goalkeepers, defenders and forwards, midfielders' roles can vary by team, game or even game situation. In the English Premier League (as in most other top leagues) midfielders are generally grouped three ways.
The first is the Sergio Busquets type who -- aside from center backs -- is usually the last to join an attack and the first to prevent a counter. This style of player has become in vogue thanks to the club and international success of Busquets, Bastian Schweinsteiger and Sami Khedira. Their skill set must include strong tackling and defensive abilities, along with dribbling capabilities and a knack for precise passing.
The second group is the wingers. These are generally the speedy players on the flanks stretching the defense. Think Arjen Robben and Franck Ribery for Bayern Munich. Historically the Premier League has been known for having some of the best wingers in the world, but that may not be the case today with Robben, Ribery and former United left winger Cristiano Ronaldo all playing outside of England.
The last group is the attacking midfielders. These players have the least amount of defensive work to do so passing, dribbling and shooting are all necessary skills. In recent years the Premier League has started picking up some of the best in the world at this position. The Barcelona duo of Xavi and Andres Iniesta may be the best at this position in the world.
With these categories in mind, let's take a look at the top three EPL players in all three groupings:
Defensive midfielders
1. Scott Parker, Tottenham
Parker has made himself one of the most indispensable players in the league. Among midfielders in the past two EPL seasons -- one for West Ham, one for Spurs -- Parker is seventh in defensive clearances, second in pass interceptions and first in tackles and blocked shots. He's done all of this without scoring an own goal or committing a defensive error that led directly to a goal.
Parker also does a great job of distributing the ball and igniting the Spurs' attack. Last season he sported an 88.7 percent pass completion rate, top 10 in the league and 4 percentage points better than the next-best player among Tottenham's 10 most used outfielders. As you can see on his pass heat maps below, he did a great job of spraying the ball around the field from his center midfield spot.

ESPN Stats & InformationHeat map of Scott Parker's passes made, left, and received, right, on Tottenham in 2011-12. Brighter red indicates increased frequency.
To see the rest of the EPL midfielder rankings for 2012-13, plus to get access to all of Insider's soccer coverage, you must be an ESPN Insider
Insider
ESPN Insider
Albert Larcada is an Analytics Specialist in ESPN's Stats & Information group. Among other analytics projects, he maintains, advances and writes about ESPN's Soccer Power Index (SPI) algorithm.
Insider Soccer Content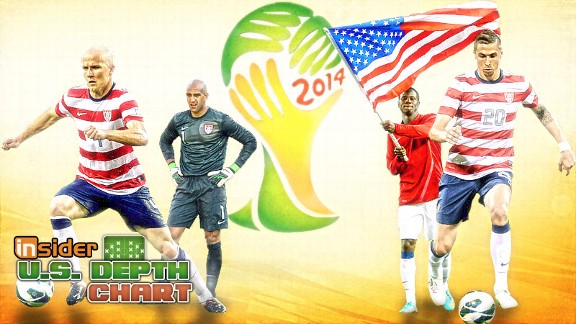 Latest content
Feb. 1:
USMNT: January transfer impact
Jan. 31:
USMNT: Shea's big chance at Stoke
Jan. 31:
El Tri: Youth report card from friendly
Jan. 30:
USMNT: How U.S. can fix its defense
Jan. 29:
El Tri: Who should be Mexico's keeper?
Jan. 28:
USMNT: Projecting U.S. WC lineup
Jan. 25:
USMNT: Josh Gatt's promising future
Jan. 24:
USMNT: Omar Gonzalez's big chance
Jan. 24:
El Tri: Carlos Vela's murky El Tri future
Jan. 23:
El Tri: Depth Chart 1.0
Jan. 23:
USMNT: Nick Rimando's important role
Jan. 22:
El Tri: Jorge Enriquez on Mexico future
Jan. 21:
Latham: Top 25 U.S. U-21 prospects
Jan. 21:
USMNT: Jozy Altidore on the rise
Jan. 18:
USMNT: Jones on his U.S. future
Jan. 17:
USMNT: Depth Chart 1.0
Jan. 17:
USMNT: Breakout players for 2013
Jan. 16:
USMNT: Where does Holden fit in?
Jan. 14:
USMNT: Hot List: Agudelo's big chance
Jan. 9:
USMNT: Can Wondolowski produce?
Jan. 8:
El Tri: WC chances for four veterans
Jan. 7:
USMNT: Stock watch
Jan. 6:
USMNT: Jan. camp surprises
Jan. 3:
El Tri: A wish list for 2013
Jan. 2:
USMNT: A wish list for 2013
Dec. 31:
USMNT: 2012 USMNT awards
Dec. 28:
USMNT: Top 5 moments of 2012
Dec. 27:
El Tri: Top moments of 2012
Dec. 26:
USMNT: Top transfer rumors
Dec. 21:
USMNT: Players who missed Top 25
Dec. 20:
El Tri: 2012 year-end awards
Dec. 19:
Top 25 American players
Dec. 19:
USMNT: Bradley is Yanks' best player
Dec. 18:
El Tri: Players who may transfer to Europe
Dec. 13:
Larcada: Projecting the UCL draw
Dec. 11:
El Tri: Top 25 U-21 prospects
Dec. 10:
USMNT: Young prospects on the rise
Dec. 5:
USMNT: Matt Besler's chances
Dec. 4:
El Tri: Players who struggled in Liga MX
Dec. 3:
USMNT: U-17s impressive in Nike Friendlies
Nov. 28:
USMNT: Would Aron Johannsson help?
Nov. 27:
El Tri: Standouts in Liga MX
Nov. 26:
USMNT: MLS' development problem
Nov. 21:
USMNT: Things to be thankful for
Nov. 20:
El Tri: Mexico's tough '13 schedule
Nov. 15:
El Tri: Brazil Board 2.0
Nov. 14:
USMNT: Russia friendly takeaways
Nov. 13:
El Tri: U-17s retain lofy status
Nov. 8:
Larcada: Ranking Europe's top teams
Nov. 6:
El Tri: High hopes for U-20s
Nov. 5:
USMNT: Qualifying challenges for U-20s
Oct. 30:
How would Mexico fare in CONMEBOL?
Oct. 29:
USMNT: Potential solutions at winger
Oct. 25:
Projecting U.S. 2014 World Cup roster
Oct. 24:
USMNT: Ranking CONCACAF Hex teams
Oct. 24:
El Tri: Mexico is top Hexagonal team
Oct. 23:
What USMNT looks like minus Donovan
ESSENTIAL LINKS
MOST SENT STORIES ON ESPN.COM