Commentary
Man U's midfield unfairly maligned
Michael Carrick & Co. have been far more productive than most realize
Originally Published:
February 9, 2012
By
Albert Larcada
| ESPN Insider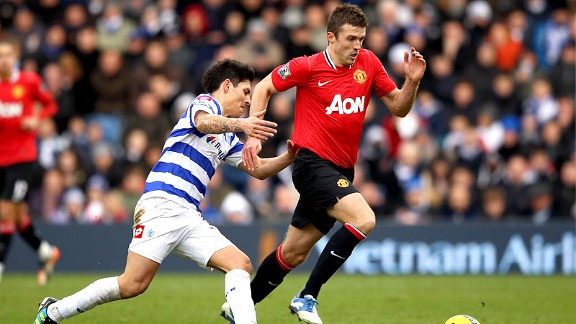 Richard Heathcote/Getty ImagesMichael Carrick has been an underrated reason for United's success this season.
One of soccer's great rivalries kicks off again on Saturday as Liverpool faces Manchester United at Old Trafford (7:45 a.m., ESPN2, ESPNDeportes, ESPN3.com). The matchup features the two most successful clubs in English history, with United winning the most all-time titles and Liverpool right behind. The two teams drew in league play earlier this season, but Liverpool knocked the Red Devils out of the FA Cup just two weeks ago.
A key storyline all season for United has been the play of its midfield. The general perception is that United is strong at the back with Rio Ferdinand and Nemanja Vidic (that is, before Vidic was lost for the season) and strong at the front with the likes of Wayne Rooney, Chicharito and Danny Welbeck, but weak in between. Manager Sir Alex Ferguson has even bought into this, experimenting with a number of formations this season. He played Rooney in a central midfield role during a Champions League match earlier in the year and called longtime ally Paul Scholes out of retirement to help with the perceived midfield woes.
The numbers, however, don't necessarily agree with the public perception. A number of United midfielders are having good, if not superb, seasons offensively and defensively. As a team, United is completing 243 passes per game from the middle-third of the field this season, up 5 percent from last season. On the defensive side, United is averaging a league-high 6.5 tackles per game in the middle-third, up from 4.9 last season.
Perhaps the biggest reason why it's natural to assume United's midfield has fallen is all of the injuries. Perennial first-teamer Anderson as well as newcomers Ashley Young and Tom Cleverly have all had the injury bug hit this season.
Here is a look at the key players who have stepped up, or are expected to once they return from injury:
To see why Man U's midfield is better than most realize, become an ESPN Insider.
Insider
ESPN Insider
Albert Larcada is an Analytics Specialist in ESPN's Stats & Information group. Among other analytics projects, he maintains, advances and writes about ESPN's Soccer Power Index (SPI) algorithm.
Insider Soccer Content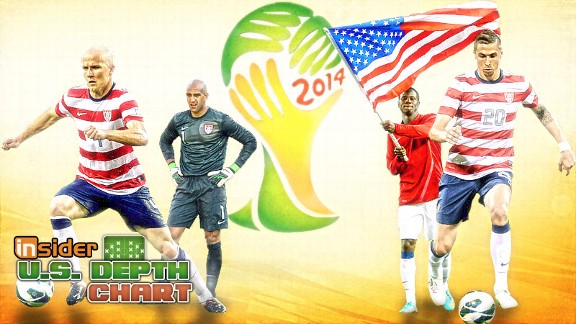 Latest content
Feb. 1:
USMNT: January transfer impact
Jan. 31:
USMNT: Shea's big chance at Stoke
Jan. 31:
El Tri: Youth report card from friendly
Jan. 30:
USMNT: How U.S. can fix its defense
Jan. 29:
El Tri: Who should be Mexico's keeper?
Jan. 28:
USMNT: Projecting U.S. WC lineup
Jan. 25:
USMNT: Josh Gatt's promising future
Jan. 24:
USMNT: Omar Gonzalez's big chance
Jan. 24:
El Tri: Carlos Vela's murky El Tri future
Jan. 23:
El Tri: Depth Chart 1.0
Jan. 23:
USMNT: Nick Rimando's important role
Jan. 22:
El Tri: Jorge Enriquez on Mexico future
Jan. 21:
Latham: Top 25 U.S. U-21 prospects
Jan. 21:
USMNT: Jozy Altidore on the rise
Jan. 18:
USMNT: Jones on his U.S. future
Jan. 17:
USMNT: Depth Chart 1.0
Jan. 17:
USMNT: Breakout players for 2013
Jan. 16:
USMNT: Where does Holden fit in?
Jan. 14:
USMNT: Hot List: Agudelo's big chance
Jan. 9:
USMNT: Can Wondolowski produce?
Jan. 8:
El Tri: WC chances for four veterans
Jan. 7:
USMNT: Stock watch
Jan. 6:
USMNT: Jan. camp surprises
Jan. 3:
El Tri: A wish list for 2013
Jan. 2:
USMNT: A wish list for 2013
Dec. 31:
USMNT: 2012 USMNT awards
Dec. 28:
USMNT: Top 5 moments of 2012
Dec. 27:
El Tri: Top moments of 2012
Dec. 26:
USMNT: Top transfer rumors
Dec. 21:
USMNT: Players who missed Top 25
Dec. 20:
El Tri: 2012 year-end awards
Dec. 19:
Top 25 American players
Dec. 19:
USMNT: Bradley is Yanks' best player
Dec. 18:
El Tri: Players who may transfer to Europe
Dec. 13:
Larcada: Projecting the UCL draw
Dec. 11:
El Tri: Top 25 U-21 prospects
Dec. 10:
USMNT: Young prospects on the rise
Dec. 5:
USMNT: Matt Besler's chances
Dec. 4:
El Tri: Players who struggled in Liga MX
Dec. 3:
USMNT: U-17s impressive in Nike Friendlies
Nov. 28:
USMNT: Would Aron Johannsson help?
Nov. 27:
El Tri: Standouts in Liga MX
Nov. 26:
USMNT: MLS' development problem
Nov. 21:
USMNT: Things to be thankful for
Nov. 20:
El Tri: Mexico's tough '13 schedule
Nov. 15:
El Tri: Brazil Board 2.0
Nov. 14:
USMNT: Russia friendly takeaways
Nov. 13:
El Tri: U-17s retain lofy status
Nov. 8:
Larcada: Ranking Europe's top teams
Nov. 6:
El Tri: High hopes for U-20s
Nov. 5:
USMNT: Qualifying challenges for U-20s
Oct. 30:
How would Mexico fare in CONMEBOL?
Oct. 29:
USMNT: Potential solutions at winger
Oct. 25:
Projecting U.S. 2014 World Cup roster
Oct. 24:
USMNT: Ranking CONCACAF Hex teams
Oct. 24:
El Tri: Mexico is top Hexagonal team
Oct. 23:
What USMNT looks like minus Donovan
ESSENTIAL LINKS
MOST SENT STORIES ON ESPN.COM