Top 25 players under age 25
James Rodriguez headlines rank of world's best players 24 and under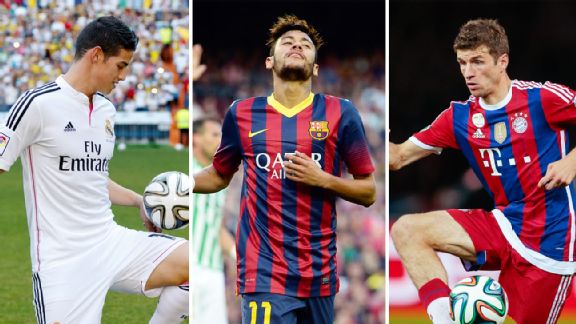 AP Photo/Daniel Ochoa de OlzaJames Rodriguez, Neymar and Thomas Muller are three of the world's top young talents.
With the soccer calendar soon to turn to the 2014-15 European club season, there are a number of experienced players looking to improve on their established reputations and a group of young, impressive talents who are looking to step up to the next level, whether that means establishing key roles within their clubs or cementing their status as world-class players.
Some of these players have improved their stock from the World Cup version of the top 25 World Cup players under 25, while others weren't eligible for that list (since their teams didn't qualify) and are now eager to prove themselves after an idle summer.
Below is our ranking of the world's top 25 players under age 25, followed by a list of honorable mentions. These players are all under the age of 25 as of Aug. 16, 2014 -- the start of the Premier League season -- and all happen to play in Europe. As always, there are players who just missed the cut in terms of age, such as Alexis Sanchez and Mesut Ozil. As far as league totals, nine hail from the Premier League, six from both La Liga and the Bundesliga and two from both Serie A and Ligue 1.
---
1. James Rodriguez
Club: Real Madrid (La Liga) | Position: midfielder | Age: 23 | National team: Colombia
The undisputed breakout star of the World Cup now faces lofty expectations at Real Madrid; however, Rodriguez has proved that he can handle adversity. He learned how to shoulder the burden of being a primary attacking target after his club and country teammate Radamel Falcao went down with a knee injury in January, and from that point forward he led Monaco in goals, shots, take-ons and chances created. Even though Rodriguez has to take on a larger goal-scoring role for both Monaco and Colombia as a result of Falcao's injury, he is still smart enough to know how to combine with teammates in the attacking third, and with a manager like Carlo Ancelotti who is more liberal in his attacking philosophy, Rodriguez should have little trouble acclimating to whatever role he is put in with the defending European champions.
To read Adrian Melville's complete ranking of the top 25 players under age 25, sign up for Insider today.
Insider
Joined ESPN in 2013 as a soccer Insider
Worked previously at NBC, Major League Soccer and Opta (UK)
Played college soccer at Princeton and professionally for the New England Revolution and Santo Andre, a second-division club in Brazil
Soccer on ESPN Insider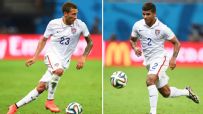 Adrian Melville weighs in on the best position fits for five key U.S. players whose roles are in flux, including Michael Bradley and DeAndre Yedlin.
MOST SENT STORIES ON ESPN.COM