USMNT transfers I'd like to see
Brad Guzan to Arsenal among five club transfers that make sense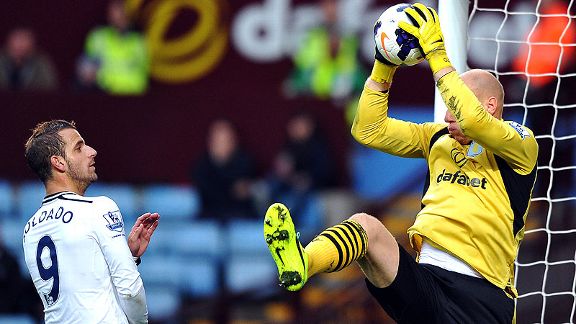 PAUL ELLIS/AFP/Getty ImagesBrad Guzan could benefit from being on a bigger squad such as Arsenal.
The United States' 2014 World Cup performance in Brazil brought a significant amount of attention to the team and shone a bright light on its standouts. At the same time, the growth of MLS has given the average American prospect more leverage in transfer negotiations. Instead of taking the first European opportunity offered, these players can take their time and consider which teams may be the best fit for their overall career.
Regardless of location, Jurgen Klinsmann's desires are clear: He wants all U.S. prospects being pushed daily to improve from a technical standpoint, while also seeing competitive game action on a weekly basis with their team. Ideally, Klinsmann would like to see these objectives carried out at European clubs, specifically for players who can impact the 2018 World Cup, and the next two transfer windows (August and January) will be critical in shaping the direction of the U.S. team.
Here are five U.S. transfers that make sense in the near future -- based on the ability of each player and his potential fit with the new team -- including moves involving Brad Guzan, DeAndre Yedlin, Omar Gonzalez, Jozy Altidore and Mix Diskerud.
---
Brad Guzan, 29, goalkeeper
From: Aston Villa (Premier League)
To: Arsenal (Premier League)
After winning the starting job at Aston Villa in 2012-13, Guzan led the team to a marked defensive improvement over the course of the 2013-14 season. His 111 saves in the Premier League were tied with Arsenal starter Wojciech Szczesny, and the degree of difficulty on those saves was even greater than the numbers show.
More importantly, Guzan led the Premier League in coming out and claiming crosses from opponents, and also created 21 chances for his Villa teammates through the team's direct style of play. Guzan mentioned this to me at the pre-World Cup media day, emphasizing that "the game has definitely slowed down for me in the last year. I feel a lot more comfortable playing week to week, and guys like Tim [Howard] and Brad [Freidel] have been really supportive."
This support from the previous lineage of successful U.S. goalkeepers is important, and analyst Alexi Lalas notes that at a bigger club, Guzan should "make that transition from a goalkeeper that faces a bunch of shots through consistent pressure, to the one that makes the save, and it may be the only one. That is a different kind of skill that would not only be valuable for Guzan's individual career, but hopefully a good trait for future U.S. goalkeepers as well."
To read Adrian Melville's full list of USMNT transfers that he'd like to see, sign up for Insider today.
Insider
Joined ESPN in 2013 as a soccer Insider
Worked previously at NBC, Major League Soccer and Opta (UK)
Played college soccer at Princeton and professionally for the New England Revolution and Santo Andre, a second-division club in Brazil
Soccer on ESPN Insider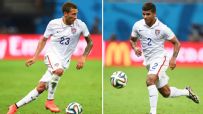 Adrian Melville weighs in on the best position fits for five key U.S. players whose roles are in flux, including Michael Bradley and DeAndre Yedlin.
MOST SENT STORIES ON ESPN.COM