Mexico is 2018 World Cup sleeper
Why El Tri has a real shot to make a run in the next World Cup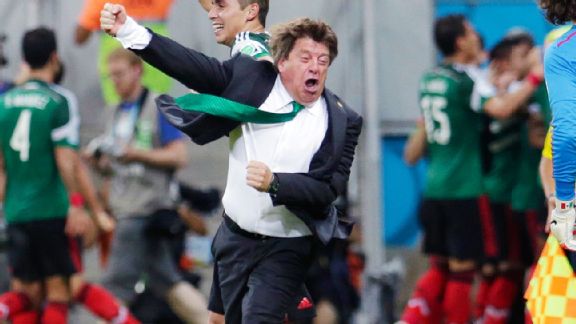 AP Photo/Petr David JosekMiguel Herrera has an eccentric personality but did a great job leading Mexico in 2014.
The Liga MX Apertura begins on Friday, and as a country, Mexico will look to continue building on the generation of players who were designed to make the country a global power. Many of the players who helped the team capture a U-17 World Cup in 2011, along with an Olympic Gold medal in 2012, are now in the prime of their careers.
A strong defensive showing in the 2014 tournament, combined with an impressive pipeline of upcoming talent in El Tri's attack, gives manager Miguel Herrera a lot of flexibility in the team that he assembles four years from now.
After a crushing defeat to the Netherlands in the round of 16, the odds at the LVH Superbook have Mexico at 50-1 to win the 2018 World Cup, but I believe they should be much higher.
With a mix of young talent and established veterans, here's why Mexico is a sleeper to win the 2018 World Cup.
A solid defense
Similar to the United States, Mexico goalkeeper Guillermo Ochoa became the star of his team by making tremendous saves throughout the tournament. His six saves against Brazil were the highlight, and over the course of four games, Ochoa established himself as a valuable commodity in the transfer market.
Just ahead of Ochoa, central defender Hector Moreno, who had a promising World Cup cut short by a broken tibia in the team's round of 16 game against the Netherlands, is the future of the Mexican back line. The Espanyol central defender was agile, calm and quick with his decision-making, and his timely tackling was also helpful in Mexico conceding just 3.3. shots on target per game (fifth lowest in World Cup). His defensive support was vital alongside an aging Rafa Marquez on the back line.

ESPN Stats & InformationHeat map of Hector Moreno's tackles in 2014 World Cup, left, and Rafa Maruez's tackles, right.
To read Adrian Melville's full story on why Mexico is a 2018 World Cup sleeper, sign up for Insider today.
Insider
Joined ESPN in 2013 as a soccer Insider
Worked previously at NBC, Major League Soccer and Opta (UK)
Played college soccer at Princeton and professionally for the New England Revolution and Santo Andre, a second-division club in Brazil
Soccer on ESPN Insider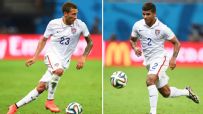 Adrian Melville weighs in on the best position fits for five key U.S. players whose roles are in flux, including Michael Bradley and DeAndre Yedlin.
MOST SENT STORIES ON ESPN.COM