Players who raised their club value
James Rodriguez among 10 who could cash in during August window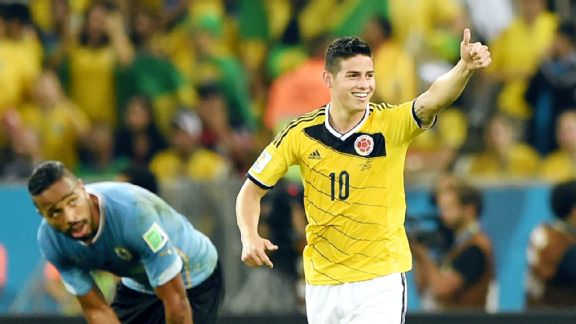 EITAN ABRAMOVICH/AFP/Getty ImagesJames Rodriguez was one of the breakout players of the 2014 World Cup.
The World Cup isn't just a competitive tournament with the globe's most talented teams; it's also a platform for individuals to showcase their skills on the biggest stage. The players involved in the World Cup are acutely aware of how many careers have been launched by a good month of form. While some stars were disappointing in the tournament, others raised their value and are due to take advantage of the attention that they have received for their performances.
Here are 10 players who I think have made the biggest jump in market value based on their 2014 World Cup performances.
James Rodriguez, midfield (national team: Colombia; club: Monaco; age: 23)
Rodriguez led the tournament with six goals and will likely be the most expensive transfer of the August window if he decides to move away from Monaco. He led Ligue 1 with 12 assists in 2013-14, and his combination of vision, dribbling and finishing ability are the most promising of any player in the world. His potential transfer to Real Madrid would create a formidable attack for opponents to deal with. Rodriguez has shown that he has the technical skills and physical ability to play as either a playmaking central midfielder or a wide forward in an attacking system.
Juan Cuadrado, midfield (Colombia, Fiorentina, 26)
Rodriguez remains the major prize for many European teams, but his teammate Cuadrado showed that he can be almost as dangerous in the attacking third. Cuadrado ranked just behind Rodriguez for the team lead in almost every attacking category, and the 26-year-old has enough pace to beat players going to the outside and the ability to cut in and beat players on the inside.
To read Adrian Melville's piece on the 10 players who raised their club value, sign up for Insider today.
Insider
Joined ESPN in 2013 as a soccer Insider
Worked previously at NBC, Major League Soccer and Opta (UK)
Played college soccer at Princeton and professionally for the New England Revolution and Santo Andre, a second-division club in Brazil
Soccer on ESPN Insider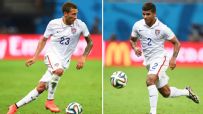 Adrian Melville weighs in on the best position fits for five key U.S. players whose roles are in flux, including Michael Bradley and DeAndre Yedlin.
MOST SENT STORIES ON ESPN.COM