Brazil won't win the World Cup
Neymar's loss, Silva's absence and lack of depth will likely doom the hosts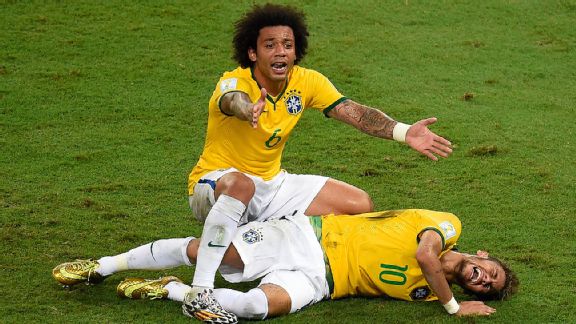 Getty ImagesLosing Neymar will be a huge blow to Brazil's attack heading into the semifinals.
Host nation Brazil entered the 2014 World Cup as the favorite to win. So far the team has done its job, and regardless of how things have looked aesthetically at times, Brazil is just two wins away from claiming an unprecedented sixth World Cup.
However, a challenging and damaging quarterfinal win against Colombia has shifted Brazil's outlook. The team will have to endure the rest of the World Cup without the injured Neymar, who was the team's best attacking player throughout the tournament. Worse, Brazil must also deal with the loss of suspended Thiago Silva in the team's semifinal matchup against Germany.
This puts Brazil manager Luiz Felipe Scolari in a difficult position, as he must find a way to advance past one of the most consistent teams in the tournament without his two best players. While Brazil has the talent to compete with any of the remaining teams, the adjustments that Scolari will need to make to give his team a chance to win likely won't be enough to raise the trophy.
Here's a look at how key player absences, lack of roster depth and opponent strengths will be too much for the host nation to overcome and ultimately lead to its exit.
Not enough creativity in Brazil's attack
When Scolari announced his 23-man roster in May, it became clear that this Brazil team was never designed to attack opponents with the same quality talent that led the country to its last World Cup title in 2002. That team consisted of Ronaldo, Rivaldo and Ronaldinho, among others, and that attacking group made Brazil proactive in how it approached its opponents.
The current team is built around Neymar in the attack, and the Barcelona star scored four of the team's 10 goals this tournament while leading Brazil in virtually every attacking category (shots, take-ons, chances created, etc.). His injury in the quarterfinal takes a key attacking element away from Brazil, as Neymar's ability to be unpredictable in the attacking third meant that defenders had to give Brazil more space when it was on the attack.
Without Neymar, midfielders like Oscar and Hulk are relied on more heavily to support Fred as the target striker, and Scolari basically has two ways that he can approach replacing his best attacking player.
To read more on why Brazil won't win the 2014 World Cup, and for all of Insider's World Cup content, you must be an ESPN Insider.
Insider
Joined ESPN in 2013 as a soccer Insider
Worked previously at NBC, Major League Soccer and Opta (UK)
Played college soccer at Princeton and professionally for the New England Revolution and Santo Andre, a second-division club in Brazil
Soccer on ESPN Insider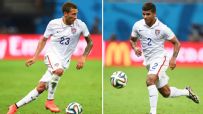 Adrian Melville weighs in on the best position fits for five key U.S. players whose roles are in flux, including Michael Bradley and DeAndre Yedlin.
MOST SENT STORIES ON ESPN.COM