USMNT Russia Board 1.0
Projecting the U.S. national team's starting lineup for the 2018 World Cup
Updated:
July 2, 2014, 6:04 PM ET
By
Doug McIntyre
| ESPN Insider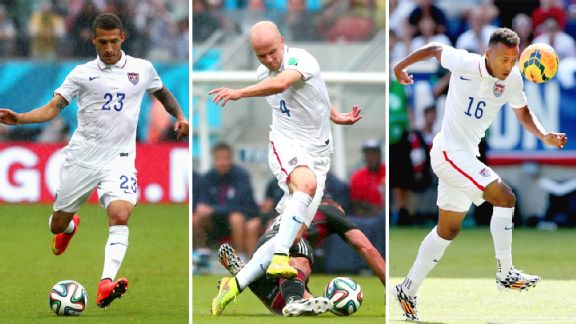 Getty ImagesFabian Johnson, Michael Bradley and Julian Green will likely play vital roles in 2018.
SALVADOR, Brazil -- "We don't mind looking stupid."
That knowing qualifier was the opening sentence of our very first Brazil Board way back on March 30, 2011. Which was good, because through the 15 subsequent incarnations in the three-plus years since our maiden attempt to predict the U.S. national team's starting lineup for the 2014 World Cup, we were plenty wrong plenty of the time.
As we knew we would be.
Three years is an eternity in international soccer, so the fact that eight of the players named to Jurgen Klinsmann's final 23-man roster -- Jozy Altidore, Michael Bradley, Timmy Chandler, Clint Dempsey, Mix Diskerud, Omar Gonzalez, Brad Guzan and Tim Howard -- were all part of Brazil Board 1.0, should be considered a triumph.
That's not to say some of the picks weren't cringe-worthy. Guys like Gale Agbossoumonde, Amobi Okugo and Ike Opara, who have since revealed themselves as average MLSers at best, were among the eight players who appeared just once.
Still, a look back at the evolution of the Brazil Board from then until now, the day the Yanks were eliminated here in Salvador, provides a fascinating glimpse into how the U.S. program has changed since we took that first crack, which came after a Bob Bradley-led squad lost 1-0 to Paraguay in an otherwise forgettable friendly match in Nashville, Tennessee.
Who could have predicted then that the German-American Chandler, who was coming off his first two games for the Yanks, would hedge on playing for the U.S. several times on the way to Brazil? How could we have known that other dual nationals like John Brooks, Aron Johannsson and Julian Green -- who was just 15 years old when that first Brazil Board debuted -- would come out of nowhere to cast their lot with the Yanks (with both Brooks and Green netting goals in Brazil)? And who would have guessed that a 32-year-old Landon Donovan, whom we left off just one Board during his much discussed (and in the end, costly) 2013 sabbatical, would be kept off the final 23-man roster?
As time went on, though, things came into clearer focus. Sixteen of the final 23 had debuted on the board by October 2012. Five months later, all 11 projected starters had appeared. In the end, 62 players were listed in at least one edition and only four (Altidore, Bradley, Dempsey and Howard) appeared in all 16. It's no coincidence that that quartet, along with Jermaine Jones, make up what Klinsmann often refers to as the spine of his team. Meanwhile, fellow vets Donovan (11) and Clarence Goodson (10) appeared in the most editions without making it. Two others, Brad Davis and DeAndre Yedlin, didn't make one pre-cut version, yet both played roles here in Brazil.
It wasn't just about the players -- formations came and went, too. There was coach Bradley's "empty bucket" 4-4-2, the attacking 4-3-3 Klinsmann used after replacing Bradley in July of 2011, the pragmatic 4-2-3-1 the German switched to during World Cup qualifying and the various sets he employed during the Yanks' run in Brazil.
Indeed, change has been the only constant. Expect even more of it next time around, as now that this tournament has ended for the Americans, the process will be begin anew. We can't tell you what it will look like yet. But because our road to Russia will begin almost a year earlier than the ride toward Brazil, the one thing you can be certain of is that more stupidity awaits.
Here's our first projection -- a long-range one at that -- of the U.S. national team's formation and starting lineup for the 2018 World Cup in Russia:
To see the U.S. national team's projected formation and starting lineup for the 2018 World Cup, along with notes on each starter, you must be an ESPN Insider.
Insider
Doug McIntyre is a staff writer for ESPN The Magazine. He has covered American and international soccer since 2002.
Soccer on ESPN Insider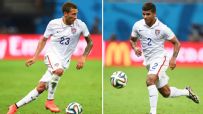 Adrian Melville weighs in on the best position fits for five key U.S. players whose roles are in flux, including Michael Bradley and DeAndre Yedlin.
MOST SENT STORIES ON ESPN.COM