Key storylines from the World Cup
Portugal's implosion, Ochoa's rise, rash of penalties among topics to monitor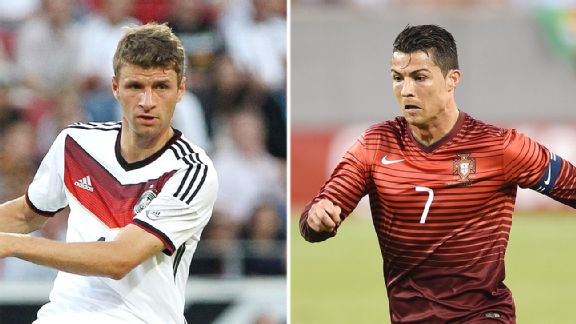 Getty ImagesWhile Thomas Muller looks primed to win the Golden Boot, Cristiano Ronaldo may head home early.
The anticipation leading to the 2014 World Cup was immense, as there were multiple storylines to keep track of on both an individual and a team level. From lineups to injuries to recent player performance, there was no shortage of intrigue regarding how this tournament would play out.
Now that the first week of the World Cup is in the books, that intrigue has turned into live drama, as all 32 teams are now approaching a second group game that will dictate their overall success.
As prospective teams for the knockout stages begin to emerge, here are key storylines worth monitoring as the tournament rolls along, including whether Portugal can recover from its disastrous start, Guillermo Ochoa's rise with Mexico and what the high number of penalties could foreshadow moving forward.
Can Portugal, Ronaldo recover?
Portugal's World Cup opener against Germany could not have gone any worse, as the team not only suffered a 4-0 defeat to Group G leaders Germany, but also lost Real Madrid defender Fabio Coentrao and Besiktas striker Hugo Almeida to injury. Pepe's red card also contributed to Cristiano Ronaldo's slow start, and the shift to playing with 10 men pushed Ronaldo into a more advanced central position where he had to rush chances in order to spark Portugal's attack.

ESPN Stats & InformationHeat map of Ronaldo's touches before Pepe's red card, left, and those after, right.
Ronaldo recorded 29 touches after Pepe's first-half dismissal as opposed to 12 touches in the first half hour. However, Ronaldo also led Portugal in turnovers after the red card, and all five of his shot attempts were from at least 30 yards out.
While the Real Madrid attacker will have a full team against the U.S., the personnel losses will have a potentially devastating effect. Coentrao in particular will be missed, as he connected frequently with Ronaldo throughout World Cup qualifying, while the loss of Almeida will also put more defensive attention on Ronaldo as the tournament progresses. If Ronaldo is forced to take on more defenders, and consequently deal with the extra defensive attention that comes with it, it will be interesting to examine his demeanor if it turns out that the rest of his teammates are not able to keep up with his level.
Ochoa's rise, Mexico's outlook
Guillermo Ochoa landed 10th in my goalkeeper power rankings before the World Cup, and while he led Ligue 1 with 147 total saves for a shell-shocked Ajaccio team, there was still a question of Mexico manager Miguel Herrera choosing him as the team's starter leading up to the tournament.
To read Adrian Melville's full list of key World Cup storylines to watch, become an ESPN Insider.
Insider
Joined ESPN in 2013 as a soccer Insider
Worked previously at NBC, Major League Soccer and Opta (UK)
Played college soccer at Princeton and professionally for the New England Revolution and Santo Andre, a second-division club in Brazil
Soccer on ESPN Insider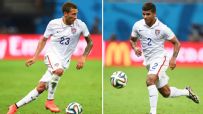 Adrian Melville weighs in on the best position fits for five key U.S. players whose roles are in flux, including Michael Bradley and DeAndre Yedlin.
MOST SENT STORIES ON ESPN.COM