Mexico is a World Cup contender
Tactics, defense, attack and Ochoa have lifted El Tri. Can they win it all?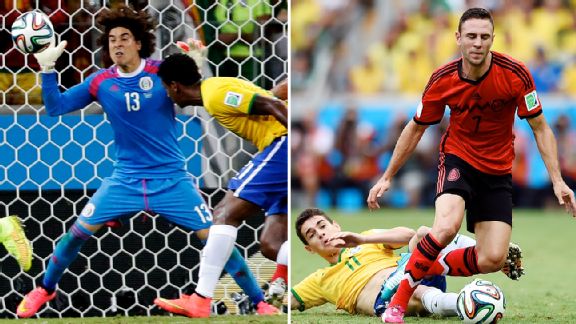 AP Images, Getty ImagesGoalkeeper Guillermo Ochoa and left back Miguel Layun have been huge for El Tri.
Mexico is responsible for one of the biggest single-game surprises of this tournament, as the team fought to a scoreless draw with favorite and host nation Brazil in Group A action. And while Mexico goalkeeper Guillermo Ochoa turned in an outstanding performance to help his team earn a critical point in group play, the team was also able to attack Brazil and create dangerous chances against one of the strongest teams in the field.
The confidence and chemistry that Mexico has displayed in the World Cup is a stark contrast from seven months ago, when the team was forced to win a home-and-home playoff series against Oceania champion New Zealand just to qualify for the tournament. Fortunately, former Club America manager Miguel Herrera was able to guide Mexico through the two-leg series, and since then the team has solidified itself both in defense and in the attack, evolving into one of the biggest surprises in the World Cup thus far.
While Mexico's transformation into a World Cup contender can be partially credited to Herrera's abilities as a fantastic motivator and a cunning tactician, there are other individual and team factors on the field that are contributing to Mexico's ascent. Here are three keys to Mexico's success, along with a look at how far El Tri could go in Brazil.
Marquez, Ochoa setting the defensive tone
At 35 years old, Rafa Marquez has become the first player to captain his team in four World Cup tournaments. And while he has slowed down physically in the later stages of his career, his leadership is undeniable given the fact that he is also coming off of two consecutive Liga MX season titles with his club Leon.
Marquez relies heavily on his experience and instincts as a central defender in Herrera's 5-3-2 formation, and his team-high 7.0 interceptions per match for Mexico in the World Cup are an extension of the team-high 4.8 interceptions that he recorded for Leon in the 2014 Clausura. As an indirect result, just 32 percent of the shots that Mexico has conceded so far have been on target -- compared to 42 percent in World Cup qualifying, which Marquez was mostly not a part of -- and Brazil in particular were forced into more touches from wide positions as it looked to play around Marquez and attack different areas of Mexico's back line.
To read Adrian Melville's complete breakdown of what's fueled Mexico's rise to World Cup contender, and how far El Tri can go in Brazil, become an ESPN Insider.
Insider
Joined ESPN in 2013 as a soccer Insider
Worked previously at NBC, Major League Soccer and Opta (UK)
Played college soccer at Princeton and professionally for the New England Revolution and Santo Andre, a second-division club in Brazil
Soccer on ESPN Insider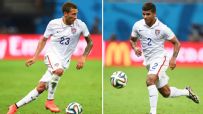 Adrian Melville weighs in on the best position fits for five key U.S. players whose roles are in flux, including Michael Bradley and DeAndre Yedlin.
MOST SENT STORIES ON ESPN.COM