USMNT Brazil Board 16.0
Projecting the U.S. national team's starting lineup against Ghana
Updated:
July 2, 2014, 3:34 PM ET
By
Doug McIntyre
| ESPN Insider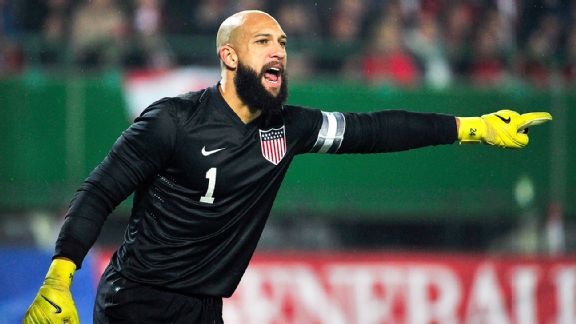 AP Photo/Hans PunzTim Howard will need to play his best for the U.S. to advance from Group G.
SAO PAULO -- Who cares if Jurgen Klinsmann keeps fiddling with his system as the clock ticks toward the Americans' June 16 opener in Natal? Not his players, apparently.
"I think it's normal that the coach tries everything," midfielder Jermaine Jones told reporters here on Wednesday as the Yanks continue to fine-tune things ahead of their all-important first game against Ghana, the team that eliminated them from the past two World Cups.
"He wants to find out what is the best formation for this team, so he tries a lot of stuff. Sometimes it's good to switch things."
Like now.
Ever since taking the reins of the national team almost three years ago, Klinsmann has struggled to find a scheme that optimized his players' strengths.
He's mixed and matched. He's tweaked and tinkered. And in the end, it seems he'll end up right back where he started: with the 4-3-2-1 formation he used against Mexico back on Aug. 10, 2011 -- Klinsmann's very first game at the helm.
Jones and fellow central midfielders Michael Bradley and Kyle Beckerman all started that night in Philadelphia, a 1-1 tie versus El Tri. Now, on the day Brazil 2014 officially kicks off, the trio seems destined to play together for just the second time since.
And they should.
If last week's friendly win over Nigeria is any indication, the new old setup gives the Yanks their best chance of winning the opener against a powerful, dangerous, but altogether beatable foe.
"We know about their strengths, and we also know about their weaknesses," Klinsmann said of Ghana. The strengths include a few all-world attacking players, the weaknesses some suspect defending at times.
Which is why it makes perfect sense for Klinsmann to add another layer of protection in front of his back line in the form of Beckerman, a dedicated defensive specialist, while keeping Michael Bradley farther upfield, where he's better equipped to assist attackers Jozy Altidore and Clint Dempsey.
We'll find out if the adjustments work soon enough.
Here is our final look at the U.S. national team's lineup in advance of the Monday opener against Ghana.
PREVIOUSLY: March 30, 2011 | June 7, 2011 | July 5, 2011 | Sept. 21, 2011
Jan. 19, 2012 | June 6, 2012 | Oct. 25, 2012 | Jan. 28, 2013 | March 27, 2013 | Oct. 24, 2013 | Jan. 29, 2014 | March 6, 2014 | April 4, 2014 | May 13, 2014 | May 28, 2014
TEAM USA: 2014 WORLD CUP ROSTER
Roll over player names for scouting notes, analysis and a confidence ranking. All ages and experience are as of June 13.
---
To see the U.S. national team's projected formation and starting lineup against Ghana, along with notes on each starter, you must be an ESPN Insider.
Insider
Doug McIntyre is a staff writer for ESPN The Magazine. He has covered American and international soccer since 2002.
Soccer on ESPN Insider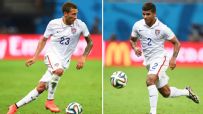 Adrian Melville weighs in on the best position fits for five key U.S. players whose roles are in flux, including Michael Bradley and DeAndre Yedlin.
MOST SENT STORIES ON ESPN.COM