X factor players on WC contenders
Argentina's Di Maria among keys on the top five teams at the World Cup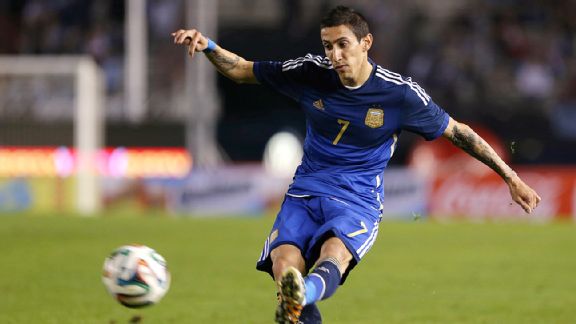 Daniel Jayo/Getty ImagesArgentina midfielder Angel Di Maria will play a critical role in igniting the team's attack.
The World Cup begins Thursday with much anticipation, as the talent level across all 32 participating teams is as deep as we have seen in recent decades. And while every nation begins the tournament with a shot at winning the title, certain countries with momentum and established cultures of success will be favored to take home the biggest prize that the game has to offer.
For the top contenders, there are certain players who hold the key to their team's collective success in the tournament. Some of these players are overshadowed by more recognizable teammates, while others are simply on the cusp of becoming the next big name. Regardless, all of these players will play critical roles in the outcome of the tournament during the next few weeks.
Here is a list of the most influential players, or X factors, on the top five contenders to win the 2014 World Cup (using odds determined by the Las Vegas Hotel & Casino):
---
Brazil (5-2 odds)
X factor: Luiz Gustavo (Club team: Wolfsburg)
I recently slated Gustavo to be one of the breakout performers of this summer's World Cup, and his importance to the Brazil midfield represents exactly the balance that manager Phil Scolari is looking for in his team. After winning the World Cup in 2002, Brazil opted for an attack-heavy team that failed to meet expectations in the 2006 World Cup. Brazil failed to meet expectations again in 2010, when then-manager Dunga opted for a less creative group in the South Africa tournament.
Because of Gustavo, Scolari has the luxury of establishing a solid defensive presence while keeping his high-profile attackers on the field. Gustavo's role as a holding midfielder -- or "volante," as they say in Brazil (translation: the wheel) -- makes him responsible for steering the team's direction as it looks to build an attack.
To read Adrian Melville's complete list of X factor players on the top contenders at the World Cup, become an ESPN Insider.
Insider
Joined ESPN in 2013 as a soccer Insider
Worked previously at NBC, Major League Soccer and Opta (UK)
Played college soccer at Princeton and professionally for the New England Revolution and Santo Andre, a second-division club in Brazil
Soccer on ESPN Insider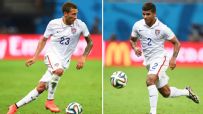 Adrian Melville weighs in on the best position fits for five key U.S. players whose roles are in flux, including Michael Bradley and DeAndre Yedlin.
MOST SENT STORIES ON ESPN.COM