Melville: My World Cup bracket
Insider's soccer expert unveils and outlines all of his 2014 tournament picks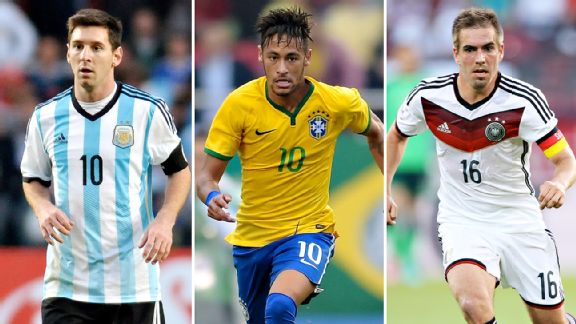 Getty ImagesWill Messi's Argentina, Neymar's Brazil or Lahm's Germany win the 2014 World Cup?
The World Cup is finally here, and along with the anticipation of great games and breakthrough individual performances, there is the fun challenge of filling out a bracket to predict the tournament.
There are obviously different strategies for predicting World Cup outcomes (see Peter Keating's recent piece on World Cup Giant Killers for more on that). My picks for teams advancing out of the group stages are more or less based on the form of specific players and teams over the course of the 2013-14 club season and World Cup qualifying. Extraneous factors such as weather and travel are not as important.
The picks become more subjective in the knockout rounds, as advancing often comes down to which team makes fewer mistakes, and therefore the established countries with more World Cup experience are generally given the benefit of the doubt over countries that have been in the knockout rounds only a handful of times (if not less). There is often room for one surprise team to make a quarterfinal run, but rarely more than that.
As we approach the final rounds of the tournament, there is often a sea change in popular opinion based on what has taken place in previous rounds, and factors such as player health, disciplinary record (i.e. yellow and red card accumulation), tactical matchups and positive momentum all play a much more significant role as there is often very little to separate the top contenders.
Here is my 2014 World Cup bracket, which includes several sleeper picks:
Group stage
Group A (Brazil, Mexico, Croatia, Cameroon)
A1 pick: Brazil
A2 pick: Croatia
Brazil has the advantage of an ecstatic home crowd in the first game of the World Cup, and is further helped by the fact that Croatia will be without Bayern Munich striker Mario Mandzukic. Brazil will likely win Group A, and while there is potential for the opening game to have a scarring effect on Croatia, the team possesses more talent than fellow Group A participants Mexico and Cameroon, and should rebound with strong performances from a motivated Mandzukic and a midfield led by Real Madrid midfielder Luka Modric.
Group B (Spain, Netherlands, Chile, Australia)
B1: Spain
B2: Chile
Similar to Brazil, Spain should not have much trouble winning its group, and its opening matchup against the Netherlands has been downgraded because of injuries to Hamburg captain Rafael van der Vaart and Roma midfielder Kevin Strootman. These injuries not only give Spain a clear midfield advantage against its biggest competition in Group B, but also open the door for a Chile team led by Juventus midfielder Arturo Vidal and Barcelona striker Alexis Sanchez to push forward and advance to the knockout round.
To see Adrian Melville's complete World Cup bracket, become an ESPN Insider.
Insider
Joined ESPN in 2013 as a soccer Insider
Worked previously at NBC, Major League Soccer and Opta (UK)
Played college soccer at Princeton and professionally for the New England Revolution and Santo Andre, a second-division club in Brazil
Soccer on ESPN Insider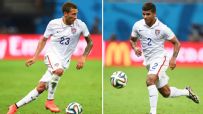 Adrian Melville weighs in on the best position fits for five key U.S. players whose roles are in flux, including Michael Bradley and DeAndre Yedlin.
MOST SENT STORIES ON ESPN.COM