Why Spain won't win the World Cup
Decline of tiki-taka style, aging core make La Roja long shot to repeat in 2014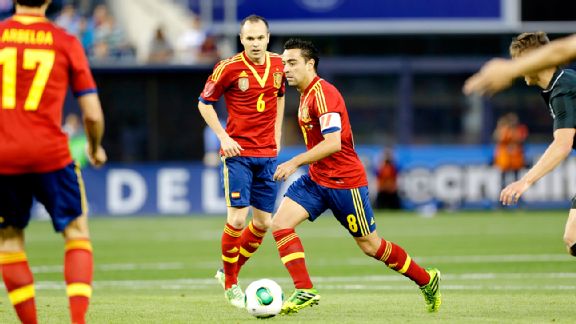 AP Photo/Kathy WillensAre Andres Iniesta and Xavi Hernandez done piling up trophies with Spain?
Since winning the European Championship in 2008, Spain has held the attention of the soccer world not only by winning its first World Cup in 2010, but by following that triumph with a second consecutive Euro Championship in 2012.
Along the way, Spain has adapted a playing style known as tiki-taka, which was popularized by the Barcelona teams managed by Pep Guardiola from 2008 to 2012 and seen as an evolution of the Dutch version of "Total Football" that was displayed in the 1970s. The tiki-taka style is characterized by short passing and movement in the attack, while the large amounts of possession that are maintained from the system also serve as a defensive mechanism to keep opponents from creating their own attacks with time on the ball.
This particular style has drawn worldwide acclaim in the past five-plus years. However, recent results for both Barcelona and the Spanish national team suggest that the style has run its course, and thus Spain is not in a position to continue its dominance over the rest of the world. While Spain as a team will continue to value possession, the high number of passes that the tiki-taka style yields are no longer able to hypnotize opponents into playing on Spain's terms. And through years of studying, opponents are now able to devise strategies that can neutralize Spain's dynamic group of attackers. This leaves the defending champs vulnerable going into Brazil.
Below are methods that opponents have used to effectively counter Spain's tiki-taka style, along with evidence that Spain's aging core and evolution into a more direct style of play will contribute to the team's inevitable decline in the late stages of this summer's World Cup.
Barcelona sheds light on tiki-taka issues
As tiki-taka grew in stature after the 2010 World Cup and reached a fever pitch as Spain went on to win Euro 2012, many teams were afraid to challenge the possession that Spain maintained throughout the course of the game. This fear was more prevalent at the club level with Barcelona, as Guardiola had transformed tiki-taka into an art form that was carried out on a weekly basis by the core of Spain's national player pool.
That fear of getting exposed by Barcelona's deft passing has dissipated in the past two seasons, as teams such as Borussia Dortmund and Atletico Madrid have used high-pressure defensive systems to force mistakes within the opponent's defensive half. The pressure that these teams have learned to apply has been successful in disrupting the rhythm that tiki-taka emphasizes, and Atletico in particular showed in the 2013-14 La Liga campaign how effective a high line of defensive pressure can really take a team like Barcelona out of its comfort zone.
To read the full piece on the decline of Spain and its tiki-taka style, and why it is a long shot to win the World Cup, become an ESPN Insider.
Insider
Joined ESPN in 2013 as a soccer Insider
Worked previously at NBC, Major League Soccer and Opta (UK)
Played college soccer at Princeton and professionally for the New England Revolution and Santo Andre, a second-division club in Brazil
Soccer on ESPN Insider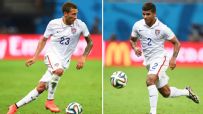 Adrian Melville weighs in on the best position fits for five key U.S. players whose roles are in flux, including Michael Bradley and DeAndre Yedlin.
MOST SENT STORIES ON ESPN.COM