World Cup Power Ranks: Midfield
Yaya Toure headlines ranking of the top 10 midfielders competing in Brazil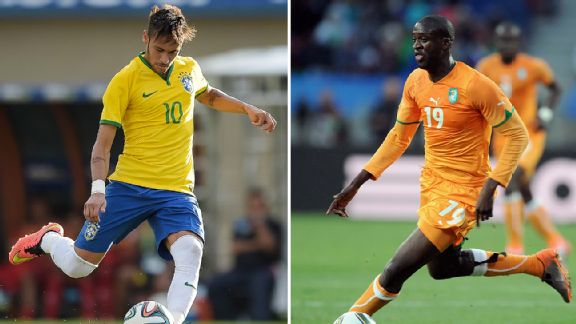 Getty Images, Icon SMINeymar and Yaya Toure both play pivotal roles for their respective countries.
The evolution in tactics since the 2010 World Cup has increased the value of midfielders, as now more than ever teams are concerned with winning the midfield battle and collectively attacking or defending as a team based on the personnel that exist in both central and wide positions.
As a result, today's midfielders are not simply segregated into tacklers and distributors. All midfield roles require a minimum level of attacking ingenuity, defensive awareness and scoring touch in order to create a truly competitive team. The following midfielders contain all of these traits, and thus are able to dictate the pace of games based on their movements and ability to make plays on the ball.
Here's my ranking of the top 10 midfielders competing at the 2014 World Cup based on 2013-14 club performance, World Cup qualifying play, experience in big games and relative importance to their country's success.
Note: There is always some ambiguity within the classification of midfielders and forwards, so potential midfielders like Lionel Messi and Cristiano Ronaldo were already included in the forward power rankings, while occasional forwards such as Thomas Mueller and Neymar are technically classified as midfielders based on their roles with their country.
1. Yaya Toure, Ivory Coast (club: Manchester City)
Toure is currently the best box-to-box midfielder in the world, meaning he distributes the ball as well as anyone and can also help out with any dirty work that needs to be done defensively. The number that sticks out most for Toure is his 20 domestic goals in 2013-14 (third in the Premier League), but the fact that he needed just 64 shot attempts (30th in the Premier League) to score those goals speaks to how efficient the Ivory Coast international can be getting forward.
To see Adrian Melville's complete ranking of the top 10 midfielders competing at the World Cup, become an ESPN Insider.
Insider
Joined ESPN in 2013 as a soccer Insider
Worked previously at NBC, Major League Soccer and Opta (UK)
Played college soccer at Princeton and professionally for the New England Revolution and Santo Andre, a second-division club in Brazil
Soccer on ESPN Insider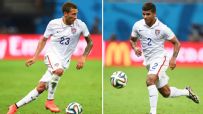 Adrian Melville weighs in on the best position fits for five key U.S. players whose roles are in flux, including Michael Bradley and DeAndre Yedlin.
MOST SENT STORIES ON ESPN.COM