Giant Killers at the World Cup
Breaking down odds, upset trends to identify group-stage Davids and Goliaths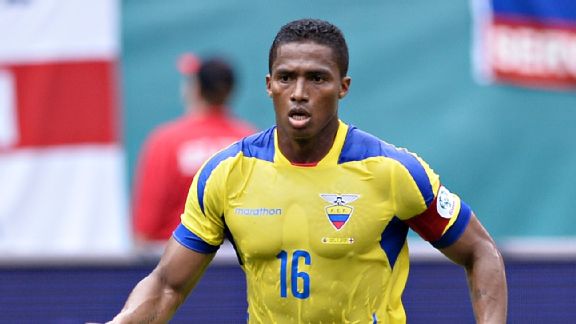 Mladen Antonov/AFP/Getty ImagesAntonio Valencia and Ecuador could play spoiler in Group E at the World Cup.
Which teams could pull off huge upsets in the group stage of the World Cup? To find out, we applied the theories Jordan Brenner and I have developed for Giant Killers, where we hunt for worthy underdogs in the NCAA basketball tournament, to soccer.
March Madness upsets spring from two sources: mis-seedings and playing styles. In terms of mis-seedings, every year the NCAA selection committee slots some teams too low, making them more dangerous as assassins than their tournament position suggests, and others too high, rendering them more vulnerable. But college hoops has nothing on international soccer.
To begin with, FIFA uses its own, deeply flawed rankings to choose initial teams for the eight World Cup groups. FIFA awards points to both sides for every match, based on the outcome and importance of the game, each team's confederation and the strength of its opponent. Absurdly, however, FIFA's methodology doesn't take goal differential, home-field advantage or team rosters into account. So there were gaps between the FIFA numbers that anchored the World Cup draw and sounder measures, such as ESPN's Soccer Power Index (SPI) or Elo Ratings, which have both done a better job at predicting international results. And some of those differences have grown since last October, the date of the rankings FIFA used to seed the top teams.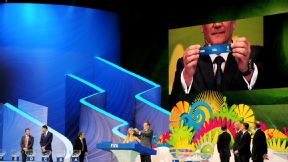 Shaun Botterill/FIFA/Getty ImagesThe World Cup group selection process is far from perfect.
Further, World Cup seeding for the remaining 24 qualifiers is much more random than in the NCAA basketball tournament. Through draw pots and pingpong balls, FIFA tries to ensure geographical balance among the groups. But this year, that's left Spain, the Netherlands and Chile -- all among the top 10 in the world -- clustered in Group B, while South Korea (No. 32 in SPI) and Algeria (No. 67) are both in Group H. So a team's odds of making the quarterfinals can differ drastically from what its FIFA ranking suggests, both because of its actual strength and the opponents it's going to face.
But slaying Giants in the World Cup isn't all about the luck of the draw. In any sport, and particularly in win-or-go-home scenarios, Davids knock off Goliaths by playing a high-risk, high-reward style, which widens the variability of their scoring differential, and by limiting opponent possessions. This means that at any given level of talent, it's actually better for underdogs to be inconsistent. If you are inferior across the board in the same way all the time, you're just inferior. But if your play swings between extremes, or one part of your game can explode at any time although the rest is pretty bad, at least you have a puncher's chance of beating a better opponent.
In soccer, Giant Killing strategies are especially important on defense, because overall scoring is so low that if they work, you can shut out an opponent, and thereby guarantee that you won't lose a match. Looking at all games played by current World Cup entrants since 2010, it turns out there's a strong correlation (0.69 on a scale from minus-1 to 1) between how much a team's goals allowed varies from game to game and how often that team wins. The effect on overall winning percentage is small but statistically significant, and exists on defense and not offense.
Fundamentally, then, a Giant Killer at the World Cup will take extra chances to stop opponents from netting even one goal. A successful underdog might be particularly aggressive at tackling or trying to force turnovers in the defensive third. It could pay attention to stopping long counters when it's on offense. It may shift to a more protective, tiki-taka style once it gains the lead. It could just have a reckless goalie. Overall, the key for Killers is to get the other side to post a zero, not to run up its own scoring chances.
OK, let's cut to the chase. To hunt for potential Davids and Goliaths in the group stage of the World Cup, we examined FIFA rankings and betting lines and compared them with SPI's projections and scoring patterns to see which teams are significantly stronger or weaker than public expectations. Here are the group-by-group results:
Group A
Teams: Brazil, Cameroon, Croatia, Mexico
While Brazil has moved steadily up the FIFA rankings since last fall, fans still may not realize just how good the host country's team is this year. Canarinho has about a 99 percent chance to advance from Group A. That's what we call a Safe Giant. Behind the Brazilians, FIFA and betting lines prefer Croatia, but SPI sees them as vulnerable, with just a 33.9 percent chance to survive. Mexico is the potential Killer here, ranking 22nd in the world according to SPI (versus 27th for Croatia), with the ninth-best defense of any team. Since qualifying for the Cup, Mexico has outscored opponents 12-4 in half a dozen friendlies (while Croatia has played one uninspiring tie against Switzerland), and has about a 45 percent chance of advancing.
To read about all of Peter Keating's World Cup Giant Killers, become an ESPN Insider.
Insider
Peter Keating is a senior writer at ESPN The Magazine, where he covers investigative and statistical subjects. He started writing "The Biz," a column looking at sports business from the fan's point of view, in 1999. He also coordinates the Magazine's annual "Ultimate Standings" project, which ranks all pro franchises according to how much they give back to fans. His work on concussions in football has earned awards from the Deadline Club, the New York Press Club and the Center for the Study of Sport in Society.
Soccer on ESPN Insider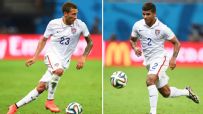 Adrian Melville weighs in on the best position fits for five key U.S. players whose roles are in flux, including Michael Bradley and DeAndre Yedlin.
MOST SENT STORIES ON ESPN.COM