Better USMNT: 2010 or 2014?
A position-by-position and coaching comparison of U.S. World Cup squads
Updated:
June 19, 2014, 4:57 PM ET
By
Adrian Melville
| ESPN Insider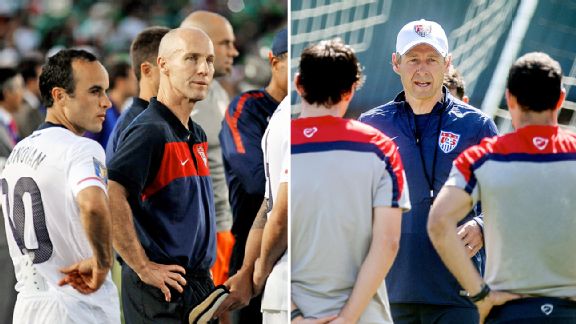 Getty ImagesBob Bradley's 2010 U.S. World Cup team was far different than Jurgen Klinsmann's Brazil squad.
The United States is less than two weeks away from its critical World Cup opener against Ghana, and the hope is that this group of players will be a representation of the progress that American soccer has made over the last four years.
This progress will in part be measured by the growth of individual players, as four of the five holdovers from the 2010 team (Tim Howard, Michael Bradley, Clint Dempsey, Jozy Altidore) will be integral to the current team's success. More importantly, progress will be measured by the 18 United States players who will be competing at the World Cup for the first time, and whether they are more effective playing against the world's best than their 2010 predecessors.
Which team is better? Here's a position-by-position and coaching comparison of the 2010 U.S. World Cup team versus the squad going to Brazil, followed by my take on which team has the overall edge.
Goalkeepers
2010 (3): Tim Howard (Everton), Brad Guzan (Aston Villa), Marcus Hahnemann (Wolverhampton)
2014 (3): Tim Howard (Everton), Brad Guzan (Aston Villa), Nick Rimando (Real Salt Lake)
There is little to compare in the net for the United States, as the 6-foot-1 Howard will be the first-choice goalkeeper for the second consecutive World Cup. The argument can be made that the 35-year-old Howard is better than 31-year-old Howard, as his 77.2 percent save percentage in 2013-14 with Everton is the highest he has posted in his European career. More importantly, Howard appears to be a more constructive communicator with his back line, and Matt Besler asserts that "Timmy's attitude has always been trying to help us, so he never has a negative tone," which represents a slight difference from Howard's younger days when his outbursts could be construed as potentially showing up his defenders.
To read the full position-by-position and coaching comparison of the 2010 and 2014 U.S. national teams, along with Adrian's take on which team is better, become an ESPN Insider.
Insider
SPONSORED HEADLINES
MORE SPORTS HEADLINES
MOST SENT STORIES ON ESPN.COM
Soccer on ESPN Insider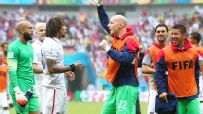 Adrian Melville outlines five USMNT players who would benefit from club transfers, including Brad Guzan to Arsenal and DeAndre Yedlin to Lyon.