World Cup Power Ranks: Defenders
Chiellini, Lahm headline ranking of the top 10 defenders competing in Brazil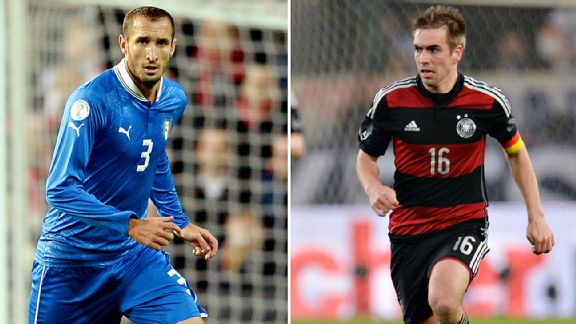 Getty ImagesItaly's Giorgio Chiellini and Germany's Philipp Lahm are two of the world's best defenders.
Defensive players often get overlooked in World Cup tournaments, as much of the glory is reserved for goal scorers and their ability to jump-start national celebrations with a single strike of the ball.
However, the adage that "defense wins championships" holds true at the World Cup, as defending champion Spain conceded just two goals on its way to the 2010 trophy, while 2006 World Cup champion Italy conceded just one goal in seven games to attain its fourth overall title.
This recent defensive trend is an example of how difficult it is for attacking players to live up to the hype in a tournament as big as the World Cup, but it also speaks to how significant the impact of the best defenders in the world can be throughout the tournament.
Below is my list of the 10 best defenders who will be competing at the 2014 World Cup, based on their performances throughout the 2013-14 domestic season and World Cup qualifying cycle.
1. Giorgio Chiellini, Italy (Club: Juventus)
Chiellini anchored a Juventus defense that conceded just 21 goals in the 2013-14 Serie A (second-fewest in Europe's top five leagues), and his mix of aggressive tackling and ability to read the game allows Chiellini to cover more ground than most defenders.
It is important to note that Chiellini plays in a 3-5-2 formation with Juventus, meaning that he is often responsible for man-marking an opposing attacker (with a central defender as cover), along with covering extra space if a wide midfielder gets caught too far in the attack. However, as current Inter manager Walter Mazzarri described, Chiellini's ability to read the game means he is "able to mark three players himself," and his 2.1 tackles per 90 minutes (second-most on team) along with a team-high 2.4 interceptions per 90 minutes in the 2013-14 club season are evidence that he can control an entire side of the field defensively.

ESPN Stats & InformationHeat map of Giorgio Chiellini 's tackles in 2013-14 Serie A season, left, and his interceptions in 2013-14 Serie A season, right.
Chiellini will likely control the left side of central defense in Italy manager Cesare Prandelli's favored 4-3-3, which should allow the Italians more freedom to attack up the left side knowing Chiellini can provide so much defensive security.
To see Adrian Melville's complete ranking of the top 10 defenders competing at the World Cup, become an ESPN Insider.
Insider
Joined ESPN in 2013 as a soccer Insider
Worked previously at NBC, Major League Soccer and Opta (UK)
Played college soccer at Princeton and professionally for the New England Revolution and Santo Andre, a second-division club in Brazil
Soccer on ESPN Insider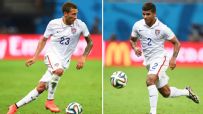 Adrian Melville weighs in on the best position fits for five key U.S. players whose roles are in flux, including Michael Bradley and DeAndre Yedlin.
MOST SENT STORIES ON ESPN.COM