Commentary
Plus/Minus and Barcelona
New stat shows David Villa's absence may not have huge impact
Updated:
December 30, 2011, 3:06 PM ET
By
Albert Larcada
| ESPN Insider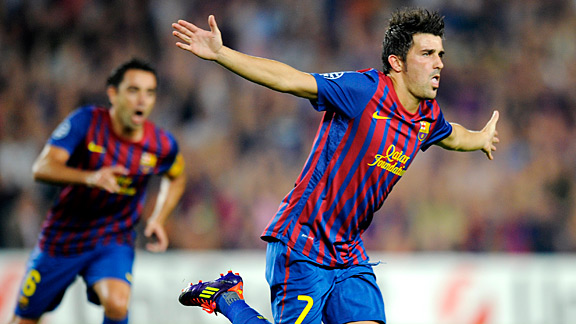 Lluis Gene/AFP/Getty ImagesBarcelona may not miss David Villa's goal scoring as much as you would think.
Think about this question: In soccer, what is the objective of strikers?
The first thing that comes to mind is basic: to score goals. If you are scoring, you are doing your job. Goals scored is arguably the most identifiable (and available) statistic in all of soccer. It is the sexiest stat we have. The player who scored the goal in a 1-0 match is the one who will be at the top of headlines, the top of the match recap and the top of the match box score. The top goal scorers in the world are the ones you see in commercials and on the fronts of video games.
I have heard many commentators and analysts use this rationale when grading forwards. The more goals they score, the better they are playing. It makes sense and is easy to comprehend.
However, this theory is not completely accurate. Let's say Striker X scores five goals in 10 games, but the rest of his team scores none. This is a good scoring record for the player but well below average for the team. Now let's say Striker Y on the same team scores zero goals in 10 games, but the team scores 15 goals in the same time span.
Who has been a better striker for his team? I would argue the latter.
Thankfully there is a fairly straightforward way to measure this called "plus/minus". The plus/minus (+/-) statistic is tied to team performance during the time a particular player is on the field. For example, let's assume the hypothetical team above allowed 10 goals while Striker X was on the field and 10 goals with Striker Y on the field. This means that striker X has a +/- of minus-5 (five team goals scored while on the field, 10 team goals allowed). Striker Y has a plus/minus of plus-5 (15 team goals scored, 10 allowed).
Forwards have very little control over how many goals their teams allow, so a better measure for the front men is an even simpler "plus" rating -- or how many goals the player's team scores with him on the field. Setting the rating to a per 90 minutes scale neutralizes any advantage or disadvantage for a player who has played more minutes.
The +/- stat is not designed to be predictive, but a useful way to utilize it is to quantify the effect of injuries and suspensions. If you haven't noticed, there have been a lot of those in the news lately. Let's take a look at how a recent injury and suspension might affect two big name clubs in Barcelona and Liverpool.
To read more about +/- and see how it applies to key figures in Barcelona and Liverpool, become an ESPN Insider.
Insider
ESPN Insider
Albert Larcada is an Analytics Specialist in ESPN's Stats & Information group. Among other analytics projects, he maintains, advances and writes about ESPN's Soccer Power Index (SPI) algorithm.
Insider Soccer Content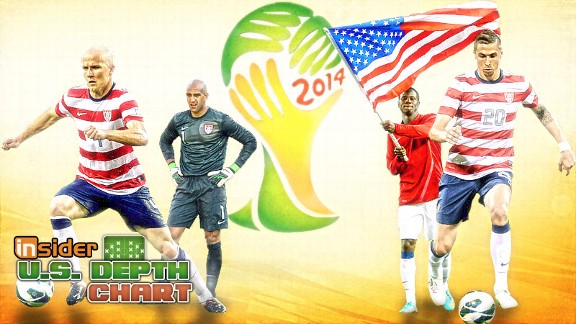 Latest content
Feb. 1:
USMNT: January transfer impact
Jan. 31:
USMNT: Shea's big chance at Stoke
Jan. 31:
El Tri: Youth report card from friendly
Jan. 30:
USMNT: How U.S. can fix its defense
Jan. 29:
El Tri: Who should be Mexico's keeper?
Jan. 28:
USMNT: Projecting U.S. WC lineup
Jan. 25:
USMNT: Josh Gatt's promising future
Jan. 24:
USMNT: Omar Gonzalez's big chance
Jan. 24:
El Tri: Carlos Vela's murky El Tri future
Jan. 23:
El Tri: Depth Chart 1.0
Jan. 23:
USMNT: Nick Rimando's important role
Jan. 22:
El Tri: Jorge Enriquez on Mexico future
Jan. 21:
Latham: Top 25 U.S. U-21 prospects
Jan. 21:
USMNT: Jozy Altidore on the rise
Jan. 18:
USMNT: Jones on his U.S. future
Jan. 17:
USMNT: Depth Chart 1.0
Jan. 17:
USMNT: Breakout players for 2013
Jan. 16:
USMNT: Where does Holden fit in?
Jan. 14:
USMNT: Hot List: Agudelo's big chance
Jan. 9:
USMNT: Can Wondolowski produce?
Jan. 8:
El Tri: WC chances for four veterans
Jan. 7:
USMNT: Stock watch
Jan. 6:
USMNT: Jan. camp surprises
Jan. 3:
El Tri: A wish list for 2013
Jan. 2:
USMNT: A wish list for 2013
Dec. 31:
USMNT: 2012 USMNT awards
Dec. 28:
USMNT: Top 5 moments of 2012
Dec. 27:
El Tri: Top moments of 2012
Dec. 26:
USMNT: Top transfer rumors
Dec. 21:
USMNT: Players who missed Top 25
Dec. 20:
El Tri: 2012 year-end awards
Dec. 19:
Top 25 American players
Dec. 19:
USMNT: Bradley is Yanks' best player
Dec. 18:
El Tri: Players who may transfer to Europe
Dec. 13:
Larcada: Projecting the UCL draw
Dec. 11:
El Tri: Top 25 U-21 prospects
Dec. 10:
USMNT: Young prospects on the rise
Dec. 5:
USMNT: Matt Besler's chances
Dec. 4:
El Tri: Players who struggled in Liga MX
Dec. 3:
USMNT: U-17s impressive in Nike Friendlies
Nov. 28:
USMNT: Would Aron Johannsson help?
Nov. 27:
El Tri: Standouts in Liga MX
Nov. 26:
USMNT: MLS' development problem
Nov. 21:
USMNT: Things to be thankful for
Nov. 20:
El Tri: Mexico's tough '13 schedule
Nov. 15:
El Tri: Brazil Board 2.0
Nov. 14:
USMNT: Russia friendly takeaways
Nov. 13:
El Tri: U-17s retain lofy status
Nov. 8:
Larcada: Ranking Europe's top teams
Nov. 6:
El Tri: High hopes for U-20s
Nov. 5:
USMNT: Qualifying challenges for U-20s
Oct. 30:
How would Mexico fare in CONMEBOL?
Oct. 29:
USMNT: Potential solutions at winger
Oct. 25:
Projecting U.S. 2014 World Cup roster
Oct. 24:
USMNT: Ranking CONCACAF Hex teams
Oct. 24:
El Tri: Mexico is top Hexagonal team
Oct. 23:
What USMNT looks like minus Donovan
ESSENTIAL LINKS
MOST SENT STORIES ON ESPN.COM