Commentary
How Chelsea can attack Arsenal
The Blues will be pressing high, and the Gunners better be ready
Updated:
October 28, 2011, 2:24 PM ET
By
Albert Larcada
| ESPN Insider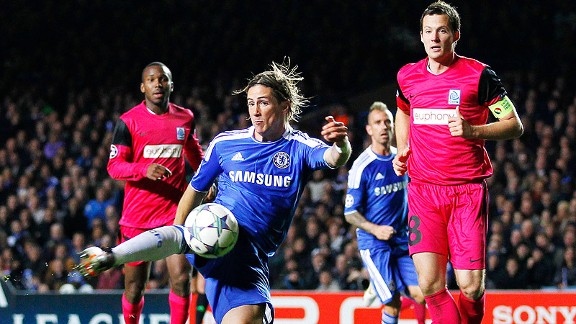 Ian Kington/AFP/Getty ImagesFernando Torres should have space on through balls and set pieces against Arsenal.
London rivals Chelsea and Arsenal will meet for the 176th time Saturday (7:30 a.m. ET, ESPN2 and WatchESPN). The two traditional powers have been somewhat upstaged recently by the Manchester squads, but make no mistake, any time these two clubs get together the stakes are high. It has been 10 years since either club has finished outside the top 4 in the Premier League.
This season Arsenal has been terrible on the road, picking up one point with a minus-8 goal differential in four league matches. The Gunners' major issue has been on defense, where they have allowed an average of 3.5 goals per match away from the Emirates. Let's take a look at a few places where Arsenal's defense is failing.
Arsenal has always played with an attacking style. This season it has attempted and completed the third-most passes in the EPL coming off a year in which it attempted and completed the most. You would think Arsenal would be particularly vulnerable to quick-strike counter attacks, as it generally pushes a lot of players forward to maintain possession. However, that is not the case. Arsenal has not allowed a fast-break goal this season and allowed just two all of last season. For reference, other big name squads Manchester United and Chelsea have each given up four fast-break goals since last season.
To see why Chelsea should be able to exploit Arsenal's big weakness, become an ESPN Insider.
Insider
ESPN Insider
Albert Larcada is an Analytics Specialist in ESPN's Stats & Information group. Among other analytics projects, he maintains, advances and writes about ESPN's Soccer Power Index (SPI) algorithm.
Insider Soccer Content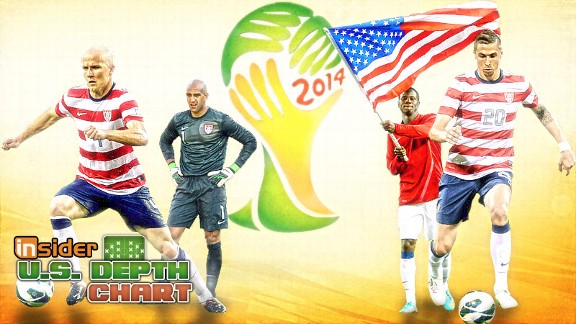 Latest content
Feb. 1:
USMNT: January transfer impact
Jan. 31:
USMNT: Shea's big chance at Stoke
Jan. 31:
El Tri: Youth report card from friendly
Jan. 30:
USMNT: How U.S. can fix its defense
Jan. 29:
El Tri: Who should be Mexico's keeper?
Jan. 28:
USMNT: Projecting U.S. WC lineup
Jan. 25:
USMNT: Josh Gatt's promising future
Jan. 24:
USMNT: Omar Gonzalez's big chance
Jan. 24:
El Tri: Carlos Vela's murky El Tri future
Jan. 23:
El Tri: Depth Chart 1.0
Jan. 23:
USMNT: Nick Rimando's important role
Jan. 22:
El Tri: Jorge Enriquez on Mexico future
Jan. 21:
Latham: Top 25 U.S. U-21 prospects
Jan. 21:
USMNT: Jozy Altidore on the rise
Jan. 18:
USMNT: Jones on his U.S. future
Jan. 17:
USMNT: Depth Chart 1.0
Jan. 17:
USMNT: Breakout players for 2013
Jan. 16:
USMNT: Where does Holden fit in?
Jan. 14:
USMNT: Hot List: Agudelo's big chance
Jan. 9:
USMNT: Can Wondolowski produce?
Jan. 8:
El Tri: WC chances for four veterans
Jan. 7:
USMNT: Stock watch
Jan. 6:
USMNT: Jan. camp surprises
Jan. 3:
El Tri: A wish list for 2013
Jan. 2:
USMNT: A wish list for 2013
Dec. 31:
USMNT: 2012 USMNT awards
Dec. 28:
USMNT: Top 5 moments of 2012
Dec. 27:
El Tri: Top moments of 2012
Dec. 26:
USMNT: Top transfer rumors
Dec. 21:
USMNT: Players who missed Top 25
Dec. 20:
El Tri: 2012 year-end awards
Dec. 19:
Top 25 American players
Dec. 19:
USMNT: Bradley is Yanks' best player
Dec. 18:
El Tri: Players who may transfer to Europe
Dec. 13:
Larcada: Projecting the UCL draw
Dec. 11:
El Tri: Top 25 U-21 prospects
Dec. 10:
USMNT: Young prospects on the rise
Dec. 5:
USMNT: Matt Besler's chances
Dec. 4:
El Tri: Players who struggled in Liga MX
Dec. 3:
USMNT: U-17s impressive in Nike Friendlies
Nov. 28:
USMNT: Would Aron Johannsson help?
Nov. 27:
El Tri: Standouts in Liga MX
Nov. 26:
USMNT: MLS' development problem
Nov. 21:
USMNT: Things to be thankful for
Nov. 20:
El Tri: Mexico's tough '13 schedule
Nov. 15:
El Tri: Brazil Board 2.0
Nov. 14:
USMNT: Russia friendly takeaways
Nov. 13:
El Tri: U-17s retain lofy status
Nov. 8:
Larcada: Ranking Europe's top teams
Nov. 6:
El Tri: High hopes for U-20s
Nov. 5:
USMNT: Qualifying challenges for U-20s
Oct. 30:
How would Mexico fare in CONMEBOL?
Oct. 29:
USMNT: Potential solutions at winger
Oct. 25:
Projecting U.S. 2014 World Cup roster
Oct. 24:
USMNT: Ranking CONCACAF Hex teams
Oct. 24:
El Tri: Mexico is top Hexagonal team
Oct. 23:
What USMNT looks like minus Donovan
ESSENTIAL LINKS
MOST SENT STORIES ON ESPN.COM