How Italy can upset Spain
A high-pressure defense, great goaltending and Balotelli brilliance are keys
Originally Published:
June 29, 2012
By
Alexi Lalas
| ESPN Insider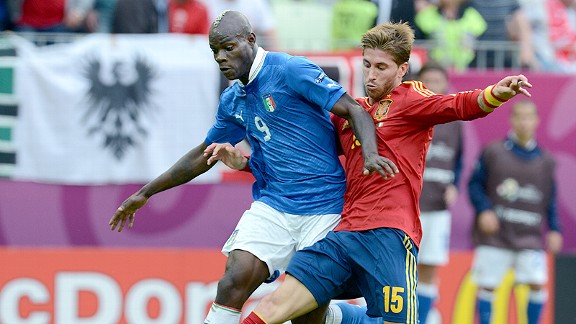 Christof Stache/AFP/GettyImagesMario Balotelli should expect to find himself surrounded; he'll need to play inspired.
After nearly a month of terrific football, it all comes down to this: Spain versus Italy for the right to be champion of Euro 2012. I am fascinated by this matchup, because while I don't think that teams fear Spain as much as they used to, Italy is playing with a tremendous amount of confidence right now. Don't get me wrong: Italy is still an underdog in this match, and it would surprise a lot of people if the Italians won. But the Italians fully expect to come away with the trophy Sunday.
How can Italy pull off the upset and win Euro 2012? Let's take a look at some keys for the Azzurri.
Counter Spain's formation
One of the most intriguing aspects of this match will be the chess game between Vicente Del Bosque (Spain) and Cesare Prandelli (Italy). Spain has been most dangerous when it has gone with a 4-6-0 lineup, lacking a true striker. If Del Bosque goes with that formation, does Prandelli look back to their first matchup in the group stage, when Italy played a 3-5-2 and the teams tied 1-1? Or does he keep four in the back? My recommendation would be to at least start with the 3-5-2, given the success it showed the first time around; force Spain to adjust.
To read more about how Italy can upset Spain, plus to get access to all of Insider's other soccer content, you must be an ESPN Insider.
Insider
Earned 96 caps for U.S. national team
Played in Italy's Serie A
ESPN Soccer analyst since 2009
Insider Soccer Content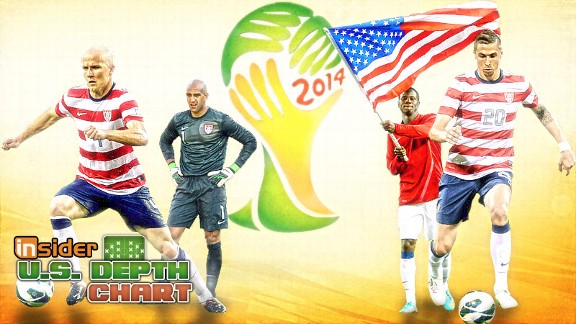 Latest content
Feb. 1:
USMNT: January transfer impact
Jan. 31:
USMNT: Shea's big chance at Stoke
Jan. 31:
El Tri: Youth report card from friendly
Jan. 30:
USMNT: How U.S. can fix its defense
Jan. 29:
El Tri: Who should be Mexico's keeper?
Jan. 28:
USMNT: Projecting U.S. WC lineup
Jan. 25:
USMNT: Josh Gatt's promising future
Jan. 24:
USMNT: Omar Gonzalez's big chance
Jan. 24:
El Tri: Carlos Vela's murky El Tri future
Jan. 23:
El Tri: Depth Chart 1.0
Jan. 23:
USMNT: Nick Rimando's important role
Jan. 22:
El Tri: Jorge Enriquez on Mexico future
Jan. 21:
Latham: Top 25 U.S. U-21 prospects
Jan. 21:
USMNT: Jozy Altidore on the rise
Jan. 18:
USMNT: Jones on his U.S. future
Jan. 17:
USMNT: Depth Chart 1.0
Jan. 17:
USMNT: Breakout players for 2013
Jan. 16:
USMNT: Where does Holden fit in?
Jan. 14:
USMNT: Hot List: Agudelo's big chance
Jan. 9:
USMNT: Can Wondolowski produce?
Jan. 8:
El Tri: WC chances for four veterans
Jan. 7:
USMNT: Stock watch
Jan. 6:
USMNT: Jan. camp surprises
Jan. 3:
El Tri: A wish list for 2013
Jan. 2:
USMNT: A wish list for 2013
Dec. 31:
USMNT: 2012 USMNT awards
Dec. 28:
USMNT: Top 5 moments of 2012
Dec. 27:
El Tri: Top moments of 2012
Dec. 26:
USMNT: Top transfer rumors
Dec. 21:
USMNT: Players who missed Top 25
Dec. 20:
El Tri: 2012 year-end awards
Dec. 19:
Top 25 American players
Dec. 19:
USMNT: Bradley is Yanks' best player
Dec. 18:
El Tri: Players who may transfer to Europe
Dec. 13:
Larcada: Projecting the UCL draw
Dec. 11:
El Tri: Top 25 U-21 prospects
Dec. 10:
USMNT: Young prospects on the rise
Dec. 5:
USMNT: Matt Besler's chances
Dec. 4:
El Tri: Players who struggled in Liga MX
Dec. 3:
USMNT: U-17s impressive in Nike Friendlies
Nov. 28:
USMNT: Would Aron Johannsson help?
Nov. 27:
El Tri: Standouts in Liga MX
Nov. 26:
USMNT: MLS' development problem
Nov. 21:
USMNT: Things to be thankful for
Nov. 20:
El Tri: Mexico's tough '13 schedule
Nov. 15:
El Tri: Brazil Board 2.0
Nov. 14:
USMNT: Russia friendly takeaways
Nov. 13:
El Tri: U-17s retain lofy status
Nov. 8:
Larcada: Ranking Europe's top teams
Nov. 6:
El Tri: High hopes for U-20s
Nov. 5:
USMNT: Qualifying challenges for U-20s
Oct. 30:
How would Mexico fare in CONMEBOL?
Oct. 29:
USMNT: Potential solutions at winger
Oct. 25:
Projecting U.S. 2014 World Cup roster
Oct. 24:
USMNT: Ranking CONCACAF Hex teams
Oct. 24:
El Tri: Mexico is top Hexagonal team
Oct. 23:
What USMNT looks like minus Donovan
ESSENTIAL LINKS
MOST SENT STORIES ON ESPN.COM