Commentary
Behind the story
Scott and Emma Dixon take a "live it while you can" attitude towards racing
Updated:
May 26, 2009, 9:26 AM ET
By
Alyssa Roenigk
| ESPN The Magazine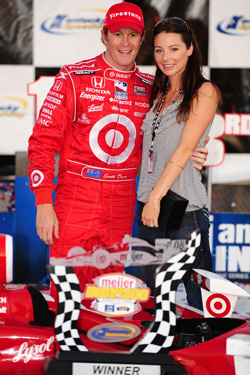 Getty ImagesEmma Dixon helps husband Scott both prepare for and celebrate victories.
It's Saturday afternoon shortly before the qualifying races of the Long Beach Grand Prix and I am sitting on a couch in the Target motorcoach across from Scott and Emma Dixon. It takes three seconds to realize these two are the textbook description of a "cute couple." They met a few years ago, through mutual friends, while Scott was testing in London. Emma was working as a TV broadcaster for Sky Sports, but moved to Indianapolis just a year later. They were married last February. A former Olympic 800 runner, it's possible that Emma is even more competitive than her husband, and during our conversation -- it's a tossup which has the more endearing accent -- they smile and laugh constantly. Especially when talking about the birth of their first child, due in July. Emma says she can't wait to meet her son or daughter and, "would love it if they are sporty." Scott says he can't wait to teach him (or her) everything he's learned. "That will be so cool," he says. "That's what I am excited about."
To continue reading this article you must be an Insider
Insider
ESPN The Magazine senior writer
Alyssa Roenigk is a senior writer for ESPN The Magazine and ESPN.com whose assignments covering action sports, Olympics and football have taken her to six continents and caused her to commit countless acts of recklessness. In 2012, she joined the X Games TV broadcast team and ordered additional pages for her passport. Follow her on Twitter at @espn_alyssa.
MOST SENT STORIES ON ESPN.COM