How to bet the Indy 500
Auto racing isn't like horse racing, so there are different matchups to watch
Originally Published:
May 24, 2013
By
Dave Tuley
| ESPN Insider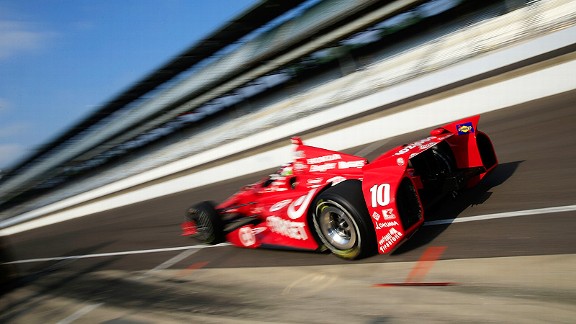 Jamie Squire/Getty ImagesNever bet the Indy 500? Matchups can be targeted, too.
LAS VEGAS -- When we think of the biggest sporting events in this country, the list just rolls off the tongue: the Super Bowl, Kentucky Derby, Stanley Cup, March Madness, Final Four. And the Indianapolis 500 ranks right up there in the discussion.
Although NASCAR has surpassed IndyCar in most metrics (attendance, TV ratings, even betting handle), the Indianapolis 500 still lives up to its "Greatest Spectacle in Racing" moniker because with a live attendance of some 400,000, including the infield, it's the best-attended sporting event in America.
And as with any big sporting event, there is also big betting interest. There are the regular odds to win as well as head-to-head matchups and some props available at the more aggressive betting shops (it's also a natural for in-running wagering during the event).
The LVH SuperBook posted its Indy 500 odds earlier this month, and there's been plenty of adjustments in the odds since.
As of Wednesday, Helio Castroneves (three-time Indy winner) and Marco Andretti (grandson of 1969 winner Mario) were the 6-1 co-favorites at the LVH. Pole winner Ed Carpenter and James Hinchcliffe are next at 7-1, with Scott Dixon, Dario Franchitti and Will Power at 8-1. A week ago, Castroneves and Andretti were 7-1 along with Dixon and Carpenter, but LVH bookmaker Ed Salmons told me the changes haven't been as much due to money coming in as his own adjustments based on what he saw at the practice sessions and qualifying.
To see the rest of Dave Tuley's analysis on good bets for the Indy 500, you must be an ESPN Insider.
Insider
ESPN Insider
Dave Tuley has covered the Las Vegas race and sports book scene since 1998 and runs his own website, ViewFromVegas.com.
97TH INDIANAPOLIS 500-MILE RACE

The 97th running of the Indianapolis 500 is scheduled May 26 with coverage beginning at 11 a.m. ET (ABC). The venerable Indianapolis Motor Speedway is ready for another thriller as a great tradition enters its 102nd year.


Sunday
•
Racing Live! Indy 500
•
Hinton: This time, Kanaan good enough
•
Oreovicz: Andretti comes up short ... again
•
Video: Full highlights and analysis
•
Video: Winner on SportsCenter
•
Video: Dario kart
•
Kimball cleared to race after illness
Saturday
•
Hinton: Want a feel-good story?
•
Stats & Info blog: Winning on Sunday
•
Video: Preparing for the Indy 500
•
Video: The Andretti curse at Indy
•
Video: Speed and danger
•
Video: Sato has Foyt back in contention
•
Ailing Kimball misses driver's meeting
•
Security tightened after Boston attack
•
Insider: Betting the Indy 500
Features
•
Hinton: Foyt is back as a threat in the 500
•
Oreovicz live blog from Carb Day
•
Newton: Could a NASCAR star compete?
•
Oreovicz: Indy 500 rookies could surprise
•
Petry: Full speed ahead for Fisher
•
Oreovicz: Night out with legends
•
Oreovicz: No Bump Day drama
•
John Oreovicz live blog from Pole Day
•
Oreovicz: Turbo boost, speeds, are up
•
Oreovicz: Need for more speed?
•
Oreovicz: The drive for four
•
Oreovicz: Hang on to your hats, folks
News & Notes
•
Record-tying four women in 500 field
•
Jim Harbaugh to drive Indy 500 pace car
•
Driver/owner Carpenter wins 500 pole
|
Grid
•
Full 33-car field assured for Indy 500
•
Legge gets ride with Schmidt, is 34th entry
•
Viso flirts with 230 mph on Fast Friday
•
Rookie Munoz paces Thursday practice
•
Rookie Daly wrecks car at Indy 500 practice
•
Fewer seats at Indy 500, but not fewer fans
•
Franchitti tops speed chart Wednesday
•
Andretti runs fastest on Tuesday
•
IndyCar hires Walker as competition chief
•
Carpenter posts fastest lap Monday
•
1996 champion Lazier enters Indy 500 field
Video
•
Czarniak's ride of a lifetime with Mario
•
AJ Allmendinger geared up for Indy
•
Ed Carpenter wins Indy 500 pole
•
Marco Andretti third fastest on Pole Day
•
Getting ready for Indy
•
The Greatest Spectacle In Racing
Chats
•
Ed Carpenter chat wrap
•
John Oreovicz chat wrap
•
Oreovicz Fast Friday chat wrap
Indy 500 Rewind
•
2012 Flashback: Franchitti simply flawless
•
2011 Flashback: Wheldon's Cinderella story
•
2010 Flashback: Dario's all the way back
•
2009 Flashback: Castroneves wins again
•
2008 Flashback: Quiet Dixon makes noise
•
2007 Flashback: Franchitti comes up big
•
2006 Flashback: Hornish gets his "Holy Grail"
MOST SENT STORIES ON ESPN.COM