Impact of new division alignment
Could Caps struggle in Metropolitan? Do Blackhawks face easier path?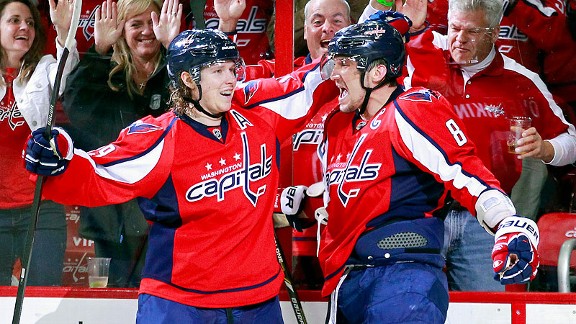 Geoff Burke/USA TODAY SportsNicklas Backstrom, Alex Ovechkin and the Capitals will face tougher competition in the Metropolitan.
The NHL will have a new look when teams take the ice for the 2013-14 season. Instead of two conferences with three divisions each, there are now two divisions in the Eastern Conference (Metropolitan and Atlantic) and two more in the West (Central and Pacific).
We can determine which teams are moving to softer divisions and which will face stiffer competition by using the Simple Ranking System (SRS), a metric created by Sports Reference; with SRS, every team's rating is its average goal differential, adjusted up or down depending on the strength of opponent. In this system, zero is average and a higher score is better.
Through this lens we'll be able to examine how much more difficult the opposition will be for the Washington Capitals now that the Southeast Division no longer exists, and what the change means for the Vancouver Canucks, who will have to start fresh in the Pacific after five consecutive Northwest Division titles. And is it possible for Chicago to again start the season with a huge win streak now that the Blackhawks play in the same division as non-playoff teams like Dallas, Winnipeg, Nashville and Colorado?
To see which teams are hurt and which teams are helped by new division realignment, plus to get access to Insider's complete NHL coverage, sign up today.
Insider
Neil Greenberg is ESPN Insider's NHL analytics expert. His columns have appeared on the Washington Post website, and he is a regular guest on Sirius XM NHL Radio.
THE NHL ON ESPN INSIDER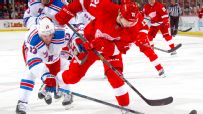 NHL INSIDER 2014-15 CONTENT
EDITORS' PICKS
LeBrun: A green light for the World Cup doesn't mean a red light for the Olympics.
Story »

Washington could make a deep playoff run, and quiet superstar Nicklas Backstrom is one of the top reasons.
Story »

The Ducks have gotten a spark, the Senators are surging and Claude Julien's job should be safe.
Pucks Central »
MOST SENT STORIES ON ESPN.COM