Who's to blame for early exits?
Ovechkin, Perry, Sedins taking heat, but losses aren't their fault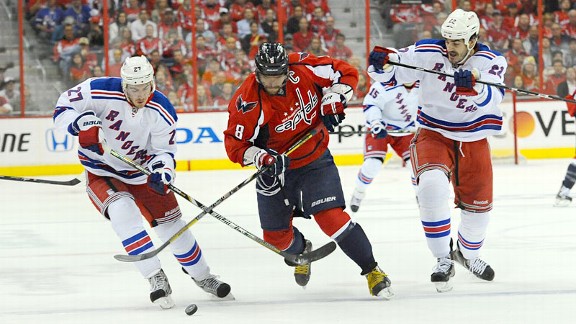 Jonathan Newton/Getty ImagesWashington left wing Alex Ovechkin did not record a point in the final five games of the series.
The Washington Capitals' season ended not with a bang, but a whimper. They fell to the New York Rangers 5-0 in Game 7, giving the Blueshirts their franchise's first Game 7 win on the road in six tries. Caps supporters now join several other disappointed fan bases looking for answers after a disappointing postseason run. Who is to blame for the early exit?
While Caps captain Alex Ovechkin is pointing his finger at the officiating, others are looking squarely in his direction after he recorded only two points in the series -- both on the power play -- and none in the final five games. But if you look closer at Ovechkin's performance this postseason, you would see that he is not to blame. Nor are several other series scapegoats. Here's a look at the Caps and several other high seeds to find who is really at fault for an early playoff ouster, starting with a defense of the Great Eight.
To see the rest of Neil Greenberg's examination of who should be blamed for first round playoff exits, plus Insider's complete NHL coverage, sign up for ESPN Insider.
Insider
Neil Greenberg is ESPN Insider's NHL analytics expert. His columns have appeared on the Washington Post website, and he is a regular guest on Sirius XM NHL Radio.
EDITORS' PICKS
Showdown: Marian Hossa and Anze Kopitar are not strangers as the Western Conference foes are used to battling each other when the stakes are high.
Powers »

Power Rankings: The Rangers thought they were allowed to look human this week, so it was time for a Wild shake at the No. 1 spot.
LeBrun »
MOST SENT STORIES ON ESPN.COM