Will 'Moneypuck' aid NHL?
Stats reveal potential bargain players who could help small-market clubs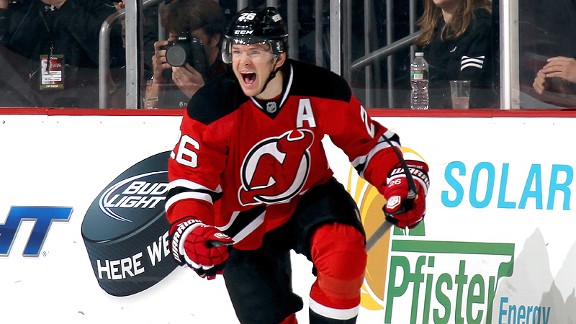 Bruce Bennet/Getty ImagesPatrik Elias is an example of a second-line forward who provides top-line production.
When Billy Beane brought the concept of "Moneyball" to Major League Baseball, it was to make sure the Oakland Athletics, a small-market team, could compete with large-market teams like the New York Yankees and Boston Red Sox despite only being able to spend a fraction of their payrolls.
In other words, the premise was to seek out undervalued players in the market who could, as a group, contribute in similar ways to their higher-priced counterparts.
The same type of financial disparity exists in the NHL. For every team like the Philadelphia Flyers, Vancouver Canucks and New York Rangers -- which spend to the cap -- there are others like the New York Islanders, Phoenix Coyotes and St. Louis Blues that have to more carefully manage their payrolls. And with the salary cap shrinking from $70 million to $64.3 million next season, it is going to become even more important to spend wisely.
That might be easier said than done. New collective bargaining agreement (CBA) rules agreed to this season don't allow for the same flexibility as in previous seasons. In other words, you can't tack on years at the end of contracts with unusually low salary figures to reduce the cap hit.
The first long-term deal under the new CBA went to New Jersey Devils forward Travis Zajac, who will earn $46 million over the next eight years. Then it cost the Anaheim Ducks $135 million to lock up both Corey Perry and Ryan Getzlaf from 2013-14 through 2020-21. Those average salaries represent 9 percent and 13 percent of the Devils' and Ducks' 2013-14 payrolls, respectively.
But what if there was an undervalued asset in the marketplace where you could get close to top-line production at a discounted price? Turns out there is, and New Jersey's Patrik Elias is a perfect example of what to look for.
To see the rest of Neil Greenberg's examination of whether a "Moneypuck" philosophy could work in the NHL, plus Insider's complete NHL coverage, sign up for ESPN Insider.
Insider
Neil Greenberg is ESPN Insider's NHL analytics expert. His columns have appeared on the Washington Post website, and he is a regular guest on Sirius XM NHL Radio.
EDITORS' PICKS
Additions James Wisniewski and Keith Yandle tipped the scales, and the big deadline sellers did, too.
Burnside »

Trade deadline: Take another look at all the deals and analysis with our panel of experts right here.
Coverage »

NHL general managers got in 24 trades before time ran out on the trade deadline.
Watch