Commentary
The road ahead for Seth Jones
If Seth Jones had played hoops like his dad, Popeye, his path to the pros would be clear
Updated:
January 30, 2012, 2:35 PM ET
By
Lindsay Berra
| ESPN The Magazine
JOE SAKIC SET UP MORE THAN 1,000 GOALS during his 20-year NHL career, but perhaps his most useful assist was to a basketball player. It was 1999, and Popeye Jones, then a backup forward for the Nuggets, approached the Avalanche great in the weight room of Denver's Pepsi Center. Popeye had always wanted his three sons to play hoops, but ever since moving his family to Denver a few months earlier, the Jones boys had gone puck mad. How, he asked Sakic, should he develop them? "Joe said, 'From the look of you, you'll have some big kids,' " recalls the 6-foot-8 Popeye. "'You need to get them some skating lessons.'" So before their boys had even picked up a stick, Popeye and his wife, Amy, had them take a full year of instruction with a technique-driven figure skating coach.
To read more about Seth Jones, you must be an Insider.
Insider
Lindsay Berra is an avid CrossFitter and a national correspondent for MLB.com. Follow her on twitter @lindsayberra.
ESPN The Magazine: February 6, 2012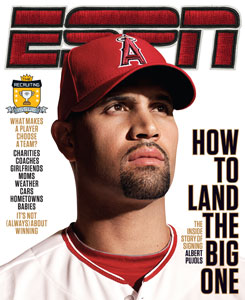 FEATURES

COLUMNS

MORE FROM THE ISSUE
MOST SENT STORIES ON ESPN.COM