Is there a post-Olympic hangover?
Will fatigue be an issue down the stretch for teams that have many Olympians?
Updated:
February 20, 2014, 1:23 PM ET
By
Neil Greenberg
| ESPN Insider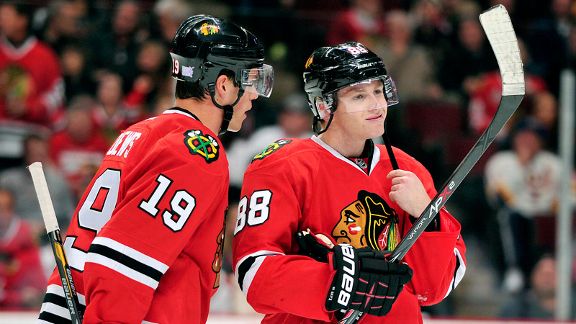 Rob Grabowski/USA TODAY SportsJonathan Toews and Patrick Kane will each have played six high-intensity Olympic games by Sunday.
NHL players have been representing their countries in ice hockey since the 1998 Nagano Games. There were also stops in Salt Lake City (2002), Torino (2006) and Vancouver (2010). But playing any hockey game can put a player at risk of injury, and the games played in Sochi this year are no different.
New York Rangers right wing Mats Zuccarello suffered a hand fracture, Detroit's Henrik Zetterberg is out with a back injury, Florida forwards Aleksander Barkov and Tomas Kopecky suffered injuries during the preliminary round, and John Tavares, the New York Islanders' best player, is out for the season with a leg injury he suffered during Canada's quarterfinal victory over Latvia. Those teams will certainly feel the negative impact of the Olympics once the regular season picks up again, but will fatigue be a factor for the other clubs that have players in Sochi?
Fifteen teams had two or fewer players from their squads competing for their countries in Winter Games from 1998 to 2010, but just four ended up making the playoffs: the 1998 Boston Bruins, New Jersey Devils and San Jose Sharks, and the 2002 Montreal Canadiens. However, as a group, those 15 teams averaged a 74-point pace before the Olympic break and an 80-point pace after, so the playoffs were a distant hope for most in the group.
Teams that sent three to five Olympians had a similar rate of producing standings points: an 86-point pace before the Olympics and an 88-point pace after.
But what about the teams that sent six or more players to the Olympics, as is the case this season for postseason contenders like the Anaheim Ducks (7), Chicago Blackhawks (10), Detroit Red Wings (10), Los Angeles Kings (6), Canadiens (7), Rangers (7), Pittsburgh Penguins (7), St. Louis Blues (9) and Vancouver Canucks (7)? Should we expect a post-Olympic hangover for them?
To learn whether there is a negative impact for NHL teams that send many players to the Olympics, become an Insider today.
Insider
Neil Greenberg is ESPN Insider's NHL analytics expert. His columns have appeared on the Washington Post website, and he is a regular guest on Sirius XM NHL Radio.
THE NHL ON ESPN INSIDER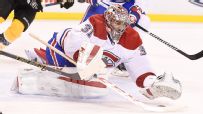 NHL INSIDER 2014-15 CONTENT
EDITORS' PICKS
Kyle Okposo's power-play goal helped push the Islanders past Jimmy Howard and the Red Wings to highlight playoff-drive action Sunday.
NYI 5, DET 4 »

The fall of Jimmy Howard will only help the rise of Petr Mrazek in Detroit's net. Who else is making noise in the push for the playoffs?
Strang »

With seven guys within five points of the league scoring lead, who better to break down the Art Ross Trophy race than The Great One.
LeBrun »
MOST SENT STORIES ON ESPN.COM