Can a metric save the Oilers?
One of the NHL's worst teams crowdsourced its fans to discover a new metric
Originally Published:
February 24, 2014
By
Peter Keating
| ESPN The Magazine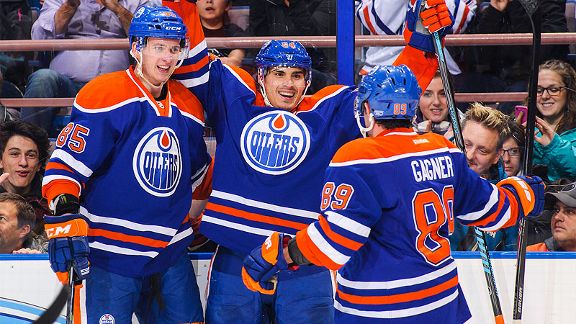 Derek Leung/Getty ImagesEdmonton is home to nearly a million insanely avid but long-suffering Oilers fans.
ONCE UPON A time, sabermetrics was easy. Really. In the first few decades of sports statistical analysis, researchers almost exclusively studied baseball, a game of individual performances that add up to a team result. And the simplicity made for straightforward conclusions: If Carlos Beltran is a better player than Vernon Wells, we can reliably project the Yankees will be better playing Beltran, regardless of whether Jacoby Ellsbury or Brett Gardner mans centerfield. One plus one equals something pretty close to two.
Now that analytics has moved into more dynamic sports like basketball, hockey and soccer, researchers have to reckon with games in which teammates can affect each other's play far more than they do in baseball. Just because the Bruins' David Krejci has more assists than fellow center Patrice Bergeron doesn't necessarily make him a better fit to play with winger Brad Marchand, Boston's leading goal scorer. In fluid sports, one plus one might equal two or four, or minus-three.
And here's the thing: It's in the interaction effects among players that we find the true impact of coaching. To win in continuous sports, coaches must deploy athletes in real time who fit together and augment one another's skills. They must be masters of chemistry. And statheads are now figuring out how to grade them on their lab work.
To read more about how the Oilers are using a new metric, you must be an ESPN Insider.
Insider
Peter Keating is a senior writer at ESPN The Magazine, where he covers investigative and statistical subjects. He started writing "The Biz," a column looking at sports business from the fan's point of view, in 1999. He also coordinates the Magazine's annual "Ultimate Standings" project, which ranks all pro franchises according to how much they give back to fans. His work on concussions in football has earned awards from the Deadline Club, the New York Press Club and the Center for the Study of Sport in Society.
ESPN The Magazine: March 3, 2014
EDITORS' PICKS
The fall of Jimmy Howard will only help the rise of Petr Mrazek in Detroit's net. Who else is making noise in the push for the playoffs?
Strang »

With seven guys within five points of the league scoring lead, who better to break down the Art Ross Trophy race than The Great One.
LeBrun »

McDonald: The Bruins play the most important game of their season Saturday against the Rangers.
Story »
MOST SENT STORIES ON ESPN.COM