Top 50 NHL draft prospects
A 'big three' has emerged at the top of the rankings list for 2014
Updated:
January 23, 2014, 4:20 PM ET
By
Corey Pronman
| ESPN Insider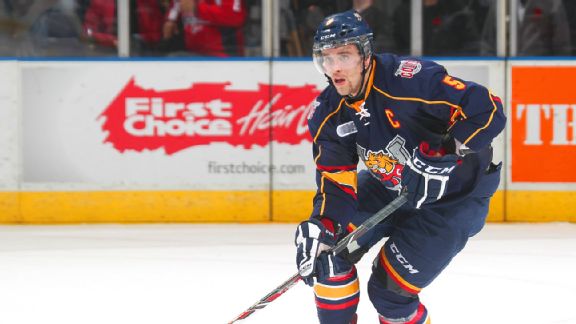 Claus Andersen/Getty ImagesAaron Ekblad may be the rare defenseman talented enough to go No. 1 overall.
With many major events behind us, such as the World Junior Championship and CHL Top Prospects game, it is time to give a midseason look at the 2014 NHL entry draft, updating the list from the preseason look.
At the moment there is a "big three," all of whom are pretty close to one another, and there are strong cases for any of the three as the first overall pick. All of them could push for NHL ice time next season, depending upon where they land (remember, Jonathan Drouin is my top drafted prospect, but his team elected to send him back to juniors).
The 2013 NHL draft was very strong relative to normal trends. This year is more of the average variety. Put another way, there were four or five prospects with superstar potential in 2013, whereas this year, there is maybe one. Last year, there were six or seven prospects with All-Star potential, and this year, there are five or six. Finally, last year there were about 16 top-tier prospects, and this year, there are nine guys who are clearly of that caliber, with a couple of others on the bubble.
The only place where the 2014 draft really lacks is right at the top. Otherwise, it's pretty standard throughout, and I'd even say the middle to the end of the first round is of reasonably high quality. However, for teams that need help on defense, this is not the year to pick in the lottery, unless it's one of the first few picks. The difference between the top defender in this draft class -- Aaron Ekblad -- and the next-best player is huge.
One change in these rankings is that goaltenders have been separated into their own class. I see two or three top-tier goaltenders in this year's draft class, players whom I would consider in the range of the top 100 selections. For more on my rankings methodology, check the box at right.
Here are my top 50 skaters:
GM 33
G 14
A 18
PTS 32
+/- plus-3
Player Analysis
Ekblad is the player with the greatest chance to be a superstar in a class that lacks that type of prospect. I would not qualify him as a prospect along the lines of Nathan MacKinnon or Seth Jones at the time they were selected, but he isn't too far away. Ekblad is very unique. He's a big and very strong defenseman with an unusual amount of physical and mental development for a 17-year-old. He skates very well for his size, has really developed his offensive skills and reads the game at an extremely high level. I am well aware of the risks of taking defensemen high in the draft, and have incorporated that into this ranking process. Ekblad has a moderate talent gap over the next-best player, and with the risks involved in drafting defensemen (such as not panning out or taking a while to develop) the value gap between the prospects becomes slight.
Previous rank: No. 3
GM 36
G 21
A 36
PTS 57
+/- plus-8
Player Analysis
Between Reinhart and Sam Bennett on a talent level, it's a 2A/2B situation to where I almost debated flipping a coin. However, I gave the edge to Reinhart because he's a right-handed center who is further along in his development curve and projects well defensively. Sam's offensive instincts are off the charts, as he's an elite playmaker with pretty good hands. His skating is average, though, and he's not a huge player, either. This lowers his prospect stock despite his great possession skills.
Previous rank: No. 2
GM 40
G 26
A 40
PTS 66
+/- plus-26
Player Analysis
Bennett is a highly entertaining player to watch for a variety of reasons. He's a fantastic skater with plus hands, great two-way instincts and a pretty good edge to his game. He fights for pucks well, and shows an unusual amount of strength as well as the ability to come out of corners with pucks for a player his size.
Previous rank: No. 4
To see the rest of Pronman's top 50 draft prospects list, you must be an Insider.
Insider
ESPN Insider
Corey Pronman is ESPN's NHL Draft and Prospects analyst. He provides analysis on the top draft-eligible players, prospects drafted by NHL teams and all other relevant prospect information. He lives in New York.
THE NHL ON ESPN INSIDER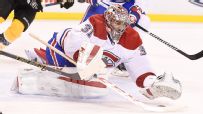 NHL INSIDER 2014-15 CONTENT
EDITORS' PICKS
The fall of Jimmy Howard will only help the rise of Petr Mrazek in Detroit's net. Who else is making noise in the push for the playoffs?
Strang »

With seven guys within five points of the league scoring lead, who better to break down the Art Ross Trophy race than The Great One.
LeBrun »

McDonald: The Bruins play the most important game of their season Saturday against the Rangers.
Story »
MOST SENT STORIES ON ESPN.COM