Predicting Team USA's roster
Breaking down the toughest lineup decisions and positional battles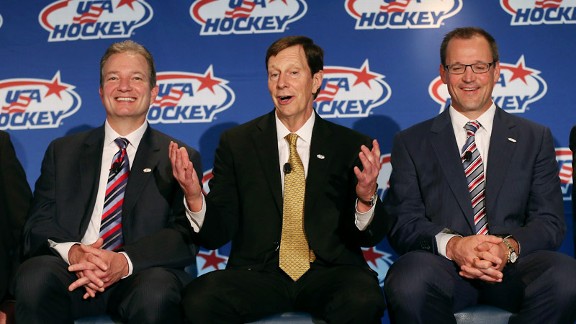 Bruce Bennett/Getty ImagesRay Shero, David Poile and Dan Bylsma face tough lineup decisions for Team USA.
With the final rosters for the USA Olympic team due Jan. 1, the quarter mark of the NHL season is a good time to re-evaluate the potential personnel decisions with which David Poile, Ray Shero, and Brian Burke will be faced with as they finalize the lineup.
With that in mind, here's my take on some of the questions facing the USA hockey head honchos as they head into December, and how I would deal with them.
---
Forwards
Roster locks
• Joe Pavelski, C, San Jose Sharks
• Patrick Kane, W, Chicago Blackhawks
• David Backes, C, St. Louis Blues
• Bobby Ryan, W, Ottawa Senators
• Phil Kessel, W, Toronto Maple Leafs
• Zach Parise, W, Minnesota Wild
• Ryan Kesler, C, Vancouver Canucks
• Ryan Callahan, W, New York Rangers
• Dustin Brown, W, Los Angeles Kings
Team USA possesses considerable talent at the forward position, and my opinion is that the top nine roster spots are already solidified in some sort of combination with the above players. Despite Dustin Brown's relatively low offensive performance to date, his leadership and past Olympic (and Stanley Cup) experience make him an inked-in roster player in my book.
The difficulty in putting together a team such as this is filling out the remaining spots that are not as clear-cut. An exercise that is admittedly equal parts art and science, the goal is to combine on-ice performance with off-ice intangibles to produce a team that will mesh into a cohesive unit within the 12 days the Olympic tournament runs.
In the mix
Filling out the bottom of the forward group is a difficult task, since it often involves slotting players into lesser roles than what they are usually accustomed to occupying with their NHL club. With 22 skater spots to fill, my guess is that most teams opt to go with a 14-forward, eight-defensemen split. Assuming that the USA brain-trust goes that route, then there are five remaining red-white-and-blue jerseys to be handed out to forwards for the trip to Sochi. Here are some names likely on the board in the USA hockey War Room:
To read Frank Provenzano's full analysis on Team USA's roster for Sochi, you must be an Insider.
Insider
ESPN Insider
Assistant GM for the Dallas Stars, 2006-2013
TSN Salary Cap analyst, 2006
Assistant GM for the Washington Capitals, 1997-2004
THE NHL ON ESPN INSIDER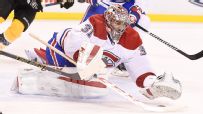 NHL INSIDER 2014-15 CONTENT
EDITORS' PICKS
McDonald: Vezina champ Henrik Lundqvist returned for the Rangers but it wasn't enough as the Bruins came up with a big win Saturday.
Story »

The fall of Jimmy Howard will only help the rise of Petr Mrazek in Detroit's net. Who else is making noise in the push for the playoffs?
Strang »

With seven guys within five points of the league scoring lead, who better to break down the Art Ross Trophy race than The Great One.
LeBrun »
MOST SENT STORIES ON ESPN.COM