Commentary
Philadelphia Flyers' confidence game
Quick hooks, pressure have swagger in short supply for Philly's keepers
Updated:
May 6, 2011, 3:02 PM ET
By
Craig Button
| Special to ESPN Insider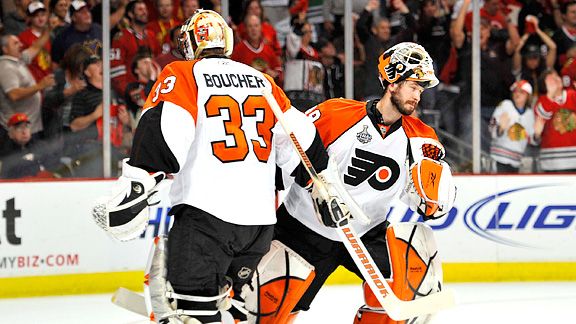 Rob Grabowski/US PresswireConfidence is in short supply as Philly's crease carousel continues to spin.
"[A goalie's] job is to stop pucks … Well, yeah, that's part of it. But you know what else it is? … You're trying to deliver a message to your team that things are okay back here. This end of the ice is pretty well cared for. You take it now and go. Go! Feel the freedom you need in order to be that dynamic, creative, offensive player and go out and score. … That was my job. And it was to try to deliver a feeling." -- Ken Dryden, "The Game"
The playoffs begin and we hear the same tired clichés: "you can only go as far as your goaltender will carry you," or "goaltending wins championships." It seems we are always looking to classify the goaltender as a savior or a goat, one or the other. Seldom do they fall in the middle.
It's the playoffs and there is a winner and a loser and a sense of finality that only increases the tension put on the men between the pipes.
It often seems unfair, but the very nature of the goaltending position isolates the person playing, providing him both with undue credit at times, but also unnecessary criticism. Part of that is because it is extremely difficult to assess a goalie's worth based on his statistics alone. And all you have to do is look around these playoffs to see that.
Of the remaining starting goaltenders in the playoffs, reigning Stanley Cup champion Antti Niemi sits below all of them in terms of save percentage. But despite his position on the bottom rung of the statistical ladder, the Sharks march on, winning games seemingly with every confidence in Niemi.
Ah, confidence. Now there's an intangible that no stat can measure and one that figures prominently in the future of the Philadelphia Flyers, who trail the Boston Bruins three games to none as they head into Friday night's Game 4.
To see what's plaguing the Flyers' netminders and where the blame ultimately falls for another crease catastrophe, you must be an ESPN Insider.
Insider
Craig Button contributes regularly to ESPN Insider. Since 1988, Button has worked in the NHL as a scout and later as director of scouting with the Minnesota North Stars, becoming director of player personnel after the franchise relocated to Dallas. He later served as vice president and general manager of the Calgary Flames. He currently works as an analyst for the NHL Network.
NHL Insider Content

STANLEY CUP PLAYOFFS
Insider Stanley Cup Playoff Index
Prospectus: Rating B's, Canucks' depth
CapGeek: Bs, Canucks provide cap blueprints Conn Smythe Watch: Thomas takes the lead
Greenberg: Projecting Tyler Seguin
Greenberg: Lapierre is Canucks' MVP
Prospectus: Special teams aren't that key
Conn Smythe Watch: Kesler's charge
Joyce: Sharks stars lack 'it'
Greenberg: Best Gs vs. the best shots
Conn Smythe Watch: Thomas rises
Button: Philly's crisis of crease confidence
Greenberg: Can blocks carry Bolts to Cup?
Prospectus: Ranking Caps' playoff failure
Prospectus: Top playoff rooks since 1998
Conn Smythe Watch: Roloson No. 1
Prospectus: Datsyuk remains underrated
Conn Smythe Watch: Neuvirth shines
Greenberg: Best D pairs vs. Alex Ovechkin
Prospectus: Thomas doesn't give B's big edge
Prospectus: Playoff team depth rankings
Cooper: Preds try to ditch Rd. 1 jinx
Prospectus: Team-by-team odds to win the Cup
Prospectus: Ranking the first-round netminders
Prospectus: These Sharks built to last
Prospectus: Puck luck could pluck Ducks
Cooper: Why playoff hockey is so different
Team Scouting Reports
How to beat the Boston Bruins
How to beat the Philadelphia Flyers
How to beat the Pittsburgh Penguins
How to beat the Washington Capitals
How to beat the Anaheim Ducks
How to beat the Detroit Red Wings
How to beat the San Jose Sharks
How to beat the Vancouver Canucks

INSIDER'S BEST
May 11: Why Wings may soon fall off
April 28: Strome surges in Mock Draft 2.0
April 13: Nashville tries to overcome history
April 11: D. Sedin tops final player rankings
April 7: Coaches feeling the hot seat
April 6: How Caps' draft strategy has worked
March 30: Can Flyers win Cup with Bobrovsky?
March 9: Re-ranking Top 50 draft prospects
Feb. 28: Traded prospect evals
Feb. 28: Rating trades in the West
Feb. 28: Rating trades in the East
Feb. 17: Worst. Trades. Ever.
Feb. 17: NHL Mock Draft 1.0

ESSENTIAL LINKS
NHL Rumor Central
Get news and rumblings before anyone
NHL Experts Blog
Daily ice shavings of insight
NHL Draft Blog
A look towards June 2011
MOST SENT STORIES ON ESPN.COM