Commentary
The Eastern Conference upset index
Your best bet of an underdog skating to Round 2 in the East might be Boston
Updated:
April 13, 2010, 1:14 PM ET
By
Robert Vollman
| Puck Prospectus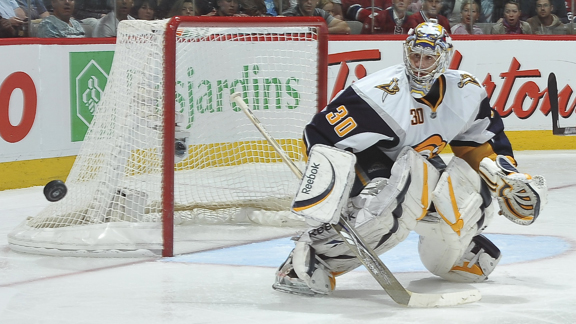 Getty ImagesYou get to Ryan Miller early -- it's not easy -- and you have a shot. Boston could do this.
The NHL postseason is a crazy time, no doubt. While you rarely see a No. 8 seed beat a No. 1 seed in the NBA, it happens more often on ice. So, if we look at previous upset models, what can we learn about 2010's postseason pucks? That's what Puck Prospectus is out to explain. This article focuses on the Eastern Conference. You can see the Western Conference upset index here.
The Washington Capitals are going into the first round against an opponent over whom they enjoyed a 33-point advantage in the regular-season standings. Of the 24 "giants" that entered the postseason with at least a 30-point advantage since 1980, only three were laid low: the 1981-82 Edmonton Oilers, the 1985-86 Philadelphia Flyers and the 1990-91 Chicago Blackhawks.
What happened to those three, and could the same thing happen to Washington this year?
30 years of data, including historical trends and equivalent series show us the teams most likely to pull an early upset in the Eastern Conference playoffs. Puckheads get access to this article and all Insider the content on the NHL playoffs, including player scouting reports and more, for less than $4 per month. To keep reading, become an Insider.
Insider
2010 STANLEY CUP PLAYOFFS

Here is a review of the first round of the playoffs. 2010 Playoffs
EASTERN CONFERENCE
WESTERN CONFERENCE
FIRST ROUND
SPORTSNATION
MOST SENT STORIES ON ESPN.COM