Commentary
Can the Atlanta Thrashers hold on?
Tobias Enstrom is hurt. They're skidding. Ondrej Pavelec has fallen to earth. What now?
Originally Published:
February 2, 2011
By
Bill Weisbrod
| ESPN The Magazine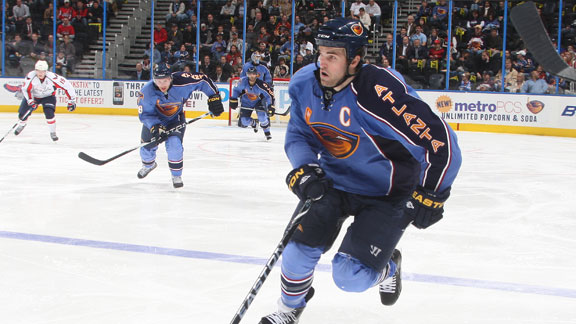 Getty ImagesAndrew Ladd has been a quality addition for the Thrashers.
On the day the Atlanta Thrashers traded Ilya Kovalchuk last season, they were sixth in the NHL in goals per game, at 2.93. In their remaining 27 games they averaged 2.52 per -- only good enough for 26th in the league during that stretch.
It would stand to reason that Atlanta would struggle to score goals, and to win, in 2010-11. After all, its big offseason additions were two support players from the Chicago Blackhawks' Stanley Cup run: Dustin Byfuglien, who had shuffled back and forth from checking forward to defense, and Andrew Ladd, a forward who had never scored more than 17 times in a season.
Here's what's funny, though: The Thrashers got out to a 19-11-1 start as of Dec. 20; the early surge was thanks to an unexpectedly potent offense led by Byfuglien and defensive partner Tobias Enstrom.
On Dec. 21, they lost at home to the St. Louis Blues; a slide began, and they won only five times in their next 17 contests. Currently, they'd be in the playoffs -- they're the No. 8 seed as of Feb. 2, one point up on the Carolina Hurricanes.
Ondrej Pavelec had been stellar in goal during the early-season surge. Since Dec. 21, though, the Thrashers are allowing 3.76 goals per game; that's the worst in the NHL during that span. They have a minus-14 goal differential, the worst tally among the 16 teams that would currently qualify for the playoffs.
The question now becomes: Can they hang on?
To continue reading this article you must be an Insider
Insider
NHL Insider Content

STANLEY CUP PLAYOFFS
Insider Stanley Cup Playoff Index
Prospectus: Rating B's, Canucks' depth
CapGeek: Bs, Canucks provide cap blueprints Conn Smythe Watch: Thomas takes the lead
Greenberg: Projecting Tyler Seguin
Greenberg: Lapierre is Canucks' MVP
Prospectus: Special teams aren't that key
Conn Smythe Watch: Kesler's charge
Joyce: Sharks stars lack 'it'
Greenberg: Best Gs vs. the best shots
Conn Smythe Watch: Thomas rises
Button: Philly's crisis of crease confidence
Greenberg: Can blocks carry Bolts to Cup?
Prospectus: Ranking Caps' playoff failure
Prospectus: Top playoff rooks since 1998
Conn Smythe Watch: Roloson No. 1
Prospectus: Datsyuk remains underrated
Conn Smythe Watch: Neuvirth shines
Greenberg: Best D pairs vs. Alex Ovechkin
Prospectus: Thomas doesn't give B's big edge
Prospectus: Playoff team depth rankings
Cooper: Preds try to ditch Rd. 1 jinx
Prospectus: Team-by-team odds to win the Cup
Prospectus: Ranking the first-round netminders
Prospectus: These Sharks built to last
Prospectus: Puck luck could pluck Ducks
Cooper: Why playoff hockey is so different
Team Scouting Reports
How to beat the Boston Bruins
How to beat the Philadelphia Flyers
How to beat the Pittsburgh Penguins
How to beat the Washington Capitals
How to beat the Anaheim Ducks
How to beat the Detroit Red Wings
How to beat the San Jose Sharks
How to beat the Vancouver Canucks

INSIDER'S BEST
May 11: Why Wings may soon fall off
April 28: Strome surges in Mock Draft 2.0
April 13: Nashville tries to overcome history
April 11: D. Sedin tops final player rankings
April 7: Coaches feeling the hot seat
April 6: How Caps' draft strategy has worked
March 30: Can Flyers win Cup with Bobrovsky?
March 9: Re-ranking Top 50 draft prospects
Feb. 28: Traded prospect evals
Feb. 28: Rating trades in the West
Feb. 28: Rating trades in the East
Feb. 17: Worst. Trades. Ever.
Feb. 17: NHL Mock Draft 1.0

ESSENTIAL LINKS
NHL Rumor Central
Get news and rumblings before anyone
NHL Experts Blog
Daily ice shavings of insight
NHL Draft Blog
A look towards June 2011
MOST SENT STORIES ON ESPN.COM