Commentary
Boston Bruins face bonus onus
Why B's, other NHL teams will be scrambling to stay under salary cap in 2011-12
Updated:
November 5, 2010, 9:18 AM ET
By
Matthew Wuest
| CapGeek.com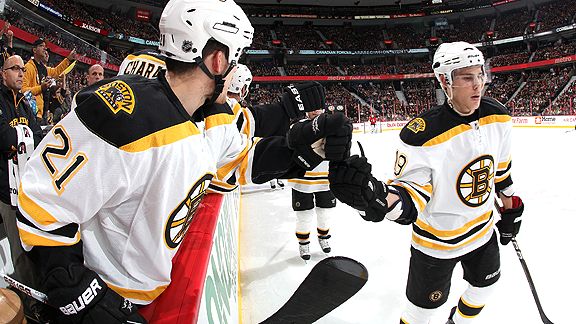 Andre Ringuette/NHLI via Getty ImagesTyler Seguin will have a significant impact on the Bruins' cap next season.
The cushioned salary cap ride NHL teams have enjoyed for the past two seasons is about to get a lot bumpier.
With the collective bargaining agreement set to expire in 2012, the performance bonus cushion -- which allows teams to exceed the cap by more than $4 million in bonuses -- will not be in place next season. The bonus cushion has been giving teams wiggle room for the past two seasons, and it is calculated exactly as 7.5 percent of the upper limit, or $4.455 million this season.
In a nutshell, players with bonuses will eat up a lot more cap space, and the Boston Bruins provide a perfect example of exactly how much havoc that could wreak.
To read more about how NHL teams will be affected by the loss of the bonus cushion, you must be an ESPN Insider.
Insider
NHL Insider Content

STANLEY CUP PLAYOFFS
Insider Stanley Cup Playoff Index
Prospectus: Rating B's, Canucks' depth
CapGeek: Bs, Canucks provide cap blueprints Conn Smythe Watch: Thomas takes the lead
Greenberg: Projecting Tyler Seguin
Greenberg: Lapierre is Canucks' MVP
Prospectus: Special teams aren't that key
Conn Smythe Watch: Kesler's charge
Joyce: Sharks stars lack 'it'
Greenberg: Best Gs vs. the best shots
Conn Smythe Watch: Thomas rises
Button: Philly's crisis of crease confidence
Greenberg: Can blocks carry Bolts to Cup?
Prospectus: Ranking Caps' playoff failure
Prospectus: Top playoff rooks since 1998
Conn Smythe Watch: Roloson No. 1
Prospectus: Datsyuk remains underrated
Conn Smythe Watch: Neuvirth shines
Greenberg: Best D pairs vs. Alex Ovechkin
Prospectus: Thomas doesn't give B's big edge
Prospectus: Playoff team depth rankings
Cooper: Preds try to ditch Rd. 1 jinx
Prospectus: Team-by-team odds to win the Cup
Prospectus: Ranking the first-round netminders
Prospectus: These Sharks built to last
Prospectus: Puck luck could pluck Ducks
Cooper: Why playoff hockey is so different
Team Scouting Reports
How to beat the Boston Bruins
How to beat the Philadelphia Flyers
How to beat the Pittsburgh Penguins
How to beat the Washington Capitals
How to beat the Anaheim Ducks
How to beat the Detroit Red Wings
How to beat the San Jose Sharks
How to beat the Vancouver Canucks

INSIDER'S BEST
May 11: Why Wings may soon fall off
April 28: Strome surges in Mock Draft 2.0
April 13: Nashville tries to overcome history
April 11: D. Sedin tops final player rankings
April 7: Coaches feeling the hot seat
April 6: How Caps' draft strategy has worked
March 30: Can Flyers win Cup with Bobrovsky?
March 9: Re-ranking Top 50 draft prospects
Feb. 28: Traded prospect evals
Feb. 28: Rating trades in the West
Feb. 28: Rating trades in the East
Feb. 17: Worst. Trades. Ever.
Feb. 17: NHL Mock Draft 1.0

ESSENTIAL LINKS
NHL Rumor Central
Get news and rumblings before anyone
NHL Experts Blog
Daily ice shavings of insight
NHL Draft Blog
A look towards June 2011
MOST SENT STORIES ON ESPN.COM