Commentary
Five homes for Antti Niemi
Out in Chicago, the Cup winner could logically land with two Cup contenders
Updated:
August 3, 2010, 1:39 PM ET
By
Tom Awad
| Puck Prospectus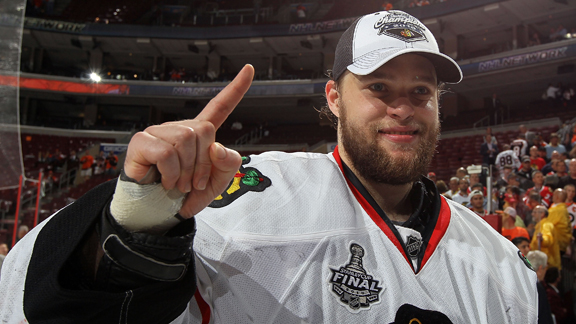 Getty ImagesNiemi's got a Cup, so he should garner some interest from the market.
Antti Niemi is now on the open market, leading to the inevitable question: Where will a 26-year-old goalie with a Cup win on his résumé land?
There are five logical projections (some more logical than others), beginning with a team that's been trying for a few years to get over the hump. Could Niemi make a difference?
In evaluating his possible landing spots, we looked at teams' salary cap situations to make sure they could afford him and also our VUKOTA projection system to see if he'd be an improvement over the incumbent keepers. At Puck Prospectus, we often evaluate players based on our GVT metric; you can get a better understanding of that here and here before you go deeper with these team possibilities.
For the full Niemi possibilities breakdown, you must be an ESPN Insider.
Insider
Insider NHL Content

ESSENTIAL LINKS
NHL Rumor Central
Get puck news and rumblings before anyone
E.J. Hradek's Blog
Two decades of covering the NHL right here
NHL Draft Blog
Get a jump on all the 2011 prospects
NHL DRAFT GRADES
Gare Joyce
Every squad is ranked; Panthers excel
Steals
Joyce on the six most likely second-round steals
E.J. Hradek
The Ducks stole the draft
Winners and losers
E.J. takes a wide view of draft weekend
FREE AGENCY EVALS
Who's loaded for bear?
E.J. thinks the Pens did well in summer 2010
The rise of the Canucks
They may have enough to beat the 'Hawks now
An all-time view
The top five -- and bottom five -- post-lockout signings
The shifting goalie market
Antti Niemi, others lose by his winning
MOST SENT STORIES ON ESPN.COM