Commentary
Skate in the crease, still intertwined
The expendability of a Sabre could play into the Stars' hands this summer
Originally Published:
June 21, 2010
By
Philip Myrland
and
E.J. Hradek
| Puck Prospectus and ESPN The Magazine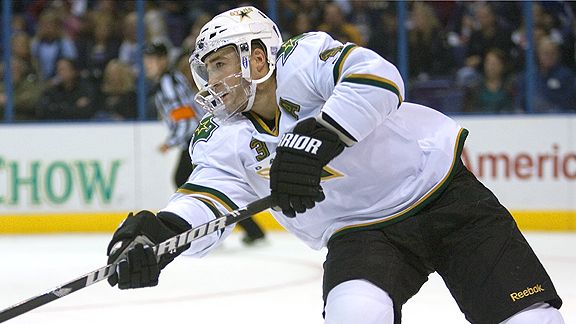 Tim Vizer/Icon SMIRobidas has been great in Dallas, but help on the second pairing would be nice.

The Hole: A second-pairing defenseman
Dallas has a strong group of forwards, both in terms of established veterans (Brenden Morrow, Brad Richards) and young up-and-comers (James Neal, Jamie Benn). GM Joe Nieuwendyk has already made moves to address the team's goaltending situation by signing trade-pickup Kari Lehtonen to replace the outgoing Marty Turco. Adding some blueline depth to protect Lehtonen -- and cut down on goals against -- is the next step to putting together a Dallas team that can return to the playoffs in 2010-11.
After the pay wall: a possible fix for the team, E.J.'s take on it, and more analysis. For all this, essential for pre-July 1 puckheads, you must be an ESPN Insider.
Insider
Senior Writer, ESPN The Magazine
E.J. Hradek is a senior writer at ESPN The Magazine, joining the staff prior to its launch in 1998. He began covering hockey as a writer/editor for Hockey Illustrated in 1989.
Insider NHL Content

ESSENTIAL LINKS
NHL Rumor Central
Get puck news and rumblings before anyone
E.J. Hradek's Blog
Two decades of covering the NHL right here
NHL Draft Blog
Get a jump on all the 2011 prospects
NHL DRAFT GRADES
Gare Joyce
Every squad is ranked; Panthers excel
Steals
Joyce on the six most likely second-round steals
E.J. Hradek
The Ducks stole the draft
Winners and losers
E.J. takes a wide view of draft weekend
FREE AGENCY EVALS
Who's loaded for bear?
E.J. thinks the Pens did well in summer 2010
The rise of the Canucks
They may have enough to beat the 'Hawks now
An all-time view
The top five -- and bottom five -- post-lockout signings
The shifting goalie market
Antti Niemi, others lose by his winning
MOST SENT STORIES ON ESPN.COM