Commentary
Rival has it right
Colorado can become elite by following Detroit's model: puck movers on D
Originally Published:
June 18, 2010
By
Robert Vollman
and
E.J. Hradek
| Puck Prospectus and ESPN The Magazine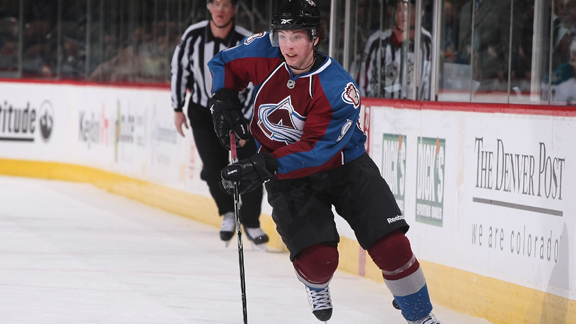 Getty ImagesMatt Duchene came on for the Avs this past season, but they need scorers on the blue line, too.

The Hole: A puck mover on defense
Colorado had a great 2009-10 season, but it might have been a little lucky because it was outshot by four attempts per game. The Avalanche were second-to-last in the NHL in shots per game, and only one defenseman contributed more than 100 (Kyle Quincey). This year's Avs definitely need to sign a blueliner who can find the back of the net.
After the pay wall: a possible fix for the team, E.J.'s take on it, and more analysis. For all this, essential for pre-July 1 puckheads, you must be an ESPN Insider.
Insider
Senior Writer, ESPN The Magazine
E.J. Hradek is a senior writer at ESPN The Magazine, joining the staff prior to its launch in 1998. He began covering hockey as a writer/editor for Hockey Illustrated in 1989.
2010 NHL Offseason Central on Insider
PLUGGING THE HOLES
Mixing new-school stats with old-school savvy, Insider identifies every team's biggest weakness and how each should address it this summer through the draft, trades or free agency.
NHL DRAFT
Get up to speed on the stars of tomorrow in preparation for the June 25 draft.
Mock Draft: Brandon Gormley rises up
OFFSEASON CENTRAL
Keep tabs on the cream of the free agent crop with Insider's updated hot sheets.
RUMOR CENTRAL
You can also keep up with all the offseason buzz at Rumor Central.
MOST SENT STORIES ON ESPN.COM