Commentary
Ear to the glass: The journey back
The road back from injury can be hard and depressing, but also hopeful and humorous
Updated:
December 18, 2009, 2:31 PM ET
By
Lindsay Berra
| ESPN The Magazine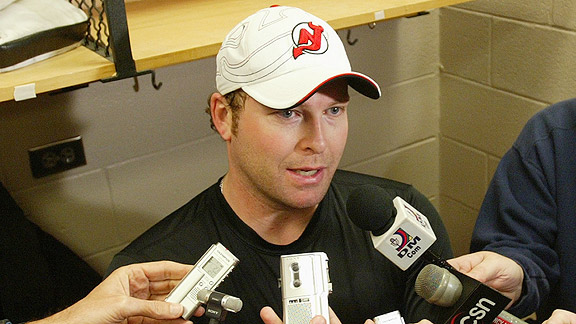 Len Redkoles/Getty ImagesBrodeur found that the mental part of being hurt was just as hard as the physical.
Islanders goaltender Rick DiPietro is skating with the AHL Bridgeport Sound in an effort to return from off-season knee surgery. Bruins LW Milan Lucic missed a month with a broken finger, then returned, only to sprain his ankle. Devils D Paul Martin, originally expected to miss 4-6 weeks with his broken right arm, appears more likely to miss 11 or 12 weeks. The Red Wings have lost a whopping 132 man games to injury through 33 games. But as we approach the halfway mark, players are beginning to come off the IR. With that in mind, we talked to four players who have recently rebounded from extended absences due to injury (or are in the process) about the journey to getting back on to the active roster.
DOWN AND OUT
Martin Brodeur: I was home by myself. I came to the rink, they all say hi but they have their things to get ready for and you're really pushed aside. I remember I begged them to bring me on the road trip to Florida so I could be on the road with the guys and practice with them. But still, they put me in a locker room away from everybody so I wasn't disturbing anybody.
To hear directly from the players the internal and external struggles that go with returning from injury, you must be an ESPN Insider.
Insider
Lindsay Berra is an avid CrossFitter and a national correspondent for MLB.com. Follow her on twitter @lindsayberra.
Ear to the Glass

Do you hear what we hear?
ESPN The Magazine senior writer Lindsay Berra takes readers over the boards and onto the ice every Friday to pick players' brains about the varied and stirring storylines that comprise life in the NHL.
Berra has covered everything from tennis and baseball to snowboarding and roller derby since joining the staff in 1999. But she's played hockey since she was a kid, and her main beat at the Mag has always been the NHL.
She's dropped gloves with Donald Brashear and P.J. Stock, been to Zamboni school, shamelessly hooked Wayne Gretzky and Paul Coffey and covered hundreds of hockey games, including 10 Stanley Cups. She even shed a tear in the press box when Ray Bourque won his first and only Cup with the Avalanche in 2001, despite her beloved Devils coming up on the losing end. She's also a Jersey girl, a Tar Heel, a triathlete and a yogi.
October
November
December
Reebok Soft-touch Men's New Jersey Devils Martin Brodeur #30 Player Replica Red T-shirt Shop »
MOST SENT STORIES ON ESPN.COM