Commentary
Shootout secrets
To get the lowdown on the showdown, The Mag goes inside the controversy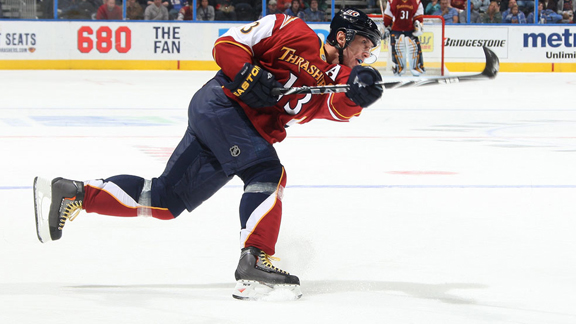 Getty ImagesSlava Kozlov will wrist one right up in some goalie's kitchen.
This feature appears in the December 28, 2009 issue of ESPN The Magazine.
By way of introduction...
Do you love the shootout? Sure you do. It pits goaltender against shooter in a test of individual skills and will. Do you hate the shootout? Of course you do -- and for the same reason. "I like the challenge," says Buffalo Sabres goalie Ryan Miller, "but how does it relate to playing as a team?"
One point, though, is indisputable: winning shootouts means points -- and points mean playoffs. That's why NHL types agonize over every aspect of the shootout. Here's a peek at their slickest moves.
To keep reading about the wild, wacky and all-together wanton ways of the shootout -- with comments from King Henrik and others -- you must be an ESPN Insider.
Insider
Lindsay Berra is an avid CrossFitter and a national correspondent for MLB.com. Follow her on twitter @lindsayberra.
Senior Writer, ESPN The Magazine
E.J. Hradek is a senior writer at ESPN The Magazine, joining the staff prior to its launch in 1998. He began covering hockey as a writer/editor for Hockey Illustrated in 1989.
Ear to the Glass

Do you hear what we hear?
ESPN The Magazine senior writer Lindsay Berra takes readers over the boards and onto the ice every Friday to pick players' brains about the varied and stirring storylines that comprise life in the NHL.
Berra has covered everything from tennis and baseball to snowboarding and roller derby since joining the staff in 1999. But she's played hockey since she was a kid, and her main beat at the Mag has always been the NHL.
She's dropped gloves with Donald Brashear and P.J. Stock, been to Zamboni school, shamelessly hooked Wayne Gretzky and Paul Coffey and covered hundreds of hockey games, including 10 Stanley Cups. She even shed a tear in the press box when Ray Bourque won his first and only Cup with the Avalanche in 2001, despite her beloved Devils coming up on the losing end. She's also a Jersey girl, a Tar Heel, a triathlete and a yogi.
October
November
December
MOST SENT STORIES ON ESPN.COM