Commentary
Ear to the glass: Change has come
Players that saw coaching changes in 2008-09 discuss the aftermath
Updated:
December 11, 2009, 2:19 PM ET
By
Lindsay Berra
| ESPN The Magazine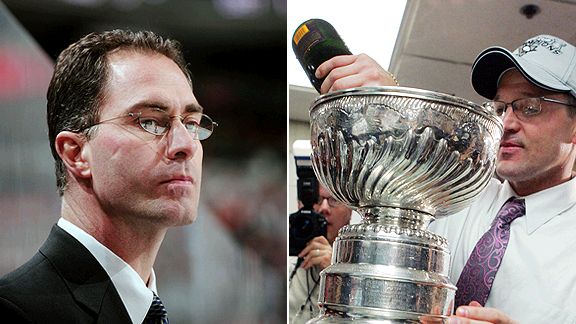 Getty ImagesAfter the Flyers fired John Stevens (left), they hope to follow Dan Bylsma's path in Pittsburgh.
After at 13-11-1 start through Dec. 4, the Philadelphia Flyers dropped the ax on coach John Stevens with the hope that a new coach could engineer a playoff-bound turnaround. Can they do it? If last season was any indication, yes. In 2008-2009, three teams that made mid-season coaching changes went deep into the postseason.
We talked with players from each of those clubs about the downs and ups of their winning transition. Notebooks out, Philly.
To read the responses from members of the Penguins, Blackhawks and Hurricanes, you must be an ESPN Insider.
Insider
Lindsay Berra is an avid CrossFitter and a national correspondent for MLB.com. Follow her on twitter @lindsayberra.
Ear to the Glass

Do you hear what we hear?
ESPN The Magazine senior writer Lindsay Berra takes readers over the boards and onto the ice every Friday to pick players' brains about the varied and stirring storylines that comprise life in the NHL.
Berra has covered everything from tennis and baseball to snowboarding and roller derby since joining the staff in 1999. But she's played hockey since she was a kid, and her main beat at the Mag has always been the NHL.
She's dropped gloves with Donald Brashear and P.J. Stock, been to Zamboni school, shamelessly hooked Wayne Gretzky and Paul Coffey and covered hundreds of hockey games, including 10 Stanley Cups. She even shed a tear in the press box when Ray Bourque won his first and only Cup with the Avalanche in 2001, despite her beloved Devils coming up on the losing end. She's also a Jersey girl, a Tar Heel, a triathlete and a yogi.
October
November
December