Commentary
Ear to the glass: Living with loss
We asked players and coaches how they cope when stars fall victim to the injury bug
Updated:
November 6, 2009, 4:39 PM ET
By
Lindsay Berra
| ESPN The Magazine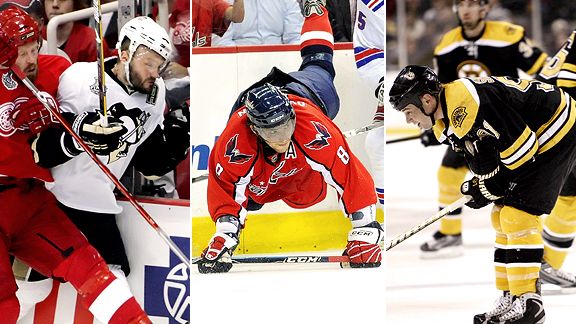 US Presswire/Getty Images/AP PhotoInjuries have tripped up stars like Sergei Gonchar, Alex Ovechkin and Marc Savard.
In this year's NHL landscape, the injury bug looks like Mothra, and it's been a particular scourge to superstars. Five of last year's top 15 point scorers are currently sidelined with injuries (Evgeni Malkin, Alex Ovechkin, Ilya Kovalchuk, Marc Savard and Daniel Sedin). With so much talent taken off the ice, we wanted to examine the ripple effect of injuries, so we surveyed the teams affected to ask what's missing and how they make up for it on the ice, on the chalkboard and beyond.
To see the responses from Henrik Sedin, Marco Sturm, Mike Green and coaches from the Bruins, Penguins and Devils, you must be an ESPN Insider.
Insider
Lindsay Berra is an avid CrossFitter and a national correspondent for MLB.com. Follow her on twitter @lindsayberra.
Ear to the Glass

Do you hear what we hear?
ESPN The Magazine senior writer Lindsay Berra takes readers over the boards and onto the ice every Friday to pick players' brains about the varied and stirring storylines that comprise life in the NHL.
Berra has covered everything from tennis and baseball to snowboarding and roller derby since joining the staff in 1999. But she's played hockey since she was a kid, and her main beat at the Mag has always been the NHL.
She's dropped gloves with Donald Brashear and P.J. Stock, been to Zamboni school, shamelessly hooked Wayne Gretzky and Paul Coffey and covered hundreds of hockey games, including 10 Stanley Cups. She even shed a tear in the press box when Ray Bourque won his first and only Cup with the Avalanche in 2001, despite her beloved Devils coming up on the losing end. She's also a Jersey girl, a Tar Heel, a triathlete and a yogi.
October
November
December